Amaretti Morbidi (Soft Almond Cookies)
You'll love these delicate Italian cookies with a crisp exterior and a tender, cake-like interior.
If you enjoy almond-based sweets, you will fall in love with these simple and irresistible Amaretti Morbidi (soft almond cookies). Requiring only a few ingredients, the allure of this delicate Italian cookie is its snowy-white crisp exterior that beautifully contrasts its soft, cake-like interior.
You'll find these delectable amaretti cookies sold almost everywhere in Italy, often packaged in brightly colored wrappers. Fortunately, they're easy to make at home and you can enjoy them just as an Italian would: as an accompaniment to the sublime zabaglione and a caffé for dipping, or simply on their own as a sweet treat at the end of a meal.
This is the perfect sweet to bake when you find yourself with a few leftover egg whites. Aside from the egg whites, you will need icing sugar, almond flour, a pinch of salt, and almond extract to whip these up in about 10 minutes flat. Almond flour and sugar are mixed with beaten egg whites then rolled in icing sugar which creates the cracked dome effect when baked.
Make Ahead
These gloriously soft cookies keep well for days, making them perfect for gifting, to make ahead and have ready as a treat for any time of day, or for a last-minute dessert to conclude a meal with guests. Fragrant and sweet, with intense almond flavor, these cookies also happen to be gluten-free.
Chef's Notes:
The cookie mixture is supposed to be very stiff and sticky, therefore you don't need to worry about gently folding the beaten egg whites with the flour and sugar.
Chill the mixture for a minimum of 30 minutes (1 hour is best) before rolling into balls. This will help make rolling them easier and allow them to hold their shape when baked.
The cookies should flatten out slightly when baked. If yours flatten out too much, try chilling the rolled cookies before baking.
I prefer my amaretti cookies a little less sweet. If you like them sweeter, add another 1/4 cup of sugar.
Be generous when rolling the cookies in the icing sugar. Otherwise, they won't get that snowy-white cracked exterior.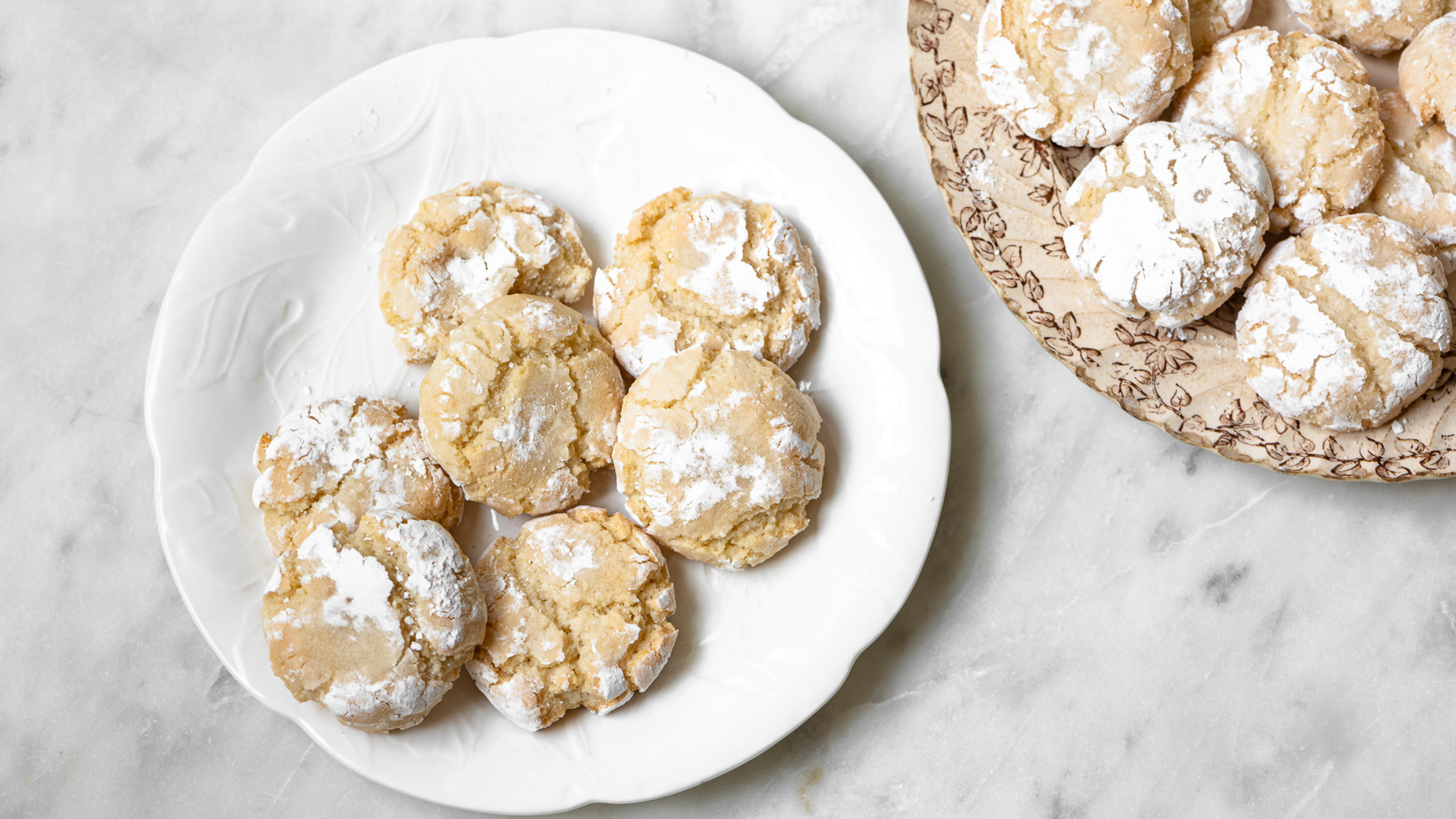 Amaretti Morbidi Recipe
Prep: 10 minutes
Chill: 30 minutes
Cook: 18-22 minutes
Servings: 20 cookies
Ingredients
2 cups (200 g) almond flour
3/4 cup (200g) caster sugar (superfine sugar)
pinch of salt
2 egg whites (about 2 1/2 ounces)
1/2 teaspoon almond extract
icing sugar for rolling and dusting cookies
Directions
1. Place almond flour, sugar, and a pinch of salt in a large bowl and whisk to combine.
2. In the bowl of a stand mixer fitted with the whisk attachment, or using a handheld mixer and standard mixing bowl, whisk the egg whites until they hold medium-stiff peaks. Fold the beaten egg whites and almond extract into the dry ingredients and stir until the egg whites are fully incorporated and a sticky dough is formed.
3. Cover the bowl and refrigerate for 30 minutes or up to 1 hour.
4. Preheat your oven to 350°F (180°C) and line a baking sheet with parchment paper or a silicone baking mat.
5. Use a small cookie scoop or a tablespoon to portion dough into approximately 1-inch balls. Roll each portion between the palms of your hands until smooth, then roll in icing sugar. Arrange on prepared baking sheet leaving a little room between the cookies. Slightly flatten each ball as you go along.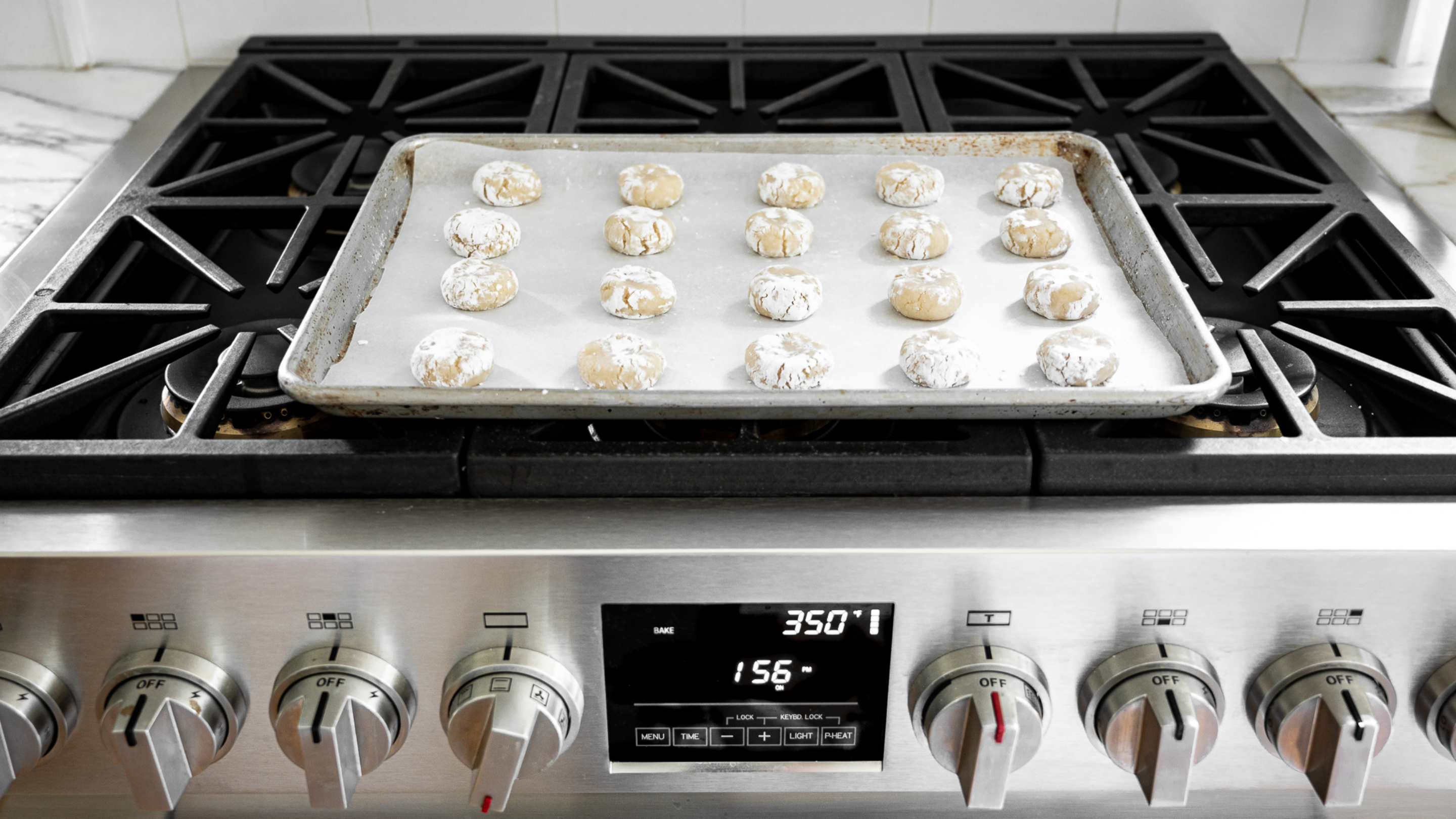 6. Bake for 18-22 minutes or until the tops have cracked and the cookies have started to turn lightly golden. Remove from oven and let cool a few minutes, then transfer to a wire rack to cool completely. Store cookies in an airtight container at room temperature for up to 10 days.