Baked Cod with Salsa Verde
Succulent Baked Cod with Italian Salsa Verde is as easy to make as it is impressive.
This succulent Baked Cod with Italian Salsa Verde is as easy to make as it is impressive. The rich saltiness of anchovies alongside punchy capers, herbs, garlic, and breadcrumbs equals the best salsa you've ever had. Drizzled over baked fish, it makes for a quick and delicious weeknight meal!

Ingredients
For the Salsa Verde:
2 cups packed fresh flat-leaf parsley leaves (some thin stems are okay)
1 cup packed fresh basil leaves
2 anchovy fillets (rinsed and de-boned if salt-packed)
2 tablespoons capers (packed in brine)
1 small garlic clove
1 cup fresh breadcrumbs (Panko also works)
2 tablespoons red wine vinegar
3/4 cup extra virgin olive oil (plus more if needed)
Freshly ground pepper
For the Fish:
4 (4-ounce) cod fillets
extra virgin olive oil
Kosher salt and freshly ground black pepper
lemon, cut into wedges, for serving

How To Make Baked Cod With Italian Salsa Verde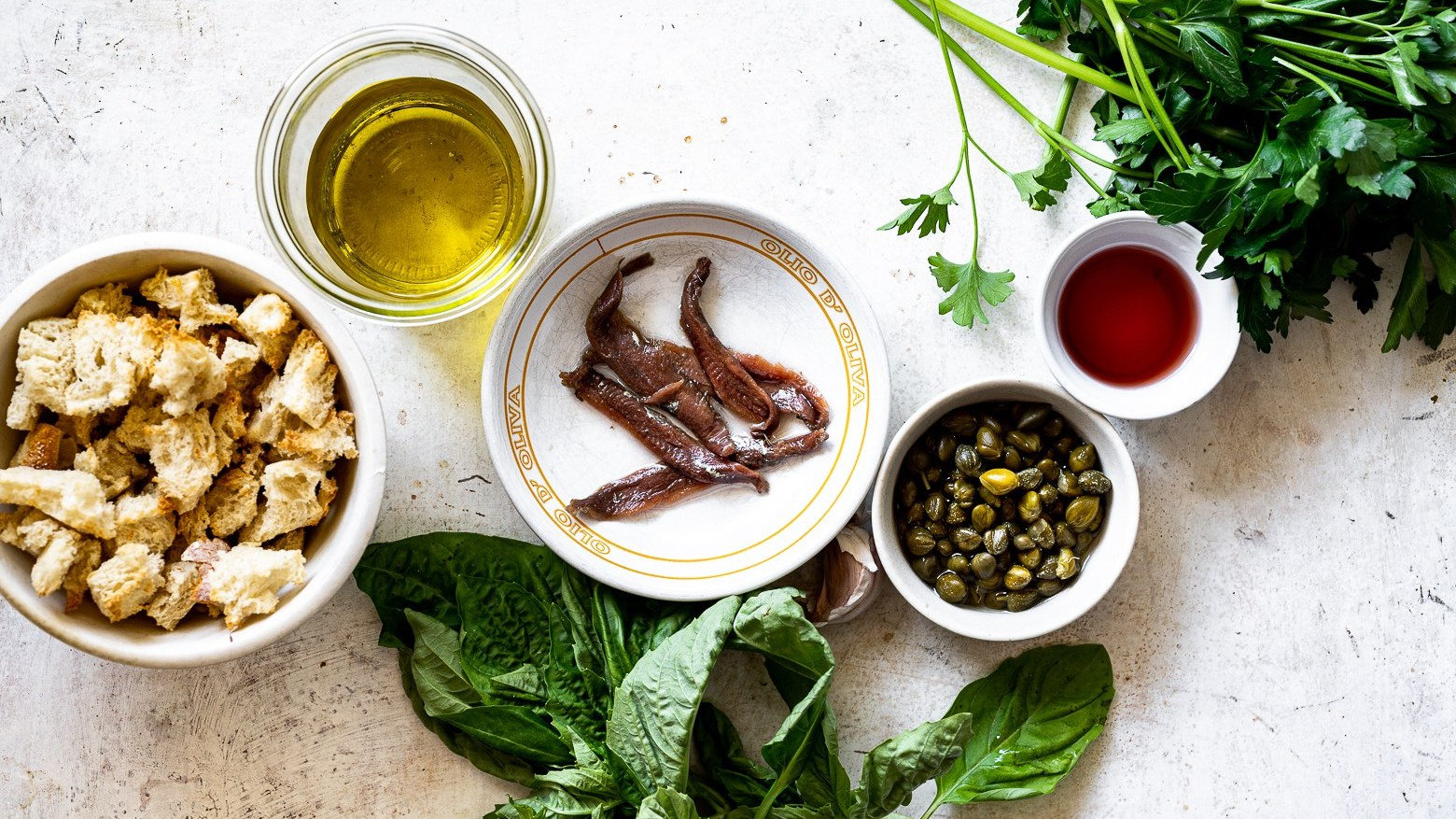 Make the salsa verde: In a food processor, pulse the parsley, basil, capers, garlic, and anchovies, to a coarse consistency. Feel free to add a few tablespoons of water to help the mixture blend. Add the breadcrumbs, vinegar, and a few grinds of pepper. Pulse a few more times until well blended but still a little chunky. If using within a few hours, allow sitting at room temperature. Otherwise, refrigerate and allow to come to room temperature before using.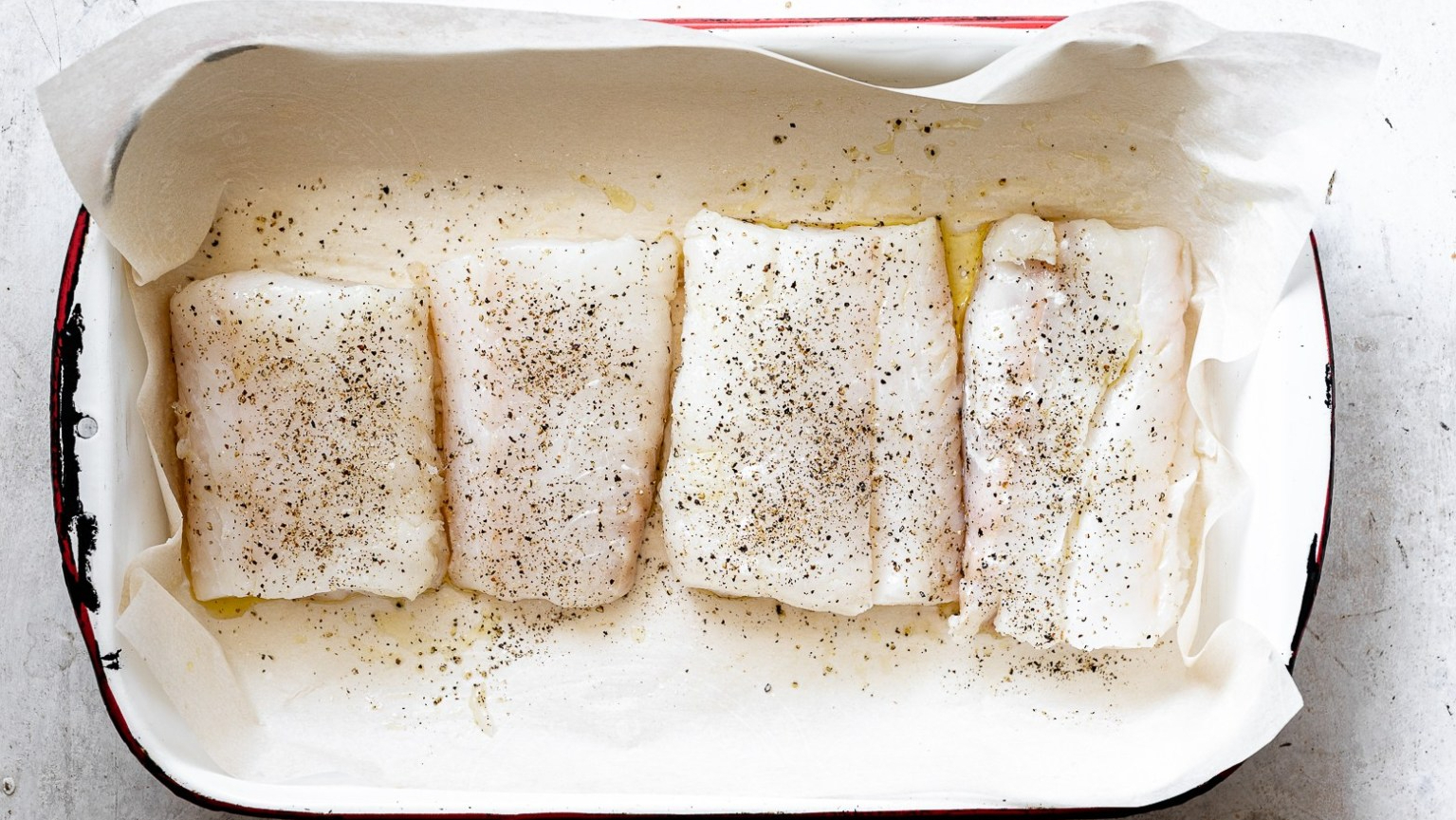 Make the Fish: Preheat oven to 425°F and line a baking sheet or roasting pan with parchment paper. Drizzle a little olive oil on both sides of the fish and season with salt and pepper. Bake for about 12 to 15 minutes, or until fish flakes easily. Remove from the heat and serve topped with Italian salsa verde and lemon wedges. Alternatively, serve with the salsa verde on the side.

About Italian Salsa Verde
There are many versions of Italian salsa verde throughout Italy. With copious amounts of parsley and a few handfuls of basil, salsa verde is wonderfully herbaceous and vibrantly green. Capers, anchovies, garlic, and olive oil contribute to the flavors that are notorious in this sauce. The version I share here hails from the region of Piedmont where it is known as Bagnet Vert and is in fact where this salsa verde originated.
In Piedmont, bagnet vert typically includes breadcrumbs that have been softened with vinegar. It is optional to add them but I love the extra texture and bulk they lend to the salsa. The breadcrumbs also mellow the tanginess of the sauce and transform the mixture into something a little softer.
Traditionally, the punchy salsa verde was intended to revitalize plain-tasting, boiled food such as Piemonte's beloved bollito misto (a mix of boiled meats). It is used to accompany everything from roasted vegetables, grilled meat and fish, spread in sandwiches, as a salad dressing, and even drizzled over soft cheese. It is also a really good idea to grab some crusty bread to dunk into any leftover sauce - divine.

Other Ways To Use Italian Salsa Verde
As mentioned, this wonderfully versatile salsa verde is excellent drizzled over fish, meat, or stirred into stews. But it is also exceptional with veggies or vegetarian dishes.
We also love it stirred into pasta with lots of lemon juice. Drizzle over roasted sweet potatoes, baby potatoes, cauliflower, or grilled vegetables (my favorite!). Also fantastic as a dip for crudités or on crispy, cheesy crostini.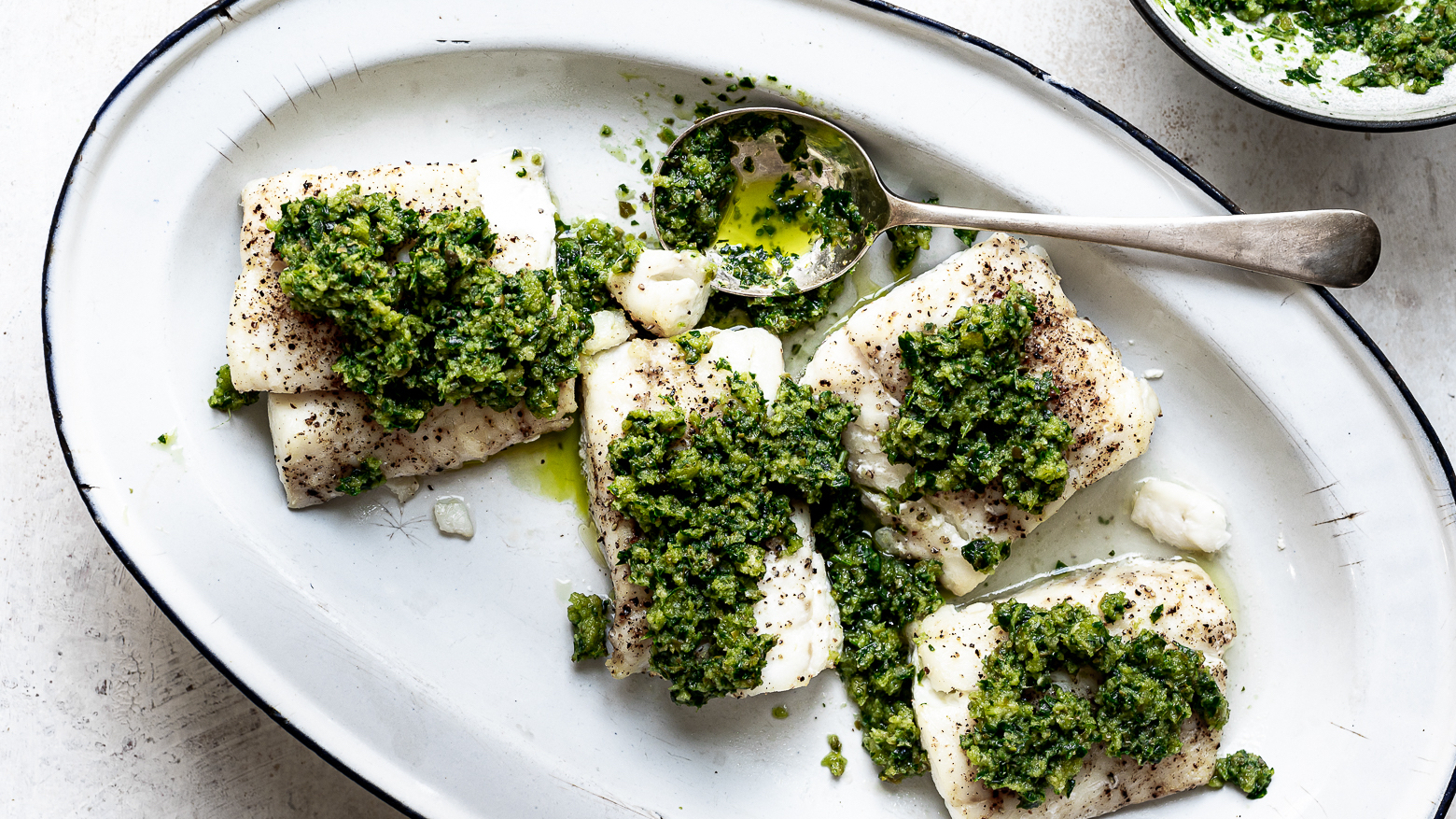 What To Serve With Baked Cod With Italian Salsa Verde
To accompany the baked cod with Italian salsa verde I suggest a simple side of roasted, or boiled baby potatoes, grilled veggies, roasted or grilled asparagus, cauliflower mash, an avocado salad, or corn on the cob in late summer.
Go to sandravalvassori.com for more tips to make this truly spectacular meal.