Baked Lemon Chicken Thighs
The perfect weeknight meal, these baked lemon chicken thighs come together in a flash.
These juicy baked lemon chicken thighs could not be easier to prepare. There are no hard-to-find ingredients, no sautéing or browning or marinating required. The chicken thighs are simply seasoned with salt, lemon zest, garlic powder, and pepper before being placed in a pan where a pool of lemon juice and white wine awaits them. Less than 40 minutes later, they're done: golden-brown chicken skin, tender and juicy meat, and an abundant sauce to spoon over everything.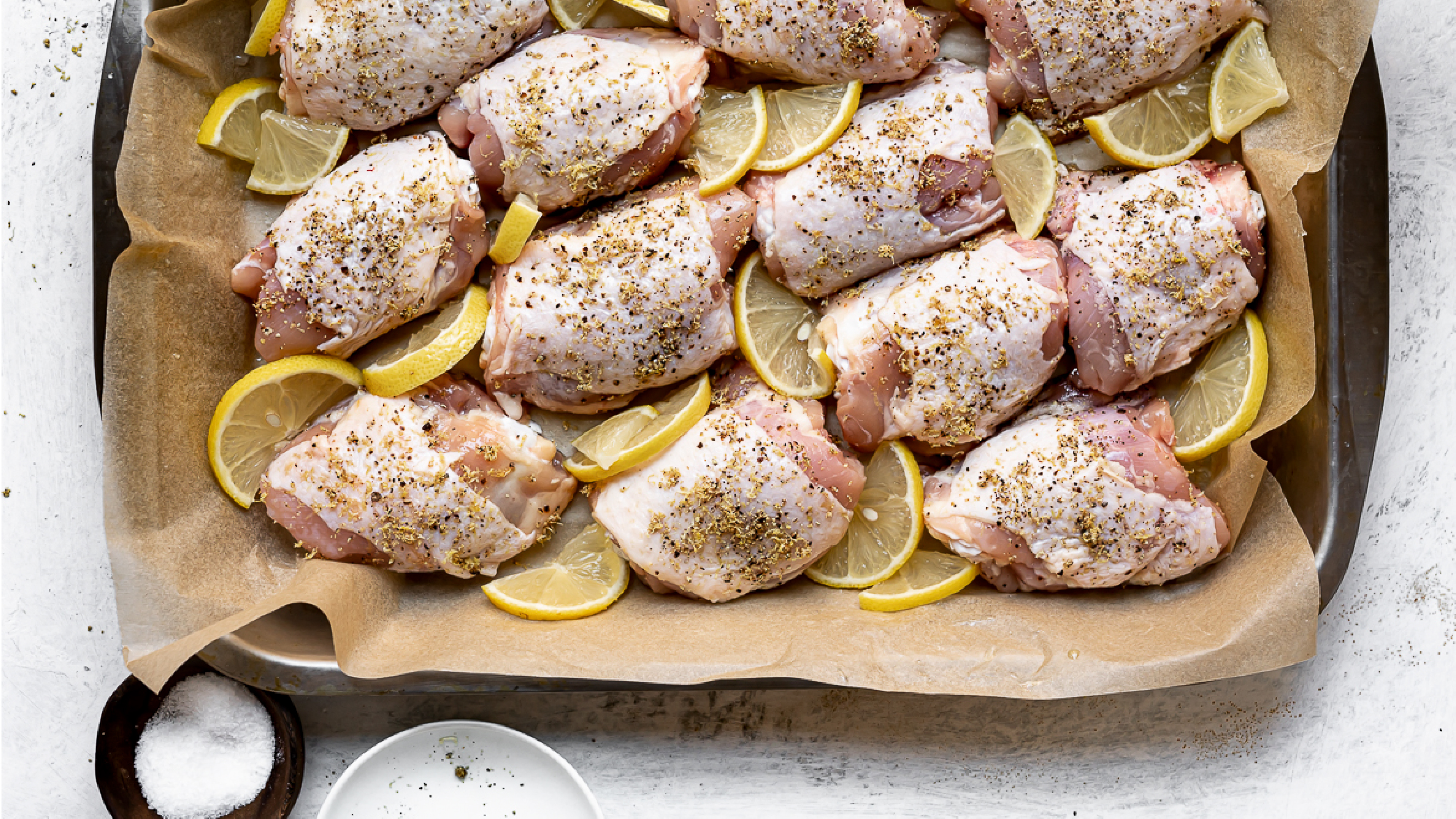 Why Bone-in Skin-on Chicken Thighs
In general, the cooking method will dictate whether to use skinless boneless chicken thighs or chicken thighs with bone-in, skin-on. For baking, skin-on, bone-in chicken thighs are absolutely the best way to go. When you bake with skin-on chicken thighs, the skin will prevent the meat from drying out, keeping the meat juicy and tender while imparting a deep meaty flavour.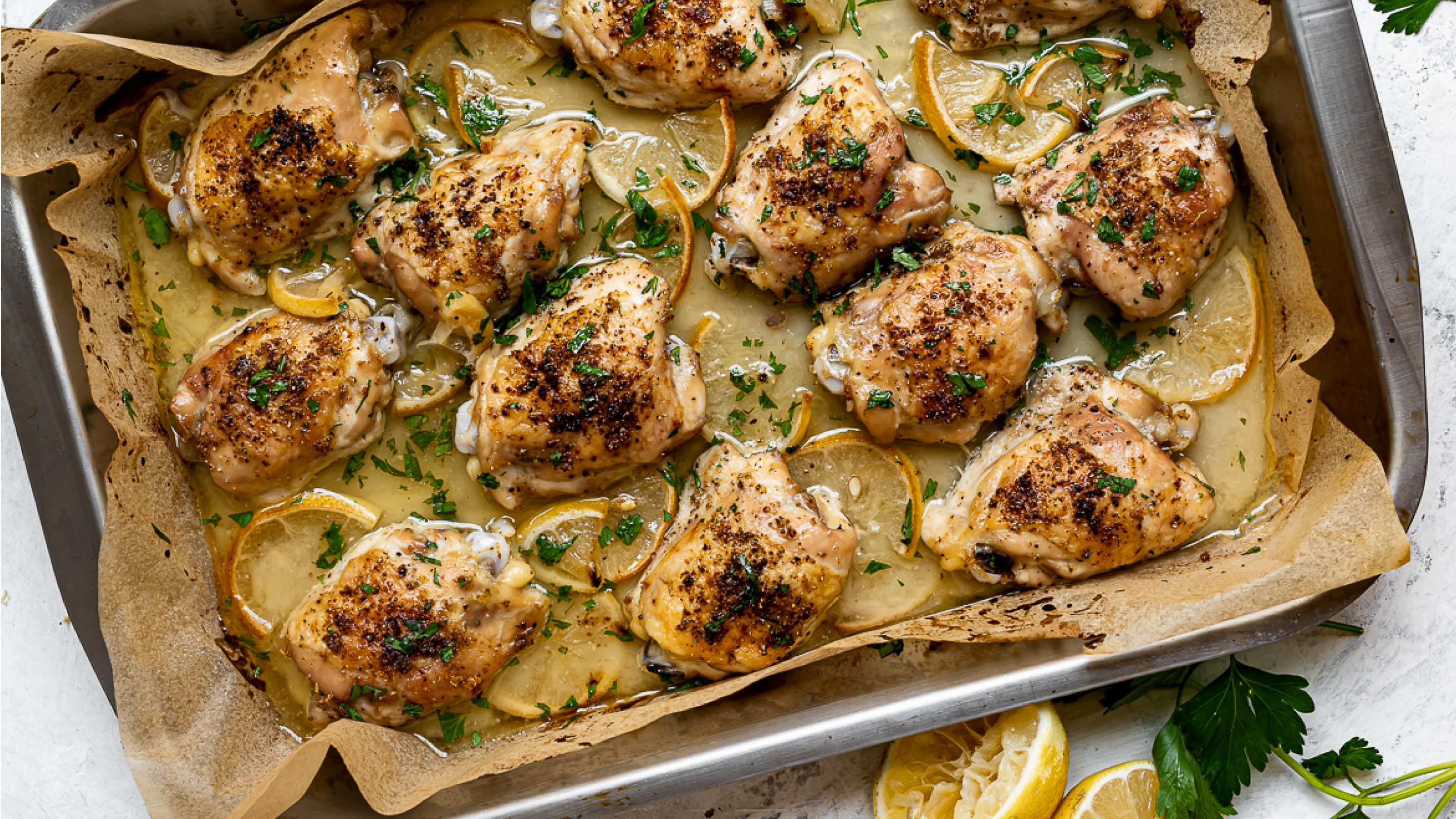 The only disadvantage to using skin-on chicken thighs is that the sauce might end up with too much rendered fat. To avoid this, I cut off a lot of the extra fat using kitchen shears, and even some of the skin. This is purely optional, of course. If you don't mind the sauce being fattier, then by all means leave the skin on. Alternatively, you can pour the sauce into a measuring cup, let the fat rise to the top, then skim it off.
Feel free to use boneless skinless chicken thighs, or even breasts, for this recipe, if that is what you prefer. They will not take as long to cook and they will still be delicious.
How to Make Baked Lemon Chicken Thighs
To make these chicken thighs extra lemony they are rubbed with a lemon salt mixture and then they bake in a lemon-wine sauce with lemon slices that melt into the sauce. So simple, and so good. Feel free to follow this basic method for baking chicken using your Fulgor Milano freestanding range or wall oven.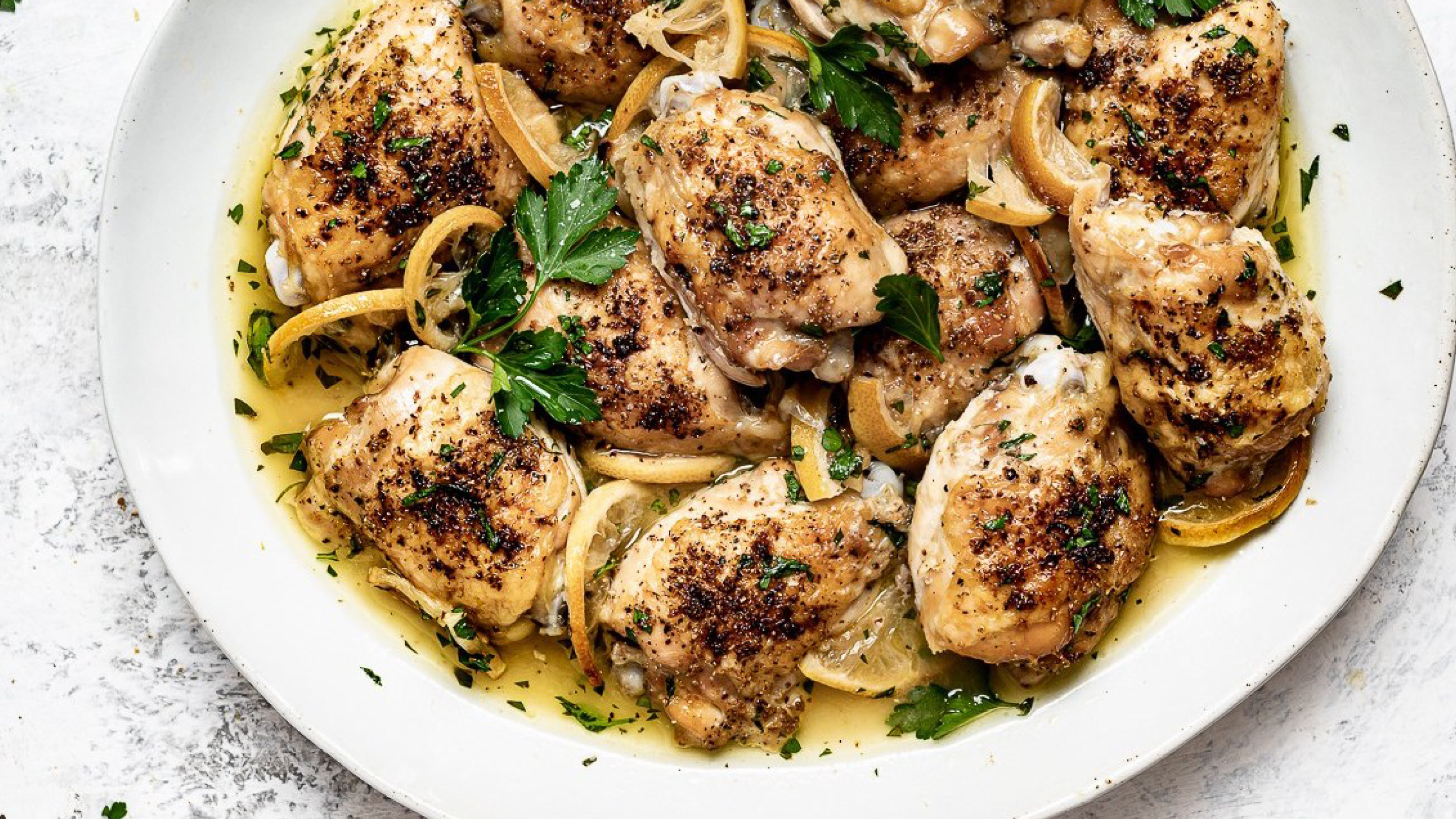 Ingredients
Lemon salt rub
1 teaspoon Kosher or sea salt or a pinch more to taste

zest of 1 lemon

1 teaspoon garlic powder

1 teaspoon freshly cracked black pepper or more to taste
For the chicken
2 ½ pounds bone-in, skin-on chicken thighs 6- 8 thighs*

2 tablespoons extra-virgin olive oil, divided

juice of 1 lemon (use the lemon you zested)

¼ cup white wine, or chicken broth (optional)

1 lemon thinly sliced

2 tablespoons chopped fresh parsley for garnish (optional)
Directions:
Preheat your Fulgor Milano range or oven to 425º F.

Prepare the baking pan.

Line a baking dish with parchment paper for easier cleanup.

Prepare the lemon salt.

Combine the salt, lemon zest, garlic powder, and pepper in a small bowl. Rub together with your fingers to mix well. The texture will be slightly damp.

Pat dry the chicken

. Drying the moisture off the chicken will yield better flavour and crispier skin.

Season the chicken.

Place the thighs on parchment paper and use your hands to rub them with about 1 tablespoon of olive oil, then sprinkle the lemon salt mixture evenly on both sides.

Bake.

Pour the remaining 1 tablespoon of olive oil, lemon juice, and wine into the prepared pan. Place the chicken thighs in the pan skin side up. Nestle the lemon slices around the chicken and bake for 30 to 35 minutes or until the thighs are crispy and golden-brown on top and the internal temperature is 165ºF

.

Serve and enjoy!

Garnish with chopped parsley, if using. Serve warm with orzo or rice, if desired.
Makes 4-6 servings.
Notes
(*) You can use up to 12 small thighs for this recipe.
Leftovers keep well refrigerated, tightly covered, for up to 4 days. To reheat, preheat the oven to 325ºF and place the chicken in an oven-safe dish and cover with foil. Bake until heated through.
Tips for Success
Don't undercook, or overcook them

: For the best, melt-off-the-bone chicken thighs, and remove them from the oven when they reach an internal temperature of about 165ºF. Regardless of their size, most chicken thighs need to cook for at least 30 minutes to not be chewy or undercooked.

Don't bake the chicken cold:

You should always remove meat from the fridge for a while before you plan on cooking it. Cold meat will not cook evenly. The chicken will not take too long to warm up so 15-20 minutes before cooking should be sufficient.
Cook at a relatively high temperature: A higher temperature helps crisp the skin. The Convection Roast oven mode on Fulgor Milano Sofia Pro ranges is a great option for this recipe, using the upper and lower elements and convection fan to circulate heat in all directions for evenly cooked meat with crisp skin.