With a crunchy Panko-Parmesan coating, Baked Zucchini Fries make a healthy and delicious side dish.
Tender and evenly cooked on the inside with a super crunchy panko-parmesan coated exterior, even zucchini-haters will love these. Dipped into a simple marinara sauce, these tasty zucchini fries make a healthy and delicious side dish or snack.
The Technique
To achieve the crispy exterior on these baked zucchini fries, the technique used here is the familiar flour-egg-breadcrumb coating assembly line. A quick dip in flour and egg whites provides the glue for the panko-parmesan mixture to adhere. From there, the breaded sticks are baked in the oven making the rest of the preparation pretty hands-off.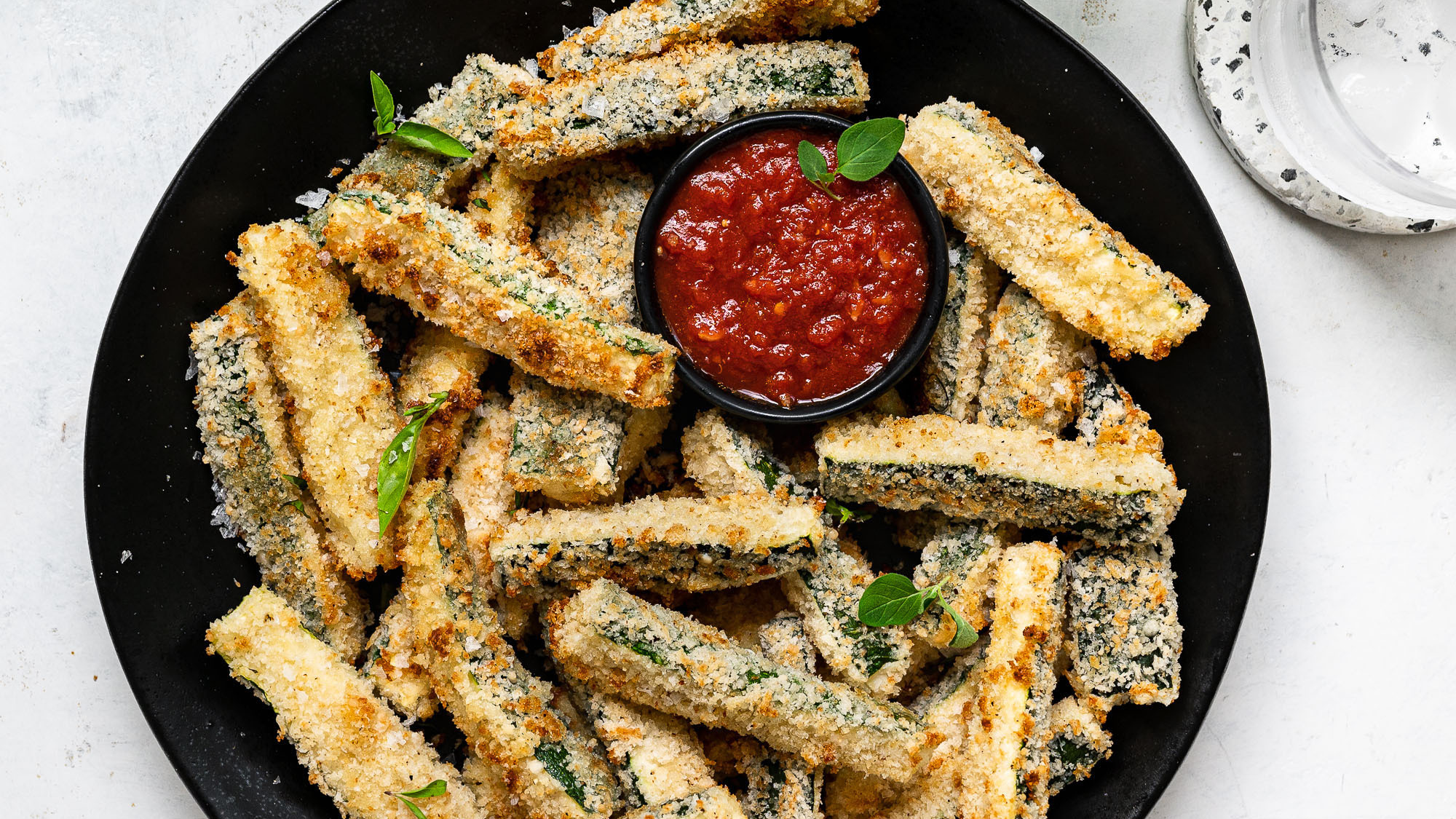 Ingredients And Notes
These are the ingredients you'll need to make crispy baked zucchini fries:
Zucchini

: Try to find medium-sized zucchini that are about the same size. This makes it easier to cut the sticks into more even-sized pieces.

Panko breadcrumbs

: Japanese Panko breadcrumbs will provide the crunchiest coating for these zucchini fries.

Parmesan

: Grated Parmesan in the panko mixture adds a bit of salty-umami flavour and makes the coating irresistibly cheesy.

Seasoning

: I keep the seasoning pretty simple and only add garlic powder, salt, and pepper. You can add other spices if you wish.

Rice flour

: You can get away without the flour coating to make these zucchini fries. However, I find the flour really helps the egg whites, and in turn the breadcrumbs, adhere to the sticks.  I like to use rice flour because it clumps less and it makes for a lighter coating, but all-purpose flour is fine too.

Egg whites

: You can use the whole egg if you prefer but I find whisked egg whites deliver a crispier exterior when baked in a hot oven.

Marinara Sauce

: To serve these delightful zucchini fries, you will need a delicious sauce. A quick homemade, or store-bought, Marinara is great for dipping. The zucchini fries would also be delicious dipped in an aioli sauce, or even plain ketchup.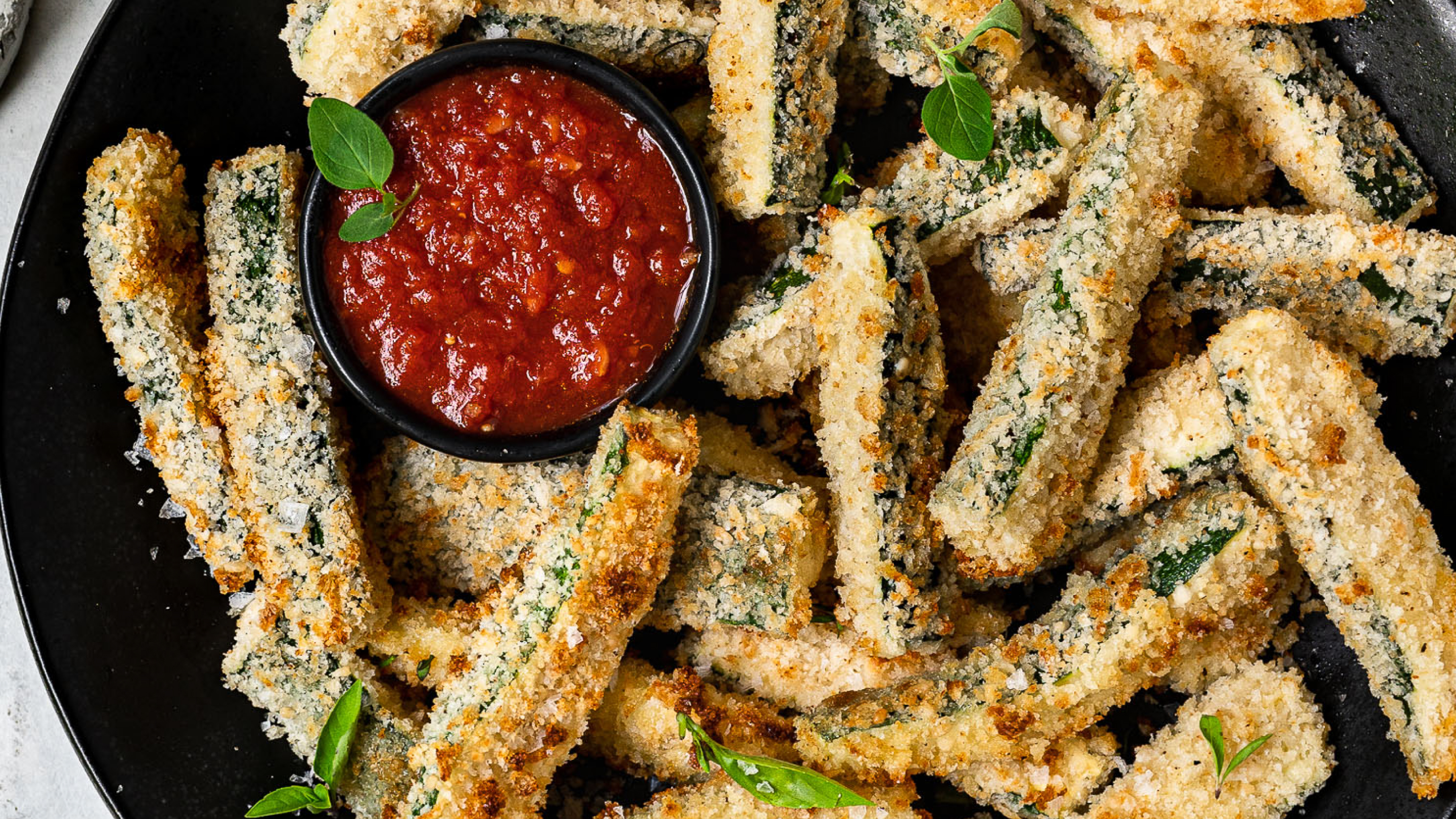 Ingredients
For The Zucchini Fries
1 cup Panko breadcrumbs

¼ cup finely grated Parmesan cheese

½ teaspoon garlic powder

½ teaspoon kosher salt

¼ teaspoon ground black pepper

½ cup rice flour or all-purpose flour

3 large egg whites

2-3 small/medium (about 1 ¼ pound) 7-inch zucchini cut into ½ inch x 3 ½-inch "sticks"

Nonstick cooking spray or olive oil

1 cup Homemade Marinara sauce (recipe follows) optional, or use store-bought
Quick Homemade Marinara Sauce
1 tablespoon extra-virgin olive oil

2 cloves garlic, smashed

1 14oz can crushed tomatoes I like Mutti Polpa (linked in notes)

1 teaspoon dried oregano

1 teaspoon Kosher salt

freshly ground pepper to taste

2 tablespoons fresh basil, chopped optional
Instructions
Preheat your Sofia Pro range or wall oven to 425°F. Coat two baking sheets with cooking spray or 1 tablespoon olive oil.

In a shallow bowl, combine the panko, parmesan, garlic powder, salt, and pepper. Place the flour in a large mixing bowl. In another shallow bowl, beat the egg whites and salt until foamy.

Quarter the zucchini in half crosswise, then cut each wedge in half lengthwise. Make 6 to 8 thick fry shapes, depending on the size of your zucchini. Place the zucchini sticks in the flour bowl and toss to evenly coat.

Working with two or three at a time, dip the zucchini wedges into the egg whites, tossing to coat evenly, then let the excess drip off. Toss in the bread crumb mixture, pressing lightly to fully coat. Repeat with remaing zucchini sticks, placing them on the prepared baking sheet with plenty of space between them, as you go along.

Lightly spray the tops with cooking spray, if using. Bake for 20-22 minutes, or until browned and golden, flipping once halfway through if you didn't use cooking spray. Serve with marinara sauce, or aioli, for dipping.
Marinara Sauce
While the zucchini fries bake, make the Marinara Sauce: In a medium saucepan, heat the oil over medium heat. Add the garlic and cook, stirring often, for about 1 minute, until aromatic. Stir in the oregano and cook, stirring often, for 30 seconds. Add the crushed tomato, salt and pepper, increase the heat to medium-high, and bring to a boil. Reduce the heat to low, and cook, stirring occasionally, for 15 to 20 minutes, or until slightly thickened. Stir in the basil (if using), then taste and add more salt and/or pepper if needed.
Best Way To Store And Reheat Baked Zucchini Fries
To be sure, these zucchini fries are the crunchiest when served immediately. That said, they do reheat well in a very hot oven.
Store zucchini fries in an airtight container in the fridge for up to 4 days. I have a 36" Sofia Professional French-door refrigerator which has height-adjustable cantilever shelves and a large pantry drawer so that I can customize the fridge interior to best fit my produce and prepared foods.

To reheat zucchini fries, preheat the oven to 375ºF and bake for about 10 minutes. I do not recommend reheating in the microwave as they will get limp and soggy.