This flavorful Charred Tomato Salsa is made with blistered tomatoes, onions, garlic and chiles.
This richly flavoured and smoky Charred Tomato Salsa is made with blistered tomatoes, onions, garlic and chiles. So few ingredients, so little effort, and easily the best salsa you've ever tasted. When charred, the tomatoes become beautifully caramelized which intensifies their flavour, and the onions, garlic, and chiles become a little sweeter, a little mellower.
To finish, cilantro and lime juice add freshness for a rich and vibrant salsa that delivers a jolt of flavour in every bite with just the right amount of spice.
The Difference Between Charred Tomato Salsa and Pico de Gallo
The ingredients and proportions for Pico de Gallo (also known as salsa fresca) and this charred salsa are pretty much the same. The main difference is that the ingredients for Pico de Gallo are always raw, and chopped by hand. Since this charred tomato salsa recipe calls for blending all the vegetables, there is barely any chopping and it couldn't be easier, or faster, to make.
Ingredients You'll Need
Tomatoes form the base for all salsas and because here they are getting charred, even winter tomatoes will work.
Tomatoes

- I like to use plum tomatoes for my salsas. They have dense and meaty flesh that helps them hold up well, particularly when getting charred.

White Onion

- You will almost always find white onions listed in a salsa recipe because it is a little milder and sweeter (but not too sweet) than other onion varieties. That said, any onion will work here.

Garlic

- I love garlic so I use three large cloves here. You can use less, or more, if you wish. Keeping the peel on the garlic prevents it from burning and adds a little more smokiness to the clove.

Jalapeños

- Two small jalapeños (not seeded) provide the perfect amount of heat for us. If you really don't enjoy anything spicy, use only one jalapeño and be sure to remove the seeds. Similarly, if you love heat, add more chiles to taste.

Lime Juice

- You will need at least 2 tablespoons of lime juice to give your charred salsa the perfect floral, tangy flavour. One large lime juice is usually enough, but if your limes are small, use two.

Salt

- Tomatoes like salt. Start with 1 teaspoon and add more to taste.

Cilantro

- Kind of a must for any salsa. If you really hate it, just leave it out.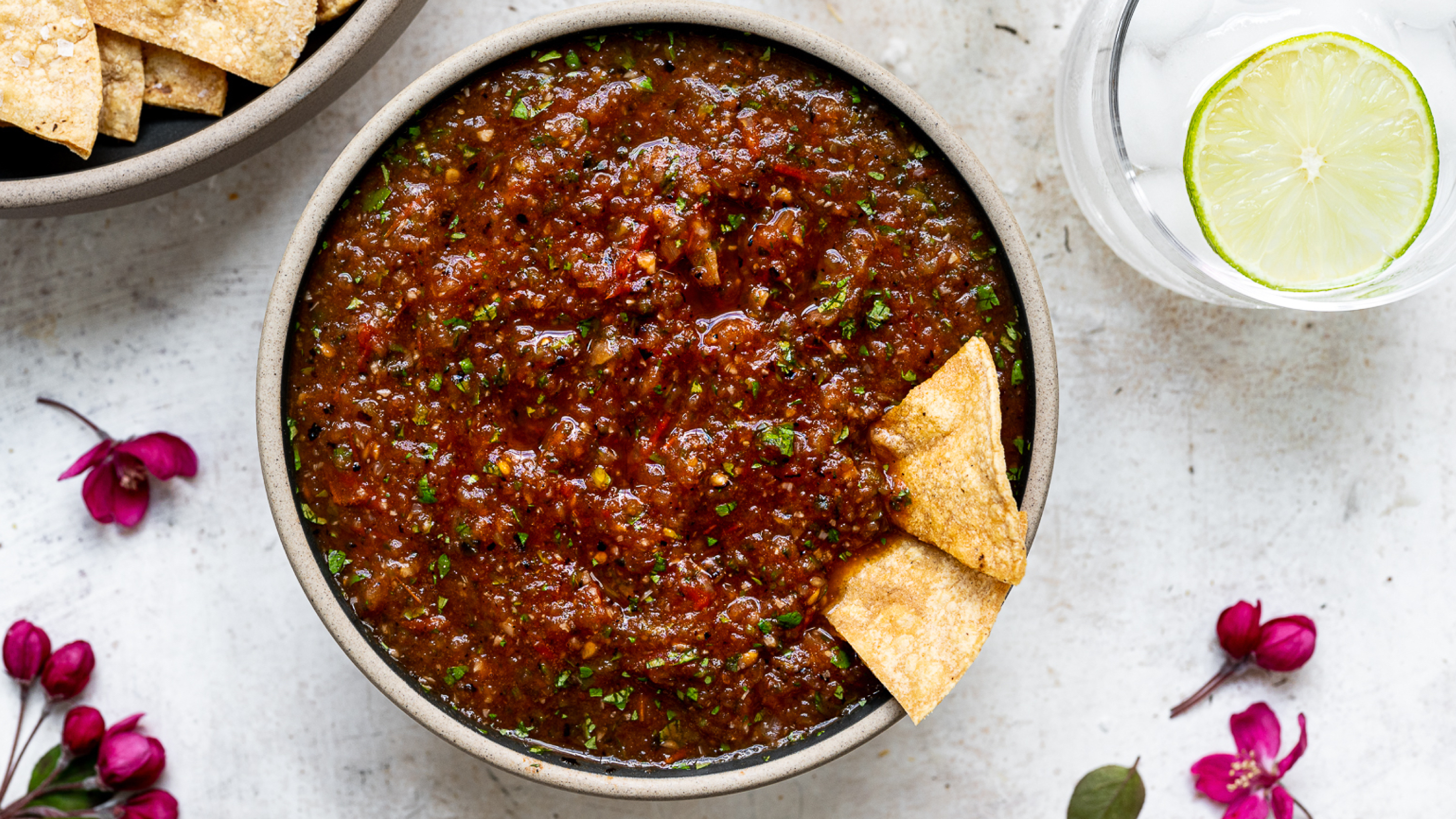 How To Make Charred Tomato Salsa
A few fresh ingredients combine to make this salsa easy and delicious.
Ingredients
1 tablespoon extra-virgin olive oil

4 - 5 large plum tomatoes (about 1 ½ lb) halved

½ white onion cut into wedges

2 jalapeño peppers

2 garlic cloves (unpeeled)

2 tablespoons lime juice

¼ cup roughly chopped cilantro

1 teaspoon Kosher salt

Freshly ground black pepper to taste

Tortilla chips for serving
Instructions
Heat a large skillet (preferably cast-iron) over medium-high heat and add 1 tablesoon oil. Cook the tomatoes, onion, jalapeños, and garlic, uaing tongs to flip them often, until charred all over, about 5-8 minutes. If the garlic and jalapeños are charring too quickly, pull them out, and allow the other ingredients to continue to char a few minutes longer.

Peel the garlic and discard the skins (no need to peel the tomato).

Transfer all the vegetables to a food processor and pulse until almost smooth but with some texture remaining. Allow to cool down slightly before adding the cilantro, lime juice, 1 teaspoon salt, and pepper to taste. Pulse a few more times.

Taste and add a little more salt, if needed, then transfer to a bowl, serve with tortilla chips, and enjoy the best salsa ever!
Make Ahead And Store
Nothing will ever taste better than a bowl of charred salsa that is served when it has been freshly blended. That said, the salsa can be made ahead and stored in the refrigerator, covered, for up to 3 days. My 36" Sofia Professional French-door refrigerator features a large pantry drawer, allowing me to customize my fridge to my desire. I have plenty of room to store all of my fresh and prepared foods.