Satisfy your sweet tooth with this simple recipe for chocolate-drizzled coconut macaroons.
My love for coconut runs deep. If yours does too, these macaroons will satisfy all of your coconut cravings. They're creamy, moist, and chewy on the inside with a delightfully crisp exterior and coconutty all the way through. With just the right amount of sweetness, they also happen to be naturally gluten-free.
These family-friendly, crowd-pleasing, delightful bites are quick to make and keep well for days, making them perfect to bring along to a backyard picnic or to have around for mid-afternoon snacks. Delicious when left as is but you can certainly take these little macaroons in many different directions. A drizzle of chocolate is always welcome, as is a few drops of rum in the batter if serving them to adults only.
 
Sweetened Or Unsweetened Coconut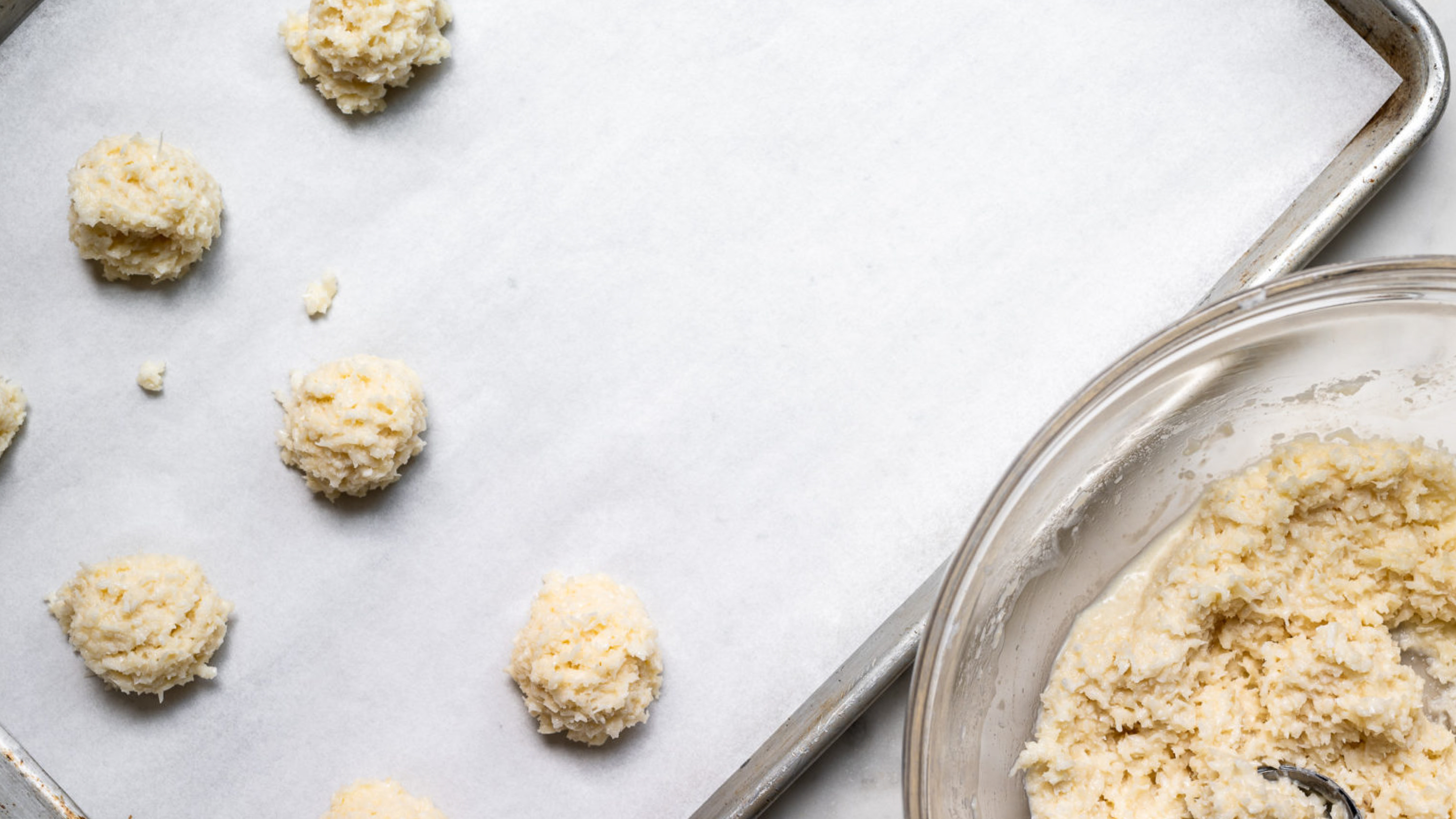 Shredded coconut forms the base of coconut macaroons. Most recipes call for sweetened shredded coconut because it is sweeter and contains more moisture than unsweetened. This extra moisture makes for a more moist macaroon. However, I don't like to use sweetened coconut because it almost always contains preservatives that I rather avoid. In addition, I find macaroons made with super-sweet shredded coconut and sweetened condensed milk can have a cloying bite that may be too much for even the sweetest tooth.
Unsweetened shredded coconut is light and dry and perfect for savory dishes. To use it in coconut macaroons, however, you need to add more moisture to the mixture to compensate for the dryness. This is easily done by increasing the condensed milk to shredded coconut ratio. Allowing the shredded coconut to absorb the condensed milk for about 15 minutes will also ensure your macaroons don't end up dry.
Please note that this recipe is written strictly for unsweetened coconut. Sweetened coconut will not work as it will throw off the wet-to-dry ingredient ratio.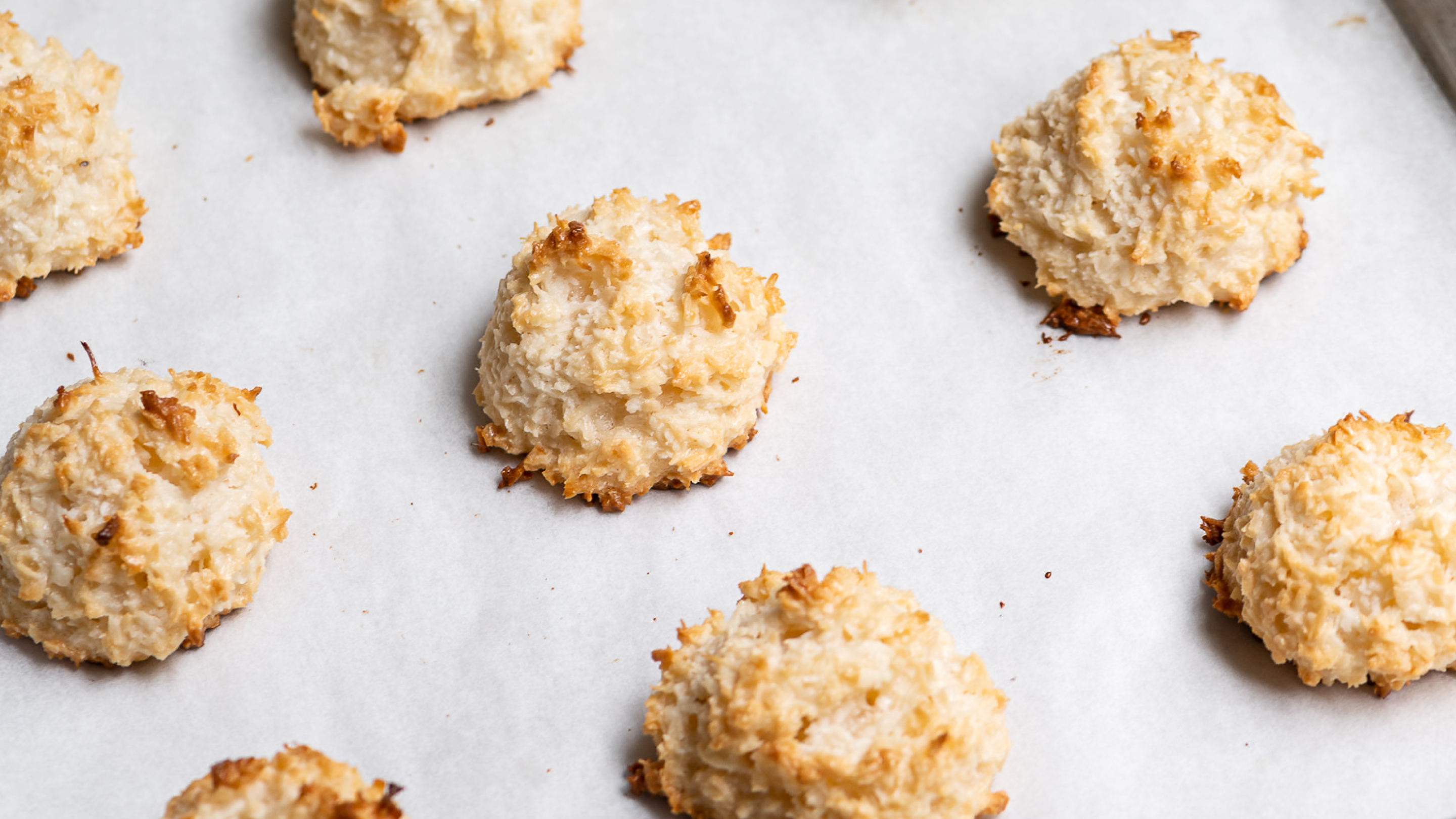 Ingredients For The Best Coconut Macaroons
Shredded unsweetened coconut:

These macaroons will be slightly less sweet than those made with sweetened coconut. But fear not, they will still be plenty sweet.

Egg Whites:

You will need two room-temperature egg whites for these macaroons. The whipped egg whites add airiness, moisture, and lightness to the macaroons.

Sweetened condensed milk:

Provides the sweetener for these macaroons and also makes them ultra-creamy.

Vanilla extract:

Pretty essential for depth of flavor.

Salt:

A pinch of salt enhances all the flavors and will balance out the sweetness.

Bittersweet, or semi-sweet, chocolate:

A dip in melted bittersweet chocolate gives the macaroons a fancy look and balances out their sweetness. This is of

course optional and the macaroons will be just as delicious without it.

Flaky salt:

Optional, for sprinkling over the chocolate.
 
How To Make Coconut Macaroons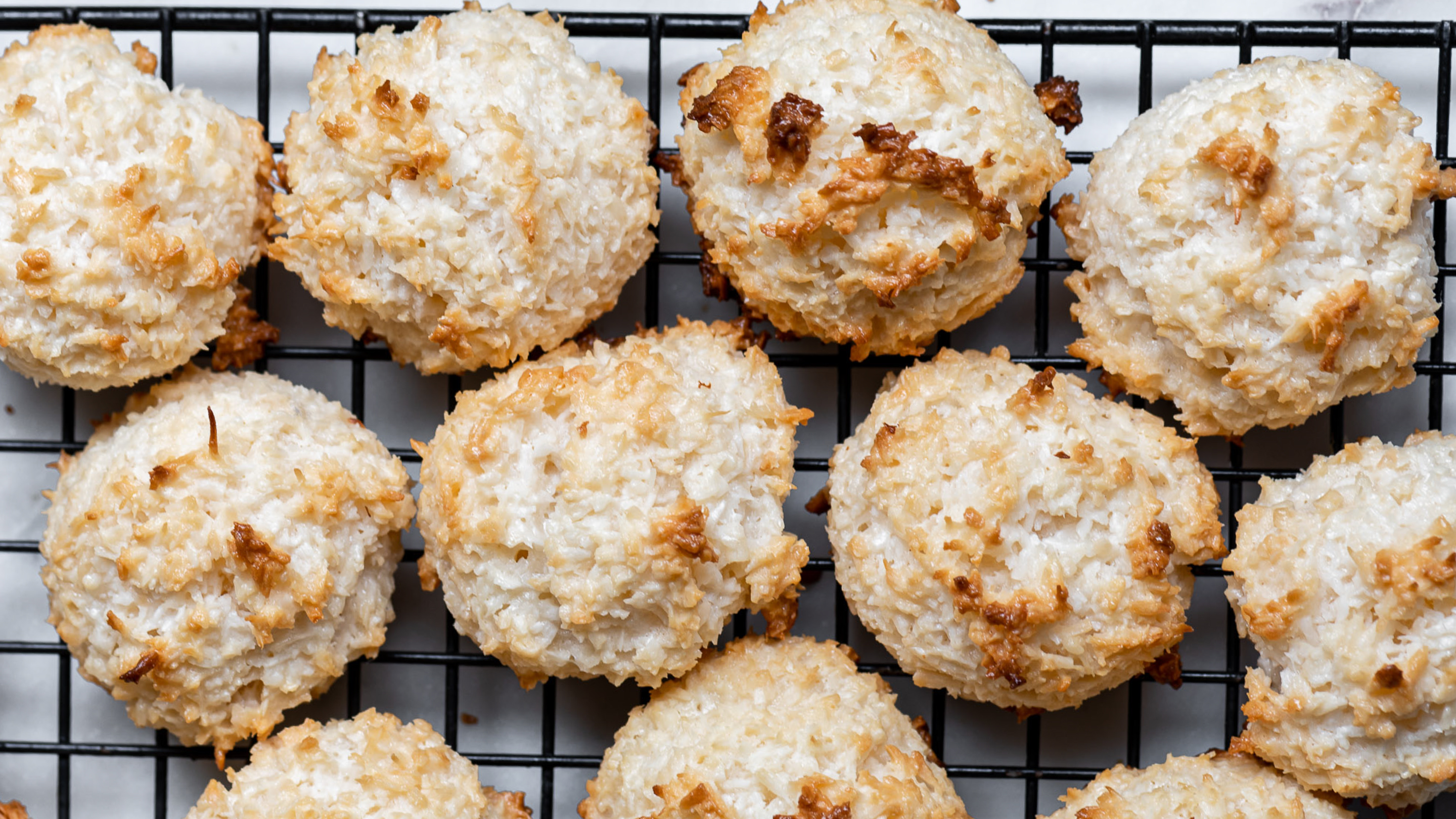 Please note that this recipe is written strictly for unsweetened coconut.
In a large bowl, combine the coconut, sweetened condensed milk, and vanilla. Set aside for 15 minutes to allow the shredded coconut to soak up the condensed milk.

In the meantime, Preheat your oven to 350ºF and line two large baking sheets with parchment paper. Fulgor Milano Sofia Professional ranges have an extra-large baking capacity to accommodate large baking sheets.

When the soaking time is done, beat the egg whites and salt in the bowl of an electric mixer until stiff peaks form.

Add the egg whites to the coconut mixture and use a spatula to gently fold until combined.

Use a 1 ½-inch cookie scoop, or two spoons, to form a two-tablespoon mound of the mixture, spacing them about 1 inch apart on the prepared baking sheet.

Bake, switching the pans halfway through from top to bottom, until the bottoms are golden and the tops are lightly toasted, 20 to 25 minutes.

Let cool on baking sheets for a few minutes, then transfer the macaroons to a cooling rack and cool completely.
If drizzling with chocolate, melt the chocolate in a double boiler over simmering water. Drizzle the top of the macaroons with the chocolate (you can also dip the bottoms of the macaroons in the chocolate) then place on the sheet pan and refrigerate for about 10 minutes, or until the chocolate is set.