This lightened-up version of Eggplant Parmesan is a delicious option for a vegetarian main course.
A notoriously heavy dish, this lightened-up version of eggplant parmesan is no less delicious and so much easier to prepare. Eggplant slices are brushed with olive oil and then baked in your Fulgor Milano freestanding range or wall oven until browned and pliable. Meanwhile, you simmer a simple tomato sauce with lots of garlic and fresh basil to top the slices. The dual-flame Crescendo burners on the Sofia Professional range provide the ideal heat for every cooking application – from a simmer to a sear. Slabs of mozzarella and fluffy Parmigiano are then layered in between to make an intensely flavored and strongly evocative dish. Like all simple dishes, however, attention to detail is key. Before you begin, read on for tips to make this dish a success.
 
Preparing The Eggplant
TO SALT OR NOT TO SALT
Almost all eggplant varieties used to be notoriously bitter. Salting them for a few hours would help draw out the bitterness. Nowadays, eggplants are bred to be milder in flavor and essentially bitter-less, so it is no longer necessary to salt them. Nevertheless, almost every recipe I come across calls for it because it prevents the spongy eggplant from absorbing too much oil, and it draws out excess moisture. I don't find any significant difference in the amount of oil they soak up, but I think even a half-hour of salting adds flavor and draws out sufficient moisture to improve the dish tremendously. If this seems too fastidious for you, feel free to skip this step.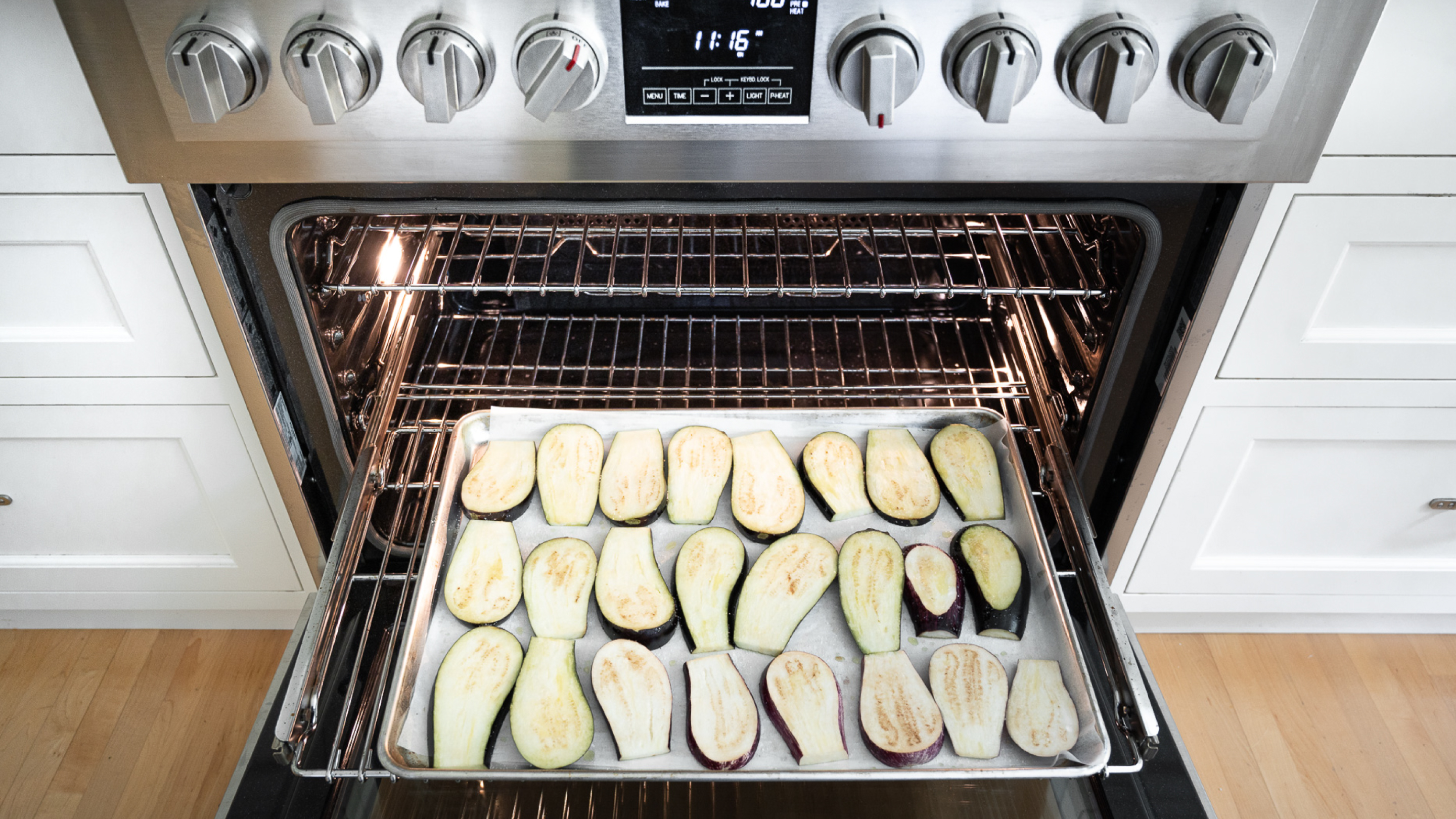 HOW TO SLICE THE EGGPLANT
I like to cut the eggplants lengthwise in ½-inch slices. It makes lining the casserole dish easier and gives it a little more structure. I do not recommend peeling the eggplants ever, which would cause the eggplant slice to turn very flimsy once cooked.
BREADING OR NO BREADING
While a bit of crunch is appealing, I've been making my eggplant parmesan without breading for years. I like the lightness and pure eggplant flavor you get when there are no distracting breadcrumbs. I also find the breadcrumbs turn soggy when topped with the sauce and cheese, so I like to omit them. If you can't do without the breadcrumbs, a good option is to brown the breadcrumbs in a skillet with a little oil, then sprinkle on top of the assembled casserole. Interestingly, breadcrumbs are not added to a classic Eggplant Parmigiana in Italy.
BAKING VS FRYING
A classic Melanzane di Parmigiana recipe will have you frying the eggplant slices in copious amounts of oil. Admittedly, this does make them melt-in-your-mouth tender and delicious. But to me, this makes the dish too oily and rich, not to mention tedious. It is a step I am more than happy to avoid. When baked, the eggplant softens perfectly and turns beautifully golden brown, without frying.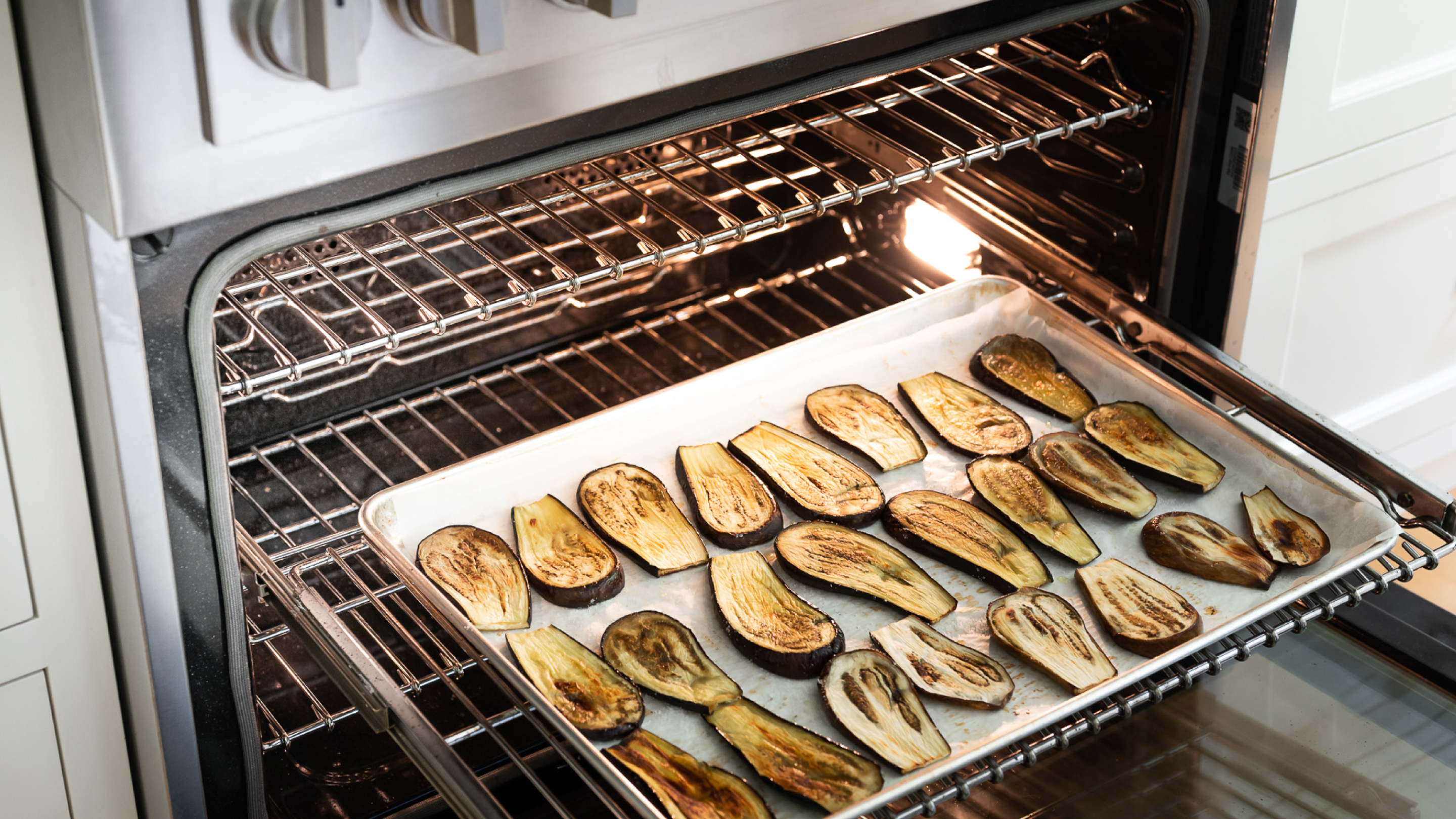 Ingredients for Eggplant Parmesan
Few ingredients are needed for this eggplant parmesan, so try and use the best quality ingredients you can afford and find.
Eggplants:

Regardless of the variety, the best eggplants are young, shiny, and as fresh and firm as possible. For this recipe, you want the globe, deep-purple variety. If all you can find are large, soft, super seedy eggplants, I strongly recommend you take the time to salt them.

Tomato sauce:

Here, you can use a homemade sauce or a good-quality jarred sauce. See more details below.

Parmigiano-Reggiano:

Aka parmesan cheese. Given the title of this dish and the effort you are putting into it, please do splurge for the real deal here.

Fresh Mozzarella:

I like to use fresh mozzarella but if you can't find a reasonably priced one, just go with regular mozzarella. It will still be delicious.

Extra-Virgin Olive oil:

You need quite a bit of olive to brush the eggplants, so I find it hard to use an expensive bottle for this. I use a mid-range olive oil for brushing and save my prized one for the finishing drizzles.

Fresh Basil:

Don't skip on this fresh herb. I find it essential to add flavor to the sauce and the overall dish.
 
The Tomato Sauce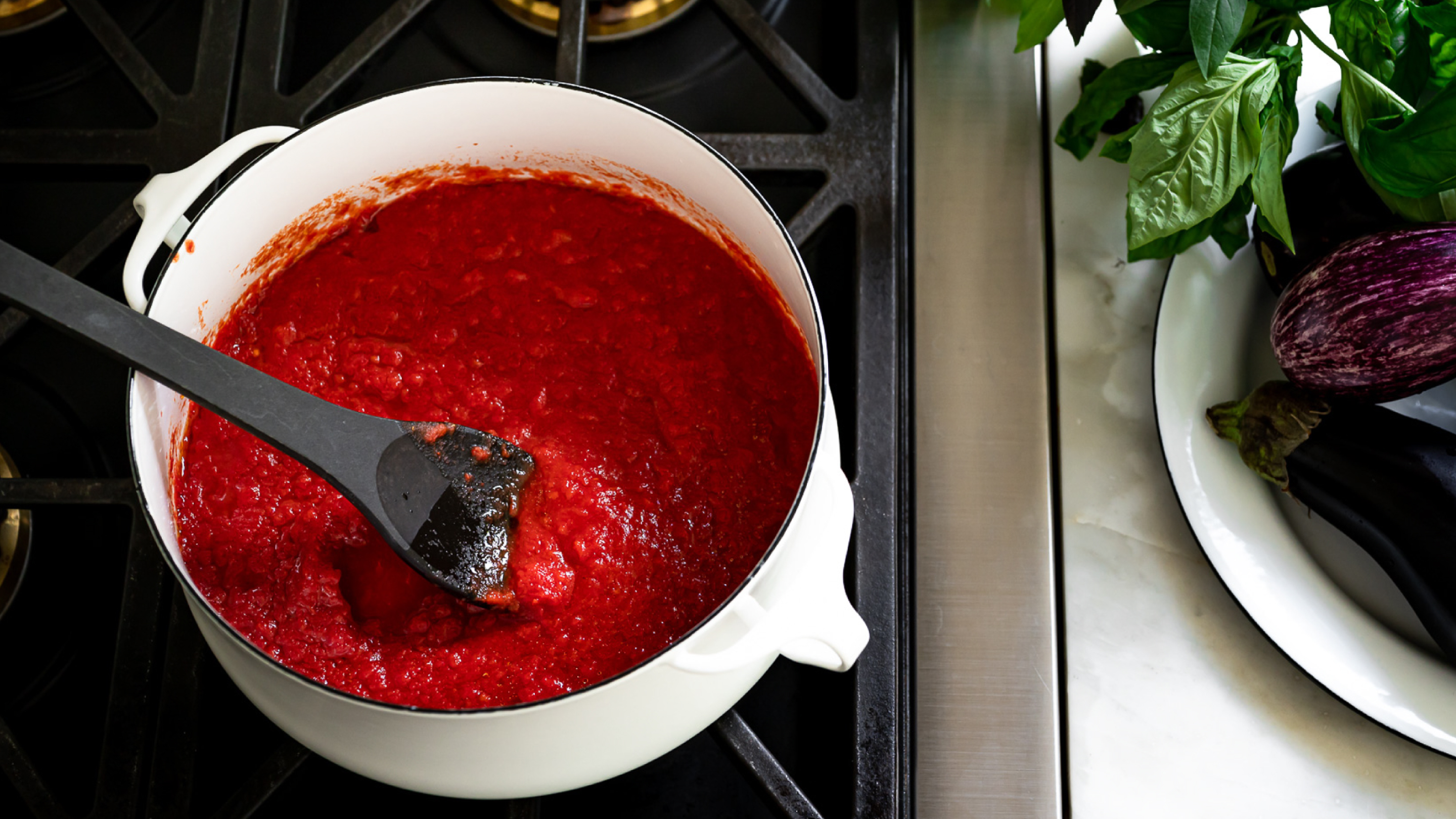 I am a proponent of making pasta sauces from scratch. For this dish, I like to keep the sauce simple and easy. A good-quality, jarred passata, with a glug of good olive oil, garlic slices, fresh basil, salt and pepper, and nothing more, works wonderfully. However, not all jarred passatas are created equally, so be sure to check the ingredients. If you buy a prepared jarred marinara sauce, be sure it is not strongly flavored, so it doesn't compete with the mild eggplant and cheese.
Note: A minor problem with this dish is that while you don't want it too saucy if using only one jar of passata sauce, you may come up a little short when assembling the dish. This is particularly true if you leave the sauce cooking uncovered for too long. To prevent this, add ½ cup of water to the sauce, place a lid slightly ajar over the pot, and cook on low. Keep an eye on it, and don't overcook it.
How to Make Eggplant Parmesan
This will be one of the greatest, low-calorie eggplant parmesan recipes you will ever have. Easy to prepare and with fantastic flavor. Nevertheless, it may require more time to prepare than you'd like for a weeknight dish. If this is the case, be sure to set aside a slow weekend to make it. The leftovers will delight you come on a busy week-day or weeknight.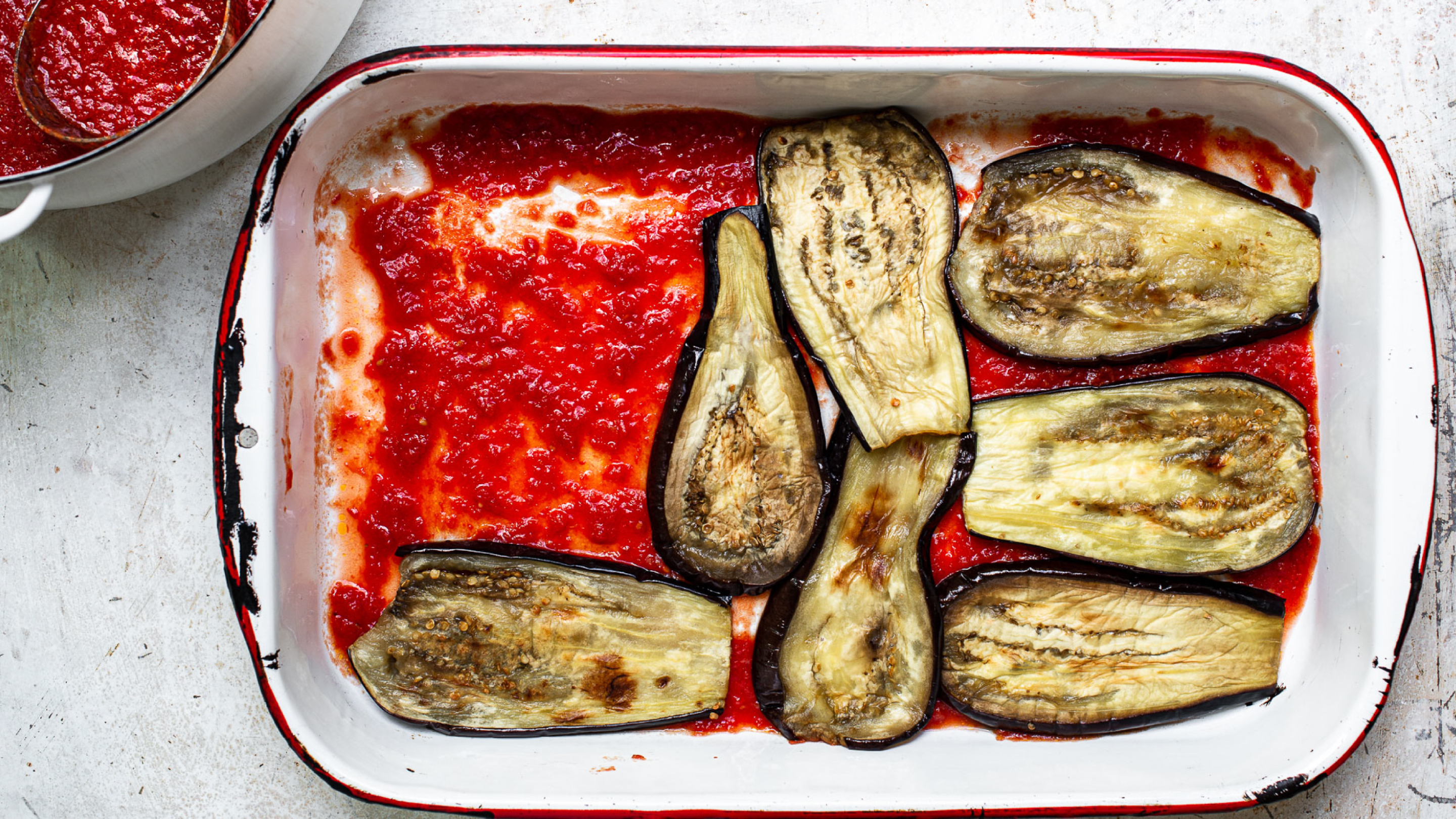 Ingredients
•    3 medium eggplants
•    Kosher salt
•    ¼ cup Extra-virgin olive oil, plus two tablespoons, divided
•    2 large garlic cloves, thinly sliced
•    1 large jar of passata (about 700 ml) or one 28-ounce can of no-salt plum tomatoes or crushed tomatoes (you should have about 4 cups of sauce)
•    ½ cup packed fresh basil leaves, roughly chopped plus more for garnish
•    Freshly ground black pepper
•    ¾ cup freshly grated Parmigiano-Reggiano, or slightly more, if needed
•    12 ounces fresh mozzarella, torn into bite-size pieces
Step-by-step Instructions:
1.   Preheat the oven to 425 degrees Fahrenheit. Line two large, rimmed baking sheets with parchment paper.
2.   Slice and salt the eggplant. Cut three medium-sized eggplants into ½-inch pieces lengthwise. Lightly sprinkle salt on both sides of the eggplant. Place in a colander to drain for about 30 minutes (salting the eggplant is optional, see above). Using paper towels, wipe away as much of the excess moisture and salt as possible. If it seems like the eggplant slices are still covered in salt, you may need to rinse them, then dry them well.
3.   Roast the eggplant. Brush both sides of eggplant slices with oil, and place in a single layer on one or two large baking sheets. The eggplants should not overlap, or they will not brown nicely. Roast in a hot 425-degree oven until tender and golden brown, 25-30 minutes. This is a great time to utilize the 'roast' function on your Sofia Professional freestanding range. Remove pans from the oven and set aside. Leave the oven on if assembling the casserole right away but reduce the temperature to 400° F.
4.   Make the tomato sauce. While the eggplants are roasting, place a large saucepan over medium heat on your Fulgor Milano range top or cooktop. Heat 2 tablespoons of olive oil and add the sliced garlic. Sauté until fragrant, about 2 minutes. Add passata or a jarred sauce of your choice. Cover, reduce heat to low and simmer for 15 to 30 minutes. Alternatively, you could use canned tomatoes with their juices, breaking up whole tomatoes with a wooden spoon. Next, add torn fresh basil leaves and season with salt and pepper, if necessary. Keep in mind the eggplant and the cheese will be salty, so don't use too much salt in the sauce.
 
5.   Assemble the dish. Spoon a small amount of tomato sauce into a 9x11-inch or 9x13-inch casserole dish. Arrange a single layer of eggplant slices over the sauce. Sprinkle with some of the parmesan cheese, fresh mozzarella, and drizzle with a thin layer of tomato sauce. Repeat to make one (or two) more layers, ending with the sauce and cheese on top.
6.   Bake. Place on the bottom rack of a preheated oven, uncovered, until the eggplant mixture is bubbly and the center is hot, 30 to 35 minutes depending on the size of the pan and thickness of the layers. Dual True Convection, featured in all Sofia Professional ranges, provides consistent heat for even baking.
7.   Let it rest! It is important to allow this dish to rest for at least 15 minutes before serving. Eggplant parmigiana should be enjoyed warm and not hot. I like to wait closer to 30 minutes as it gives the juices time to soak in, and the flavors intensify. If you rush this and slice it too soon, the layers will fall apart.
8.   Serve. Garnish with additional basil leaves and extra parmesan, if desired.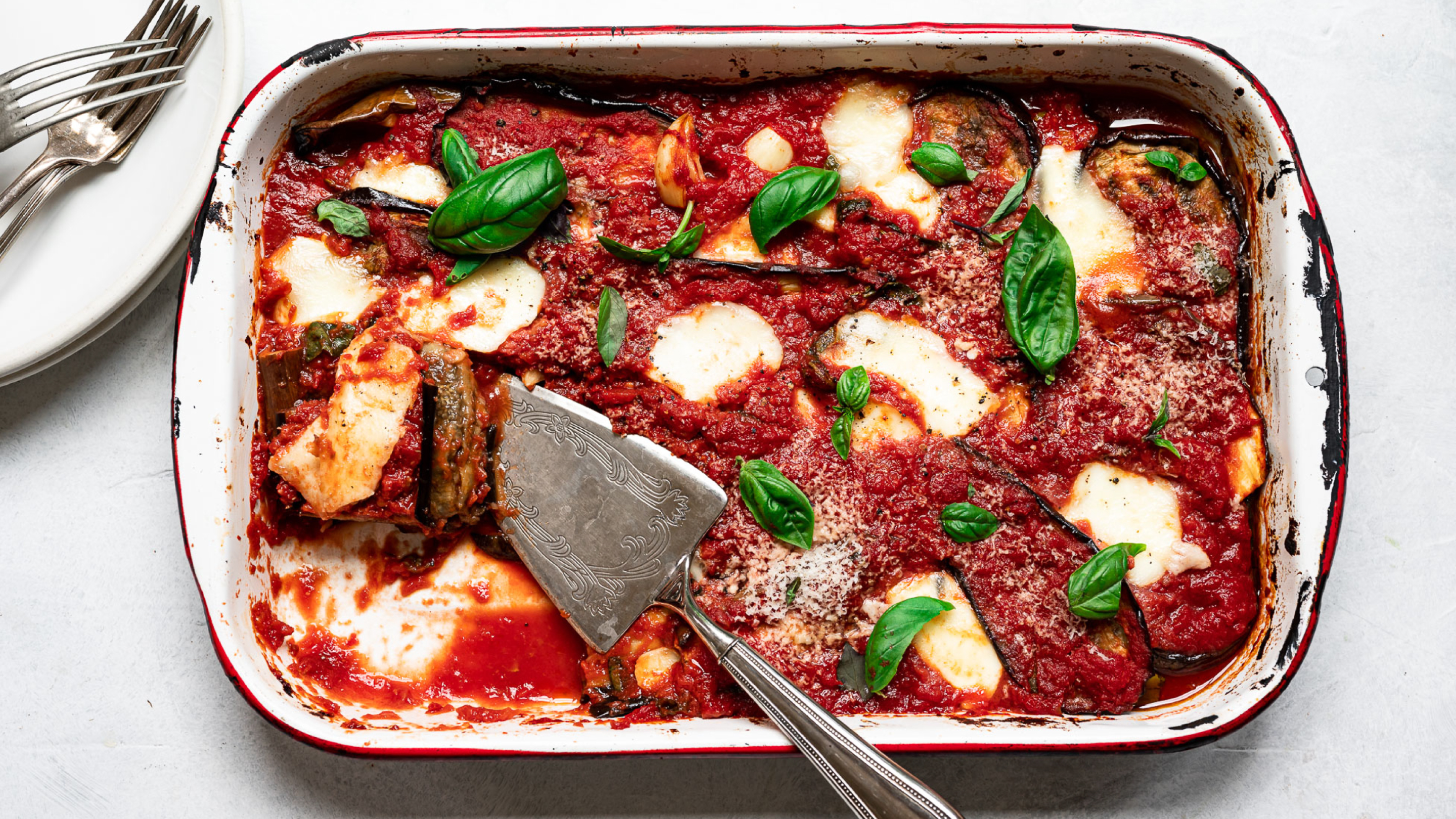 What to Serve With Eggplant Parmesan
Eggplant parmesan is a deliciously satisfying vegetarian dish on its own with perhaps a little crusty bread on the side. A light green salad is always welcome to cut through the richness.