Fallen Chocolate Soufflé Cakes
Fallen Chocolate Soufflé Cakes are flourless, elegant, incredibly rich, and deceptively easy to make.
Here's a no-fail, impressive dessert to bake for the one(s) you love and easy enough for the novice baker to pull off. Light, fluffy, and decadently chocolatey, these little soufflés promise loads of sweet comfort. They are devilishly fudgy on the inside with a craggy, crispy top and I know that just by looking at them, they hardly need any selling at all. If the word soufflé conjures images of deflated cakes gone wrong, you will be elated to learn that these are supposed to deflate, crack, and sink once cooled. How fun! When baked, the edges and top develop a delicately crisp crust while the moist and soft center collapses in the middle.
This recipe has a very short main ingredient list: chocolate, eggs, sugar, vanilla, and salt. You can play around with the sugar quantity, as well as using sweeter chocolate, without negatively impacting your cake. At its simplest, all this recipe requires is melting chocolate and butter, whisking half of the sugar with the egg yolks, combining both of those mixtures together, then beating the egg whites with the remaining sugar. You then fold the egg whites with the chocolate mixture, pour into a pan, bake, and enjoy.

Tips For A No-Fail Chocolate Soufflé
Making a successful soufflé is not as difficult as you may think, but it does require attention to detail. Here are my best tips for success:
Use good quality chocolate.
Chocolate is the star ingredient in this cake so it is important to use a high-quality brand. The recipe calls for bittersweet chocolate, so use one with at least 60% cacao. You could use semi-sweet chocolate if you prefer a sweeter cake.
Butter and sugar-coat your ramekins.
Liberally butter the base and walls of your pan or ramekins. Be sure to go all the way to the top. This will ensure the soufflés have something to catch on to as they rise up.
Don't burn the chocolate.
Make sure the bowl does not touch the simmering water when you are melting the chocolate. Melt it gently and don't let it get too hot. Remove the bowl from the water pot as soon as everything has melted.
Don't over-whip, or under-whip the egg whites.
Over-whipped egg whites become dry and foamy which will, in turn, make your cake dry and foamy. No bueno. Under-whipped egg whites will not provide enough lift and airiness to the batter. This will prevent the soufflé from rising. Also, no bueno. Whip until the whites form glossy, soft peaks.
Add the whipped egg whites gently.
Pay careful attention to the recipe instructions on how to fold the egg whites into the chocolate mix. You will do this in stages to first lighten the mixture, then carefully, but fully, incorporate the rest.
These little cakes are deceptively easy and wickedly indulgent. Make them once and you will be making them over and over, even in the absence of anything to celebrate. Serving them all by themselves is perfectly fine. But for a truly decadent experience, serve your cakes with an evocatively indulgent whipped mascarpone cream. Because should you do so, you will be telling everyone that cares to listen that you have never eaten anything so good in your entire life.
Ingredients
For the ramekins (or pan):
8 6-ounce ramekins (or use a 9-inch springform pan)
1-2 tablespoons soft or melted butter
3-4 tablespoons sugar (plus more, if needed)
For the chocolate soufflé:
10 ounces bittersweet chocolate (60% cacao or higher, coarsely chopped)
8 tablespoons salted or unsalted butter (1 stick) (cut into 1-inch pieces)
5 large eggs (yolks and whites separated, preferably at room temperature - *see notes)
2⁄3 cup granulated sugar, (divided)
2 teaspoons vanilla extract
½ teaspoon salt (omit if using salted butter)
Optional toppings:
2 tablespoons powdered sugar
2 tablespoons cocoa powder
½ cup fresh raspberries
For the whipped mascarpone cream
1 cup mascarpone
1 ¼ cups heavy cream
2 tablespoons powdered sugar (or more to taste)

How To Make Fallen Chocolate Soufflé Cakes
Preheat oven to 400°. Brush insides and rims of ramekins with butter, using straight upward strokes all the way around sides. Place the 3 tablespoons of sugar inside 1 ramekin (or pan) and swirl it around to coat. Tap out the excess into the next ramekin and repeat until all ramekins are well coated, using more sugar if necessary. Set aside.
 
Combine the chopped chocolate and butter pieces in a large heatproof bowl. Place the bowl over a large saucepan with just a few inches of simmering water. (The bowl should not be touching the water). Stir gently with a rubber spatula just until chocolate is melted and the mixture is smooth. Remove the bowl from the pan and set it aside to cool slightly.
 
In a medium bowl, whisk egg yolks, 1/3 cup sugar, vanilla extract, and salt. Slowly whisk the yolk mixture into the chocolate mixture and combine well.
 


Using a stand mixer, or handheld electric mixer on medium speed, beat egg whites until frothy, about 30 seconds. Once the egg whites look frothy, increase speed to medium-high, and with mixer running, gradually add remaining 1/3 cup sugar; beat until glossy and soft peaks form that hold their shape but aren't too stiff or dry about 2 to 3 more minutes.
 
Using a large spatula, very gently fold about one-third of egg whites into the chocolate mixture to lighten it. Use large deliberate but gentle strokes by gliding your spatula down the middle of the mixture, then folding it over to incorporate the whites without deflating them. Using the same technique gently and carefully fold in remaining egg whites in 2 additions, until barely any streaks remain.
 
Spoon into prepared ramekins right to the top and gently smooth the tops with a knife or offset spatula. Place ramekins on a rimmed baking sheet and transfer to oven. Immediately lower temperature to 375° and bake soufflés until they have risen and wobble slightly when jostled, 14 to 16 minutes, depending on how hot your oven is, or how fudgy you like them. If baking in a 9-inch pan, the batter will not come to the top; cook for 30 to 40 minutes.
 


While the cakes cool, make the whipped mascarpone cream. Place the mascarpone, cream, and powdered sugar in the bowl of a stand mixer (or use a handheld mixer). Beat on medium-low to combine the ingredients then increase speed to high. Beat until thick and creamy, about 2 minutes.
 
Serve the chocolate soufflés with optional toppings, and whipped mascarpone cream, if desired.
 
*Room temperature egg whites will whip up easier and have more volume.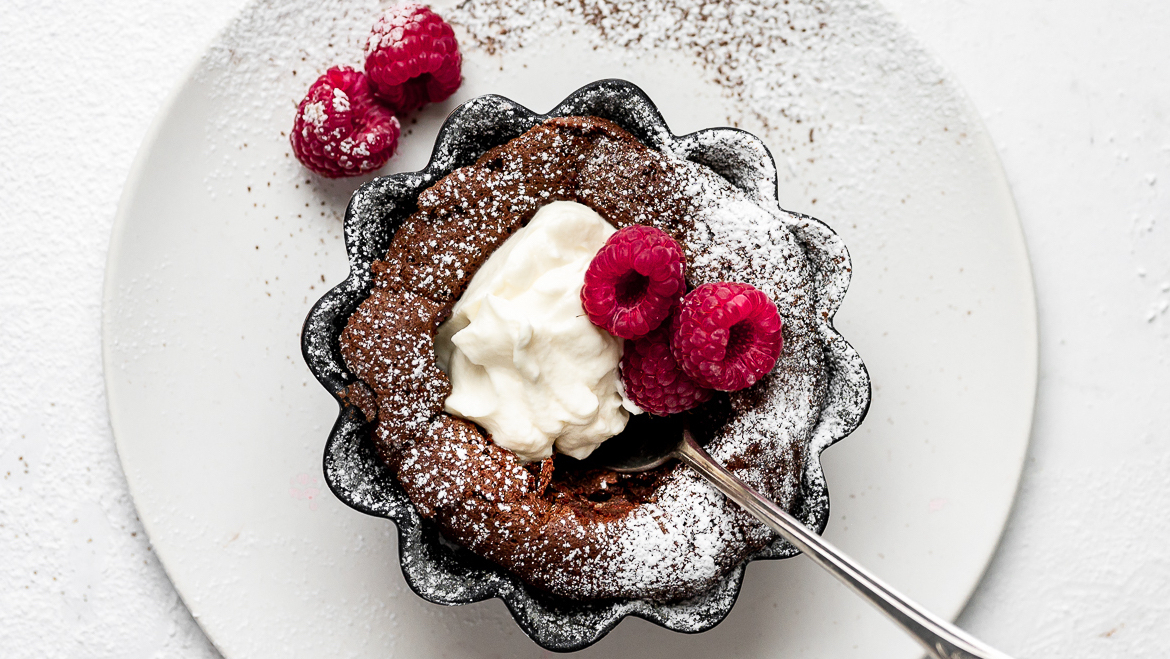 Halve the recipe: Use 3 eggs, and halve all the remaining ingredients.
Make Ahead And Freeze
Chocolate soufflé cakes are best served the day you make them get the full effect of the crispy top and the soft interior. That said, I have made them up to 2 days ahead and they are no less delicious.
To make ahead: Bake the chocolate soufflé cake(s) and allow it to cool completely. Cover with plastic wrap and store on the counter for up to two days. If you prefer to serve them warm, you can cover the unbaked, batter-filled ramekins (or pan) with plastic wrap and place them in the fridge for up to two hours. Bake as directed.
Visit sandravalvassori.com for more of Sandra Valvassori's delicious recipes.