These cookies, packed with the flavors of miso, molasses, ginger, and other fragrant spices, are an absolute joy for the tastebuds!
A few years ago, the New York Times published a recipe for Peanut Butter-Miso Cookies and the internet went crazy. With good reason. As peculiar as it sounds, miso's deep umami-savouriness is wonderful to pair with sweets.
I haven't made the peanut butter-miso cookies yet, but I thought it would be great to test a very similar approach with a ginger-molasses based cookie. The result: outstanding, amazing, delicious, mind-blowing. You simply must try it to believe it.
The flavour of white miso is very subtle and I'd be surprised if anyone could detect it. But not only does it add a rich nuttiness to these ginger cookies, it also makes them incredibly chewy and moist.
The texture, the flavour, the ease to prepare it – once you add miso to this classic, there is no turning back. We can't get enough of them.


Ingredients & Notes
If you bake regularly, aside from miso and molasses, you probably have all these ingredients on hand. Buy a couple of tubs of miso and trust me, you'll want to make many batches of these cookies.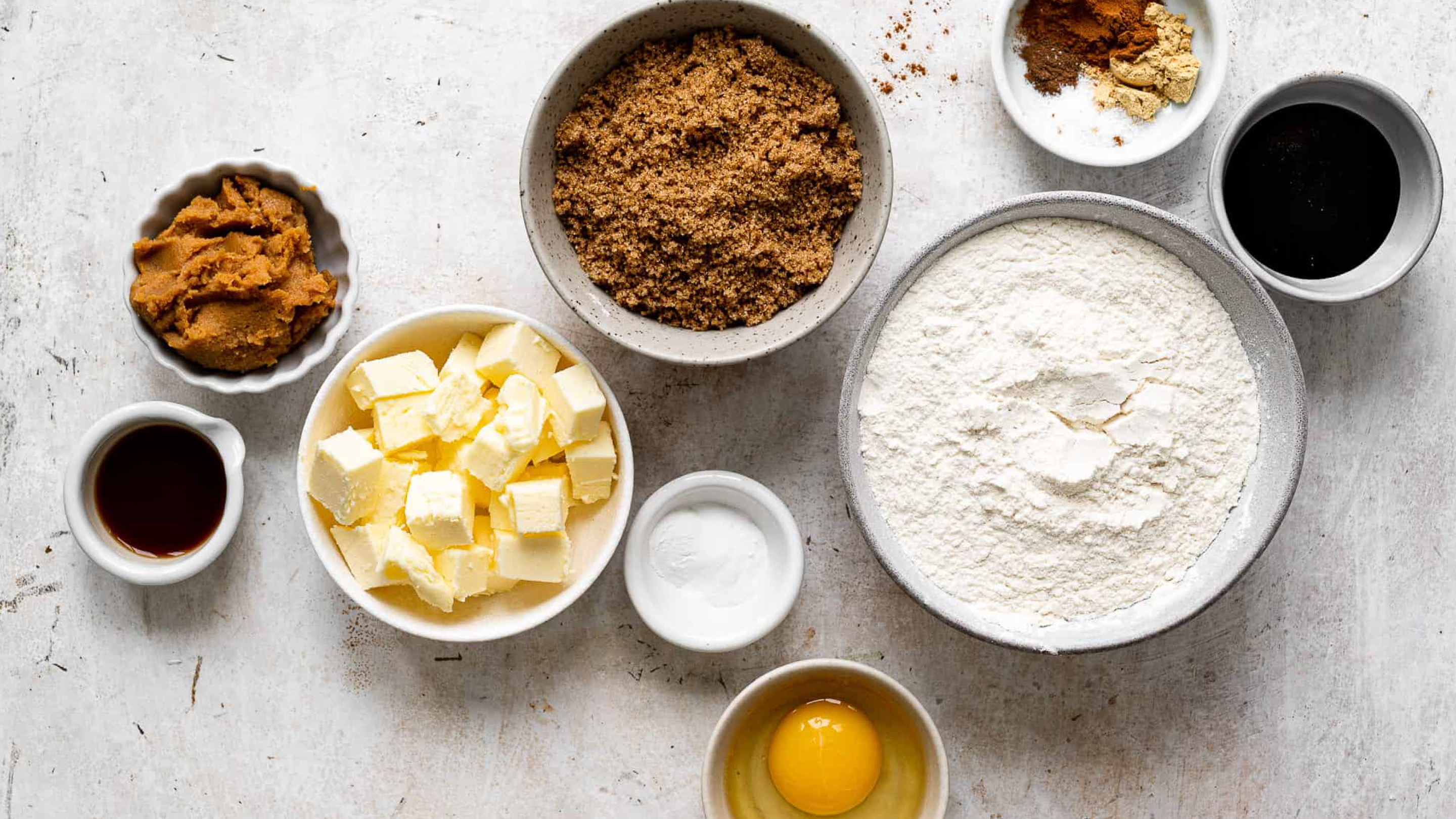 Flour – I used all-purpose to keep it simple but stay tuned as I test more and more variations. Though I haven't yet tested it, a gluten-free version should be very easy to achieve by swapping in a 1-to-1 gluten-free flour.
Baking soda and baking powder – To help the cookies rise.
Kosher salt – Just a pinch to balance and pop the flavours.
Spices – Like all good ginger-molasses cookies, this one has ground ginger, ground cinnamon, and a smidge of allspice. If you don't have allspice you can use cloves or nutmeg. Cardamom, if you love it, will also work here.
Light brown sugar – As usual, I reduce the sugar on these by quite a bit and I still find them plenty sweet with no compromise to their chewiness. If you like your cookies really sweet, feel free to add an extra 1/4 cup of light brown, or white sugar.
Butter – You need 1 stick of cold-room temperature butter for these ginger-miso cookies.
Egg – One egg helps give the dough structure.
Molasses – A regular cooking molasses such as Crosby's molasses, will work just fine for this recipe.
White miso paste – I have only used white miso for these cookies which are very mild in flavour. Red and brown miso have a much stronger flavour and I don't recommend them here.
Vanilla extract – The fragrance and flavour of vanilla is wonderful in these cookies.
Cane sugar – For rolling the cookies. This is optional but it gives the ginger cookies their signature crispy, crunchy crust.
How To Make Ginger-Miso Cookies
Here is the step-by step to make the cookies: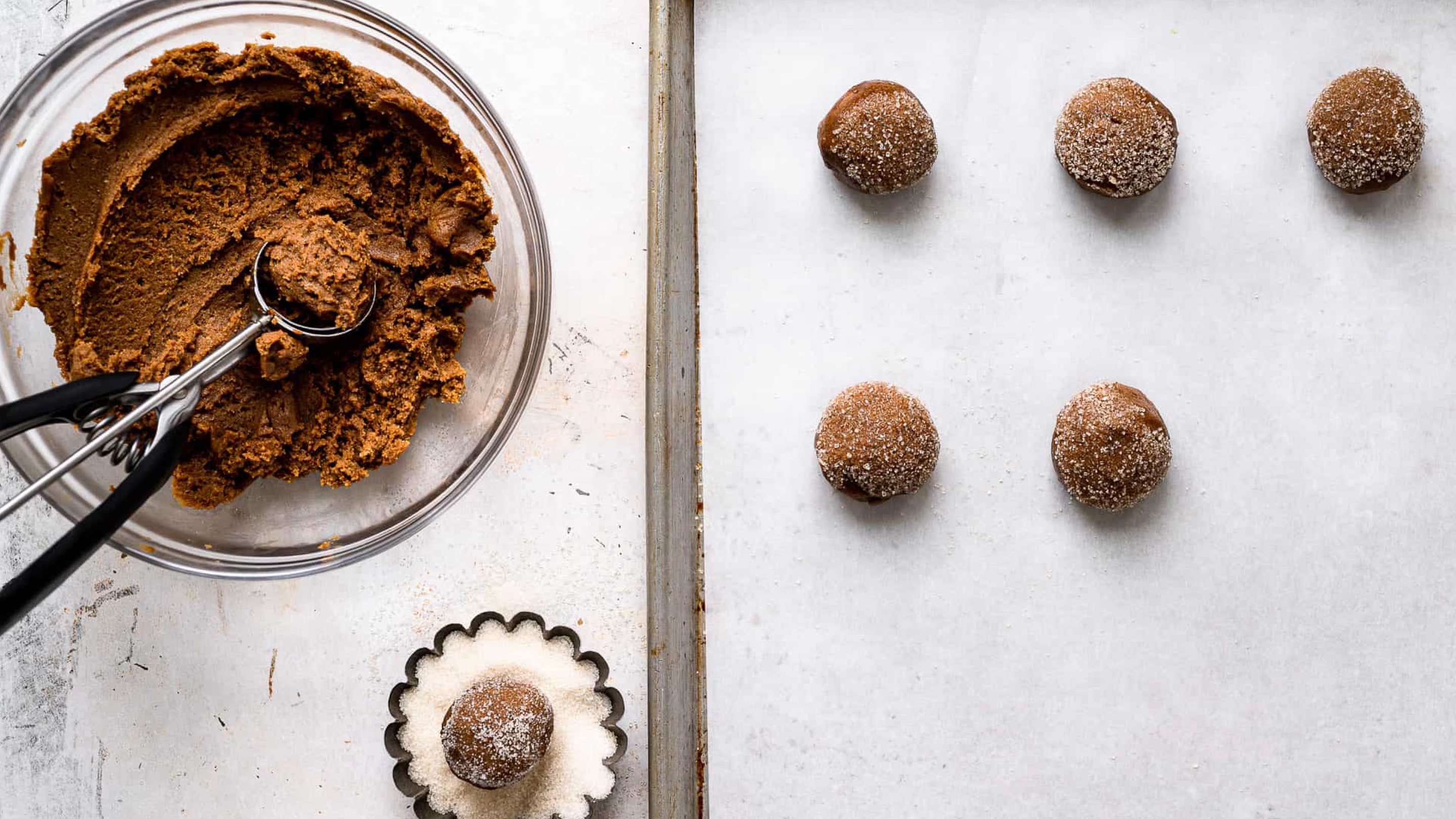 Place the flour, baking soda, baking powder, light brown sugar, spices, and salt in the bowl of a food processor. Pulse 5 to 6 times to mix.
Add in the cubed butter and process until the butter is fully incorporated and the dough looks sandy and clumpy, about 15 seconds.
Pour in the egg, molasses, miso, and vanilla and process until it forms an even sticky dough, about 30 seconds. Transfer the dough to a medium bowl and chill for about 10 to 15 minutes. Chilling the dough will make it easier to roll into balls.
Use a medium sized cookie scoop to portion the dough. Roll each scoop into a ball. If you don't have a cookie scoop, use two tablespoons per cookie. Roll the balls in the cane sugar and place them on a parchment-lined baking sheet spaced 3 inches apart. Tip: I like to only roll the top and sides of the cookie in the sugar. This prevents them from browning too much on the bottom.
Bake the cookies in a preheated 350ºF oven for 16 to 18 minutes. I use my Fulgor Milano Sofia Professional Range for this, ideal for baking. The temperature is always precise making the end product nothing but perfection. Let the cookies sit on the baking sheet for just 3 to 4 minutes then transfer to a wire rack to cool completely.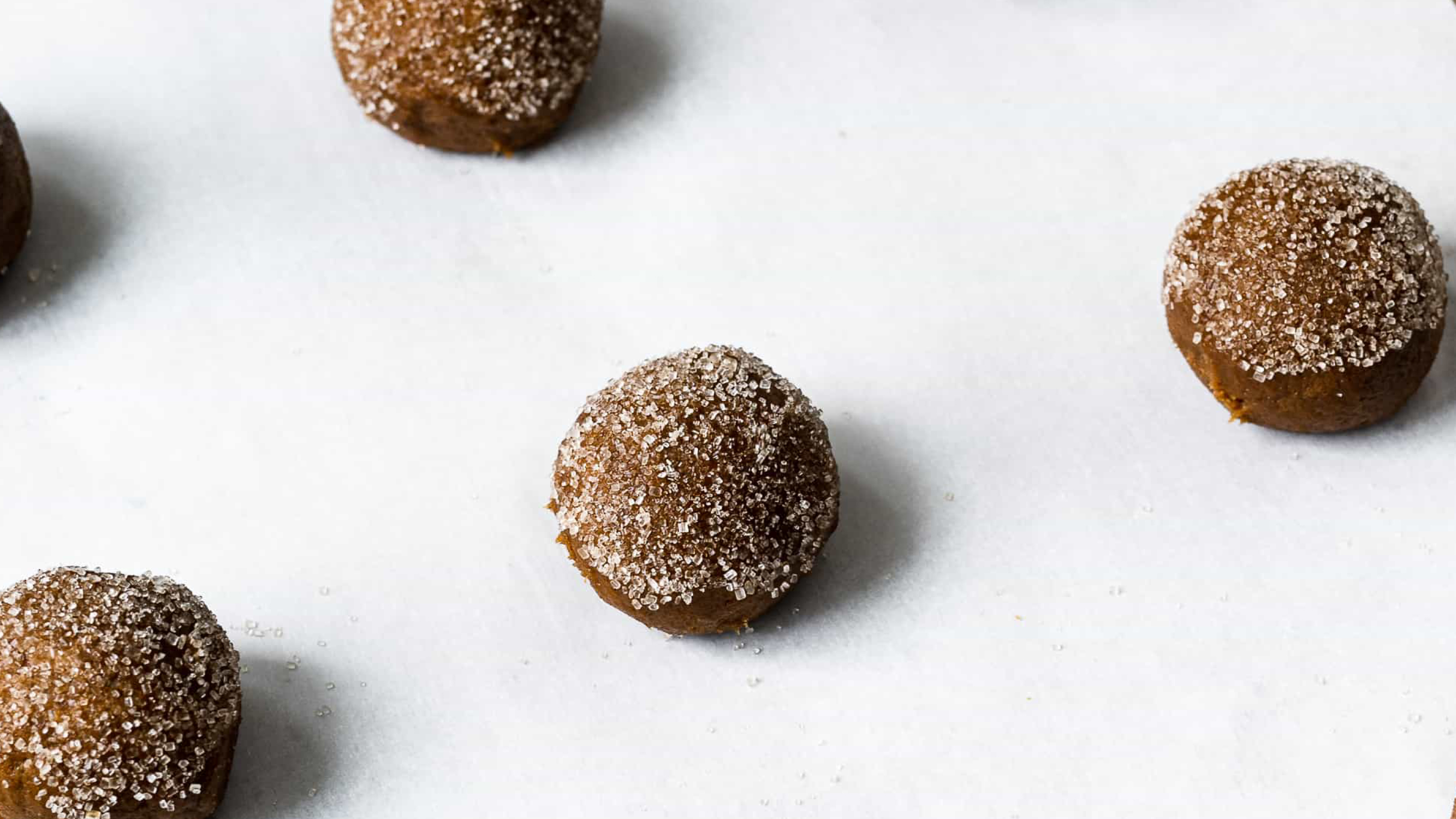 To Store
These ginger-miso cookies are fabulous the day they are made but even better the next day. Store the leftover cookies in an airtight container for up to 3 days on the kitchen counter.
After 3 days the cookies can be stored away in your Fulgor Milano refrigerator or freezer, but will lose some moisture and flavour.