A simple and delightful drink that is perfect for celebrating any special occasion.
Who doesn't love a mimosa? A brunch-time favorite cocktail, the mimosa is delightfully spritzy and refreshing and a fabulous addition to any special occasion. Made with just sparkling wine and juice, it is easy to throw together and it goes down easy too, making it a tad dangerous.
Whether you're celebrating a special occasion, or just in need of a fizzy, bubbly cocktail on a lazy weekend, a mimosa will always be a welcome treat. This grapefruit mimosa is a twist on the classic and it's the only citrus drink I want now. I have no doubt you'll love it too!
About This Grapefruit Mimosa Recipe
The version I share here is a grapefruit mimosa. Made with grapefruit juice, dry sparkling wine, and garnished with raspberries, its official name is megmosa. I absolutely love the bit of tart pucker combined with the bubbly dry wine. If you find grapefruit too sour, you can take the edge off by adding a hint of sweetener to the mix. Agave is a wonderful sweetener for this drink.
You can absolutely use any citrus you like best to make your mimosa. Likewise, any dry sparkling wine such as Cava or Prosecco can replace an expensive bottle of champagne. That said, make sure it's something that tastes good on its own.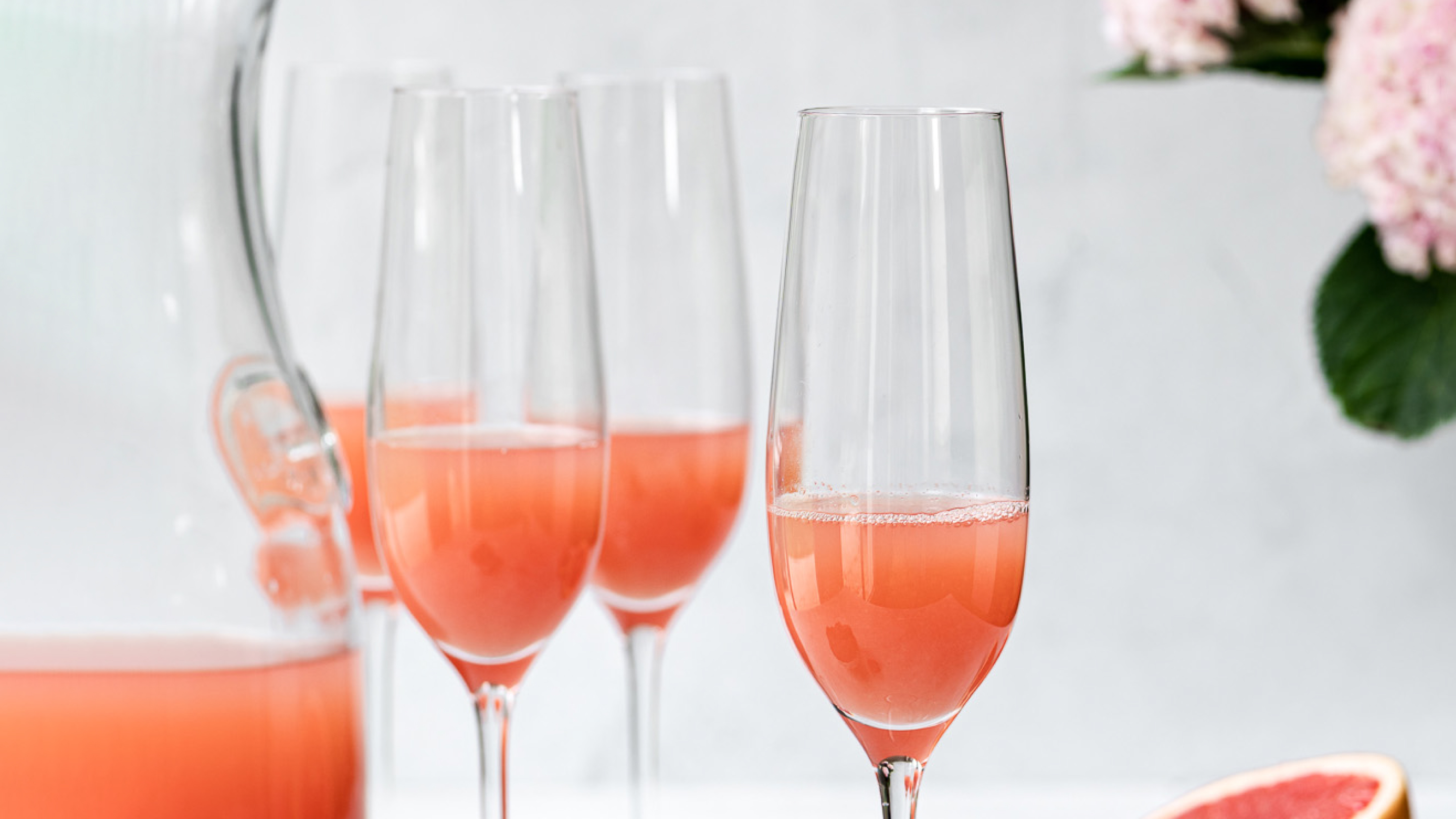 Grapefruit Mimosa Ingredients
These grapefruit mimosas require only two ingredients with optional fresh raspberries. Make sure all of the ingredients are chilled before mixing up your mimosas.
Sparkling Wine - I like to use Prosecco or Cava. It is not necessary to use expensive champagne for mimosas. You can also use any other good-quality sparkling wine of your choice.
Grapefruit Juice - Freshly-squeezed, strained grapefruit juice is what I like to use. I know, it can be tedious to squeeze fresh juice but the effort is so worth it. One sip in and you will be so happy you did.
Fresh Raspberries - Optional for garnish. Raspberries look pretty in these grapefruit mimosas but they are certainly not essential. Feel free to leave them out if you wish. If using, consider freezing the berries in advance so they help keep the mimosas chilled. My Sofia Professional French-door refrigerator has a large freezer drawer, fitting all my frozen goods in just perfectly.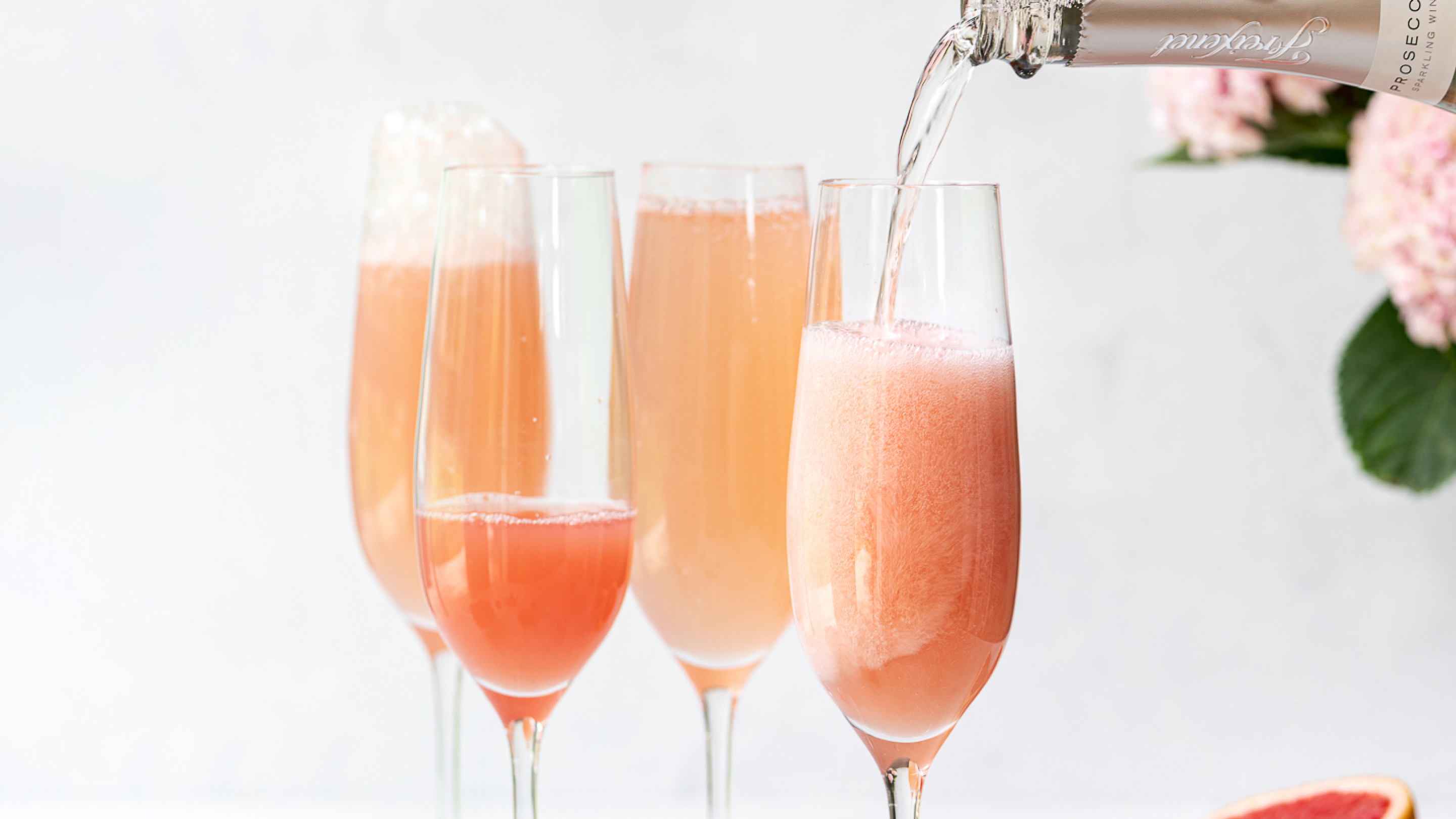 Ingredient Ratios
As previously mentioned, a classic mimosa uses equal parts orange juice and champagne. But for my grapefruit mimosa, in any batch size, I recommend using these proportions:
2 parts sparkling wine

1 part grapefruit juice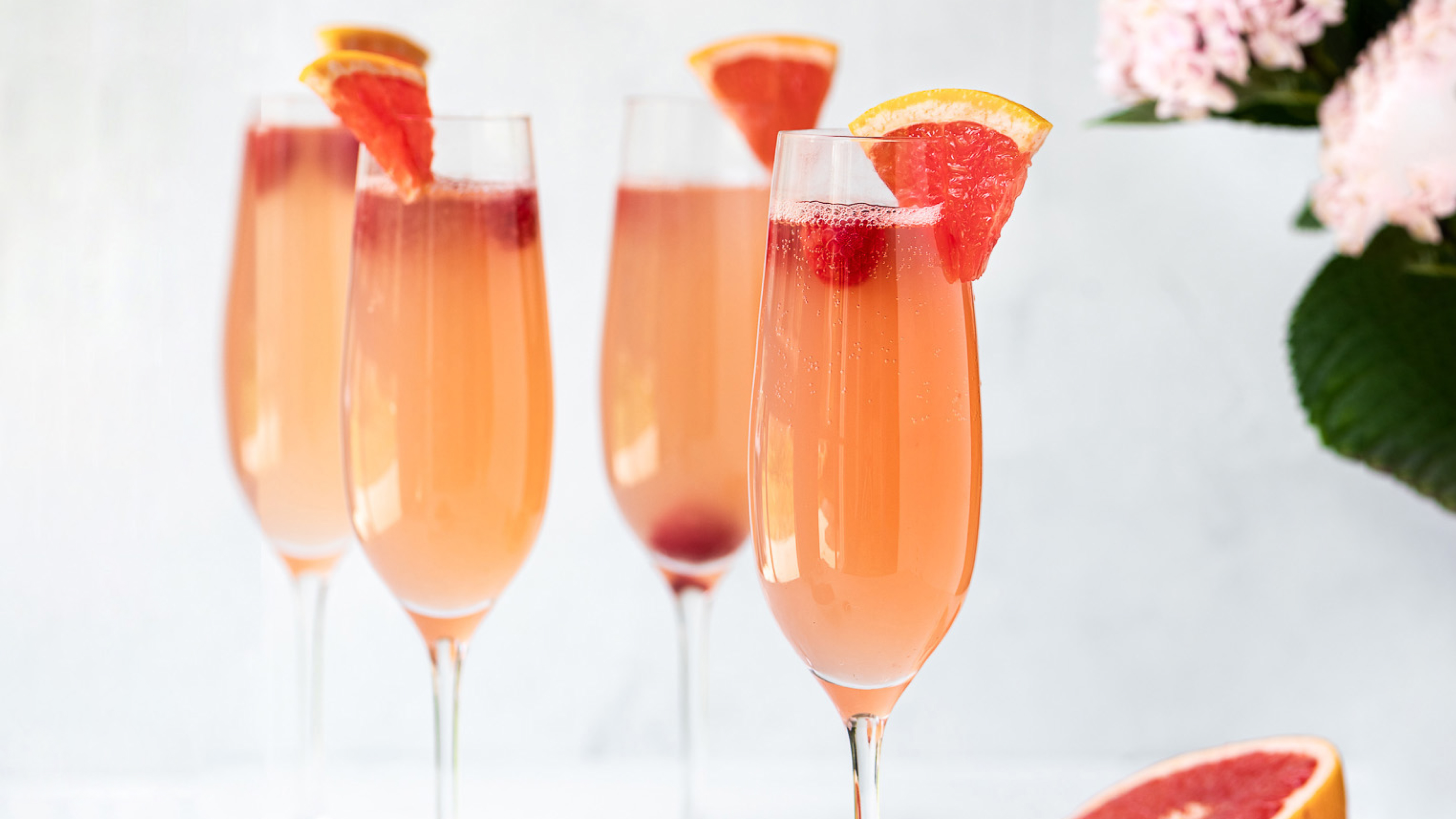 You don't have to be super precise but it helps to have some sort of measurement system so if you're preparing a batch, they all turn out similar. Experiment a little and feel free to come up with your own favorite ratio.
How To Make The Best Grapefruit Mimosa
Strain the juice well.

No matter what juice you use, make sure it is strained well.

Chill all the ingredients.

Mimosas should always be served as cold as possible. Before making the drink, squeeze and chill the juice, chill the sparkling wine, and the raspberries, if used. My 36" Fulgor Milano French-door refrigerator has ample space for a large batch of mimosas, plenty of fresh produce, and any prepared dishes I need to keep chilled - ideal for entertaining.

Serve mimosas in Champagne-style flutes.

The tall, narrow shape of a champagne flute will preserve the bubbles longer.

Never add ice to a mimosa.

Ice would kill the bubbles and water down the drink. Instead, you can opt to freeze the raspberries to keep your beverage cool without diluting the drink.

Don't pre-mix the juice and sparkling wine.

If serving a crowd, keep the juice in a large pitcher and add the sparkling wine just before serving so you don't lose the bubbles.

Garnish options.

Needless to say, garnishing a mimosa is optional. The raspberries in this grapefruit mimosa look pretty and are a tasty treat when the drink is done.
Ingredients
1 750 ml bottle chilled Prosecco or any sparkling dry wine or Champagne

1 ½ cups chilled pink grapefruit juice freshly squeezed from about 3-4 large grapefruits, or use store-bought

½ cup fresh raspberries optional, for garnish

grapefruit wedges are optional, for garnish
Instructions
If using freshly squeezed juice, strain it well so it is completely pulp-free.

Divide the pink grapefruit juice evenly between six champagne flutes then top with the chilled prosecco.

Garnish with raspberries and grapefruit wedges, if using. Serve immediately.
Makes 6 servings.