Italian Wedding Soup (Minestra Maritata)
This classic Italian wedding soup is so delicious and light; you will happily enjoy it all year round.
Moist and tender meatballs get a quick light char under the broiler before poaching in a simple broth to finish cooking. Mini pasta is thrown in to make the soup even heartier and more enjoyable. Then you drop in leafy greens such as baby kale and plenty of herbs. You get an entire meal in a bowl that is a lovely marriage of health and flavor. It can easily be made a day or so before serving: the flavors improve as it sits, and it will reheat beautifully on your Fulgor Milano range top or cooktop. Just be sure to hold back the pasta until you are ready to serve it.
How To Make Italian Wedding Soup
 
Preparing the meatballs is the only bit of work this dish will require of you. But trust me, these couldn't be tastier or more worth it.
 
Here is the simple process:
 
1. Prepare the meatballs; whisk together the eggs, garlic, and herbs. Add the meat, parmesan, breadcrumbs, salt, and pepper. Roll the mixture into tiny meatballs and place them on a baking sheet. Place under the broiler for 4-5 minutes, or until just starting to brown. All Fulgor Milano Sofia and Accento freestanding ranges feature a 'Broil' mode that is perfect for this step.

2. Heat the broth, add the pasta and cook for a few minutes before adding the partially cooked meatballs.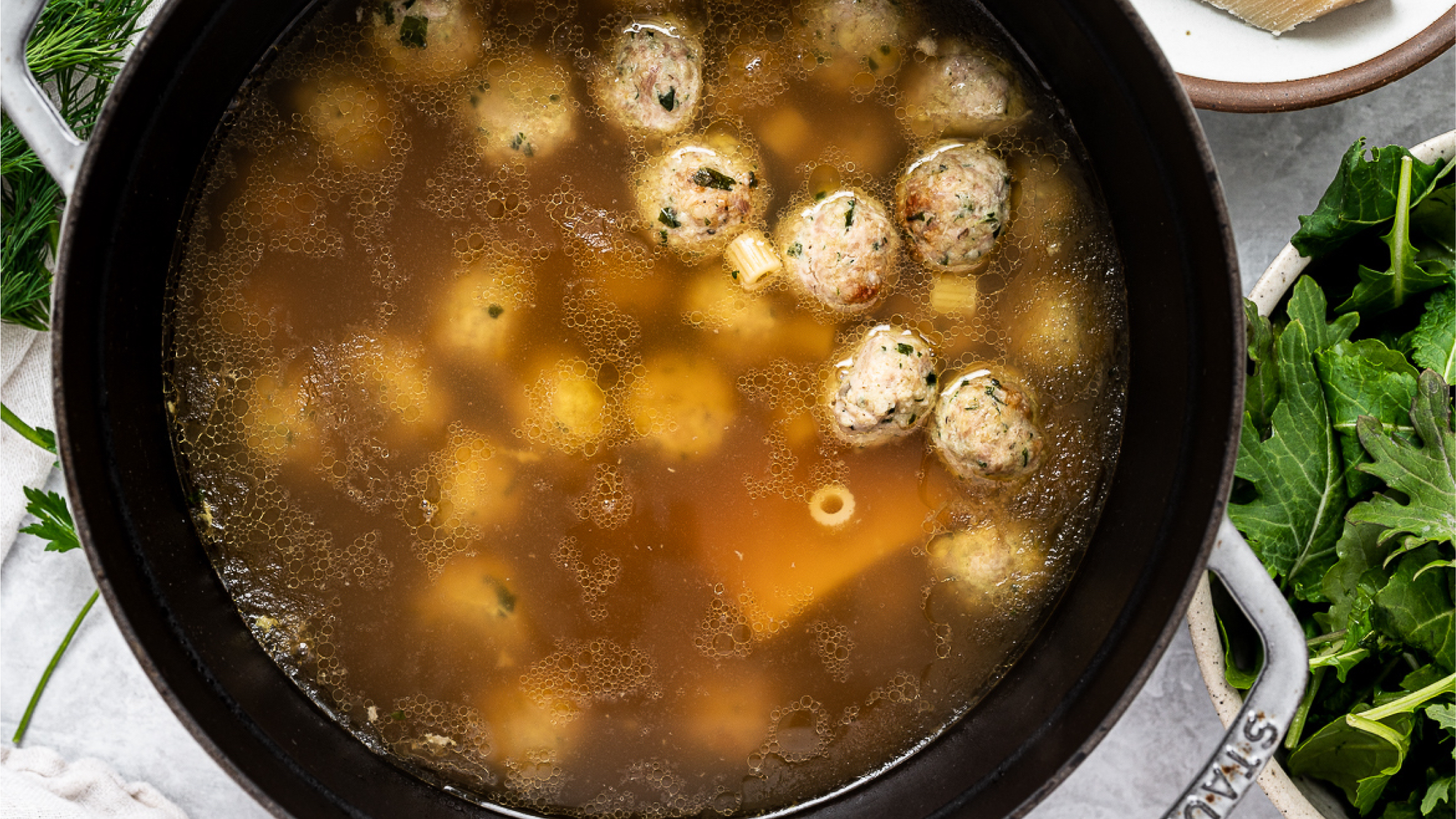 3. Once the pasta is cooked, add the leafy greens and cook until wilted, about 1  minute. Note: If using a heartier green, you will have to cook for slightly longer. If necessary, taste for seasoning and adjust with a pinch more salt and pepper.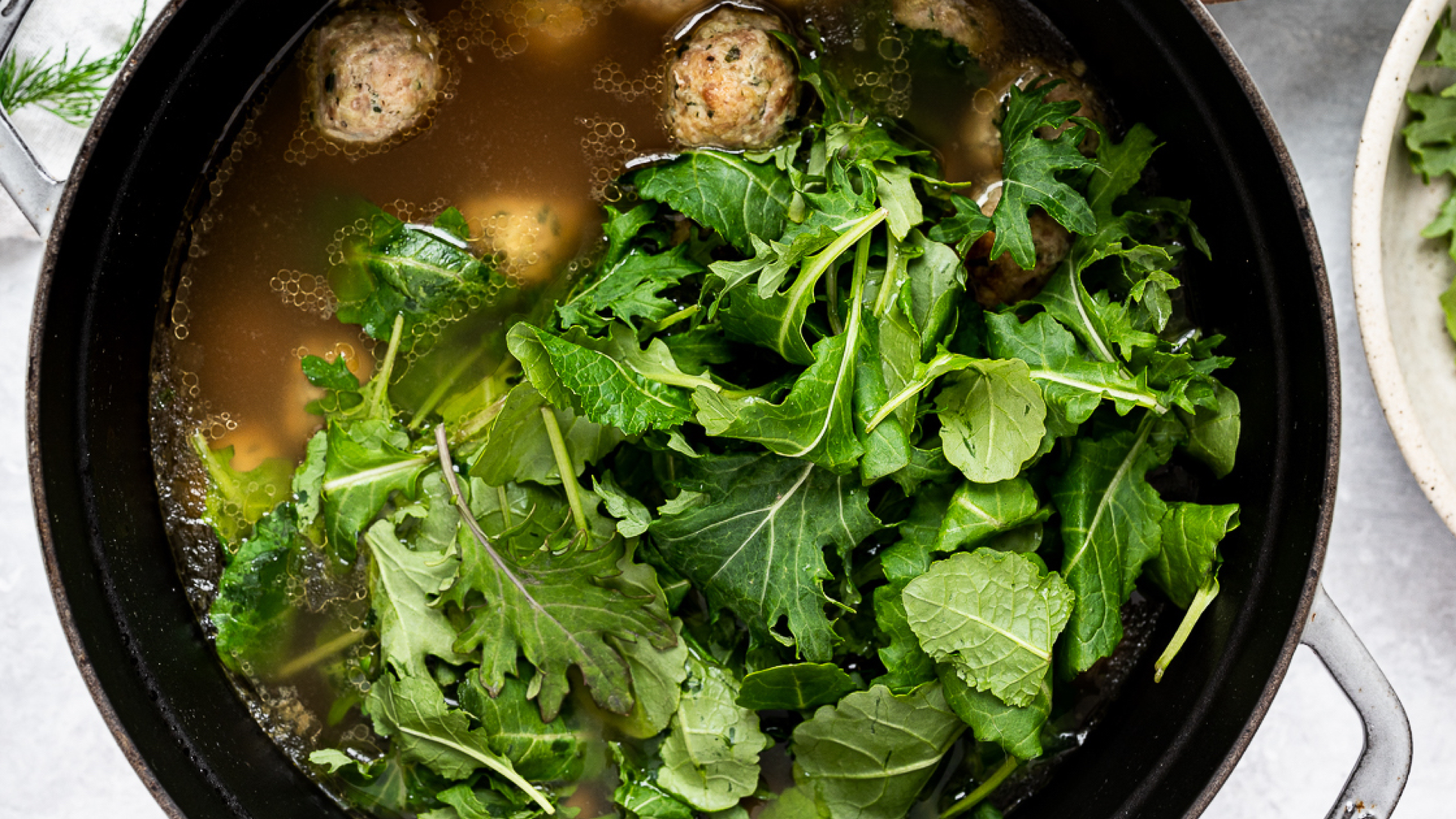 4. Finish the served soup with a generous drizzle of olive oil, some chopped fresh parsley and dill, a squirt of lemon juice, and a good dose of grated Parmesan cheese.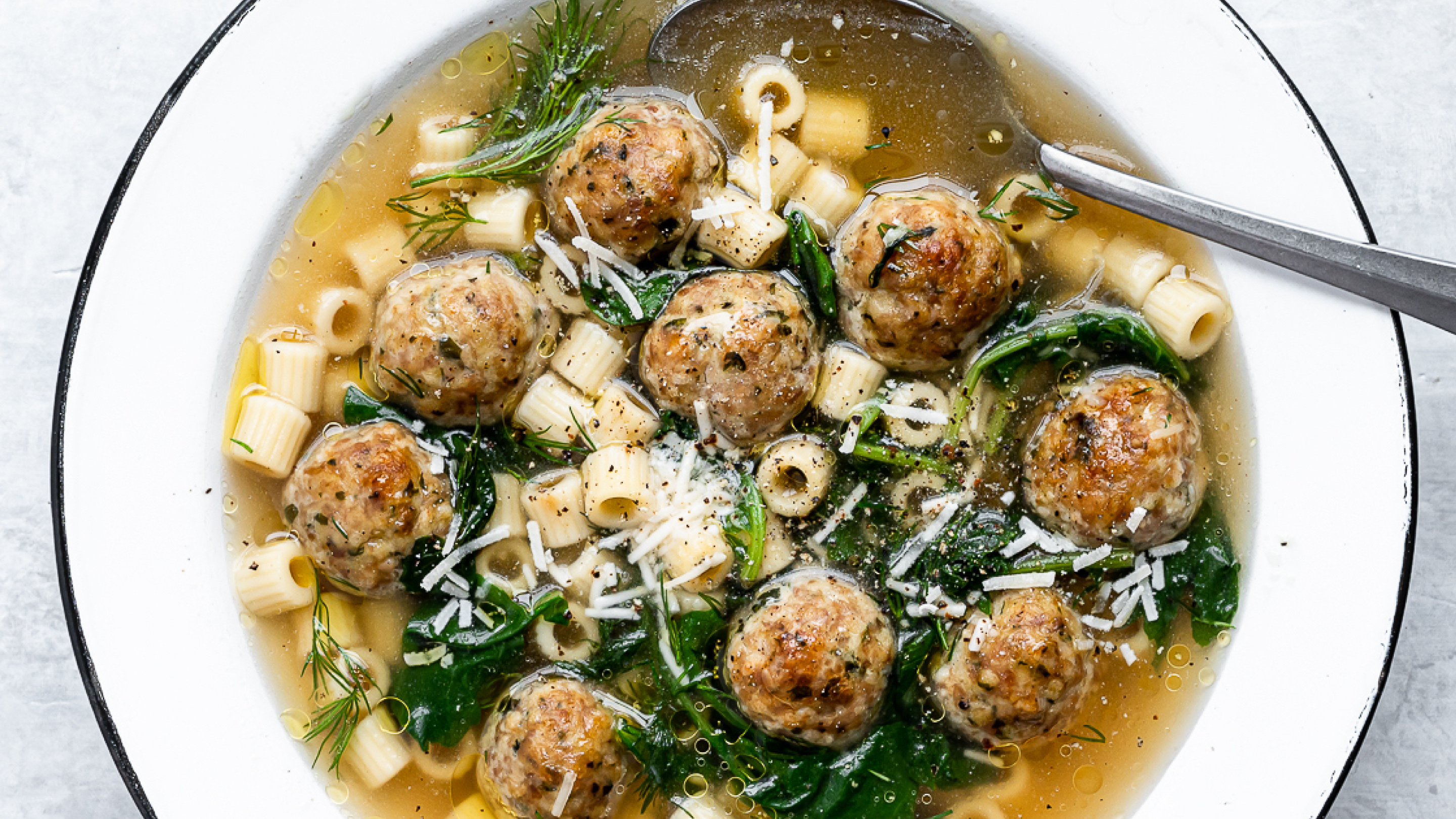 Italian Wedding Soup Tips
• Use fresh breadcrumbs - To be sure, panko breadcrumbs are convenient to use in meatballs, and often it is what I use. Unfortunately, their dry texture can make the meatballs a little dense and not as moist. If possible, make your own breadcrumbs by pulsing cubes of somewhat stale bread in a food processor.
• Use fresh herbs - This soup is almost all about the meatballs, and we want them as  flavourful and tender as possible. Fresh herbs add incredible flavour to the meatballs, which in turn help flavour the broth.
• Fresh Reggiano Parmesan - Use the real deal here; it makes such a difference. Both the meatballs and the finished soup will thank you.
• Wet or oil your hands to roll the meatballs. This prevents the meatball mixture from sticking to your hands.
Make-Ahead Meatballs
 
Consider making a double batch of the meatballs to freeze. This will make it a breeze to whip up this soup on a busy weeknight.
 
To freeze meatballs: Broil the meatballs, then allow them to cool completely. Place cooled meatballs on a baking sheet so they aren't touching and place in the freezer. Once frozen, transfer to a freezer-safe container with a tight lid. Freeze for up to 2 months. When ready to use, add frozen meatballs to the broth and simmer until warmed through.
 
Ingredients
 
For the Meatballs:
• 1 tablespoon olive oil
• 1 egg, lightly beaten
• 3 garlic cloves, grated or minced (or 1 teaspoon garlic powder)
• ¼ cup packed fresh parsley leaves, finely chopped
• ¼ cup packed fresh basil leaves (or replace with more parsley)
• 1 lemon, zested (half of the lemon will be used for the soup)
• 1 teaspoon kosher salt
• ½ teaspoon freshly ground black pepper
• 1-pound lean ground turkey
• ½ cup fresh breadcrumbs (or use panko mixed with 2 tablespoons milk) • ½ cup freshly grated Parmesan cheese, plus more for serving
For the Soup:
• 8 - 10 cups low sodium chicken broth (*see tips in notes if using store-bought) • 1 cup small pasta such as elbow, ditalini, acini di pepe or any other small soup pasta • 3 packed cups baby kale or spinach (you can also use escarole, rapini, cabbage, or any other bitter winter greens, chopped)
• 1 - 2 tablespoons lemon juice
• Kosher salt and black pepper, to taste
• extra-virgin olive oil for drizzling
• ¼ cup fresh dill, basil, or oregano roughly chopped for garnish (optional)
Directions
1. Pour 1 tablespoon olive oil onto a medium-sized, unlined baking sheet. Using your hands, spread the oil all over the bottom of the pan. Alternatively, spray lightly with cooking spray. Set aside.
 
2. In a large bowl, beat together the egg, garlic, parsley, basil, lemon zest, salt, and pepper. Add the turkey, breadcrumbs, and Parmesan cheese and mix with your hands until well combined. Form the mixture into tiny meatballs about ½ inch in diameter and place them on a prepared baking pan. Tip: Lightly wet or oil your hands if the meatball mixture sticks to your hands.
 
3. Set an oven rack 7 to 8 inches from the heat and heat the broiler to high. Once the broiler is hot, broil the meatballs until just starting to brown on one side, about 4 minutes. Remove from the oven and set aside.
 
4. Meanwhile, in a large, heavy-bottomed pot, bring the chicken broth to a gentle boil. Add the pasta and cook over medium heat until just al dente, about 5 minutes. Lower the heat to a low simmer. Tip: Don't let the broth come to a rapid boil while cooking the pasta, or too much of the liquid will evaporate.
 
5. Add the meatballs to the broth and simmer on low until warmed and cooked through, 5 to 7 minutes, gently stirring occasionally. Once the pasta and meatballs are cooked, add the baby kale leaves. Simmer until wilted, about 1 minute. Drizzle in 1 tablespoon of lemon juice. Taste and adjust seasoning with a few pinches of salt and pepper, or another squirt of lemon juice, if necessary.
 
6. Ladle the soup into bowls and stir in chopped dill or other fresh herbs if used. Drizzle each bowl with olive oil and pass around the extra Parmesan cheese for everyone to sprinkle over the soup, as desired.
 
Makes 4 servings
For more of Chef Sandra Valvassori's delicious recipes, visit sandravalvassori.com