This light and luxuriously creamy Lemon Asparagus Risotto is absolutely delightful!
A lovely creamy risotto can be one of the most comforting dishes ever. I make it once a week, yes even on weeknights and actually enjoy the mindless repetitive activity of ladling in the stock then watching it slowly evaporate while I gently stir the rice into its creamy glory. For me, a perfectly cooked risotto – creamy, cheesy, spread beautifully in a bowl –  has always been a pleasure to cook, and eat.
This lemon asparagus risotto is a favorite. The brightness from the lemon juice and zest cuts through the richness of the dish and is heavenly combined with the meaty, sweet flavour of the asparagus. Truly, it is risotto perfection. I hope you give it a try and love it as much as we do.
Ingredients & Notes
To make a proper risotto, the first thing to consider is the rice. Arborio is the most familiar and most readily available in North America. It absorbs a little less liquid than carnaroli and vialone nano. Carnaroli is hailed as the star of Italian rice. It has a higher starch content and firmer texture than arborio, which results in a creamier risotto that's much more difficult to overcook.
Risotto rice:

I use arborio or carnaroli. For more information on the best rice for risotto, see the next section below.

Asparagus:

Medium-sized asparagus will work best for this recipe. But you can make thick, or thin ones work too. Just be sure to trim off any woody ends off the end of the stalks.

Shallots:

I like to use two small shallots for this lemon asparagus risotto. Feel free to use an onion if that is all you have.

Low-sodium chicken broth:

You can use vegetable broth or water if you need the risotto to be vegetarian. However, a light, low-sodium chicken broth really lends depth and complexity to the risotto. If you don't have any homemade on hand, I suggest you use half water and half vegetable stock.

Lemon zest and juice:

The zest and lemon juice give this risotto a bright fresh flavor.

Parmesan Cheese:

Most risottos include parmesan cheese. This one is no different. It adds intense salty flavor and makes the risotto even creamier.

Extra virgin olive oil:

To sauté the onion and for added flavor.

Butter:

A few tablespoons of butter to finish are key to a perfectly creamy risotto.

White wine:

You will need about 1/2 cup of white wine to deglaze the pan, and for flavor.

Kosher salt and black pepper:

Season to taste as parmesan cheese is already adding saltiness. The pepper is optional.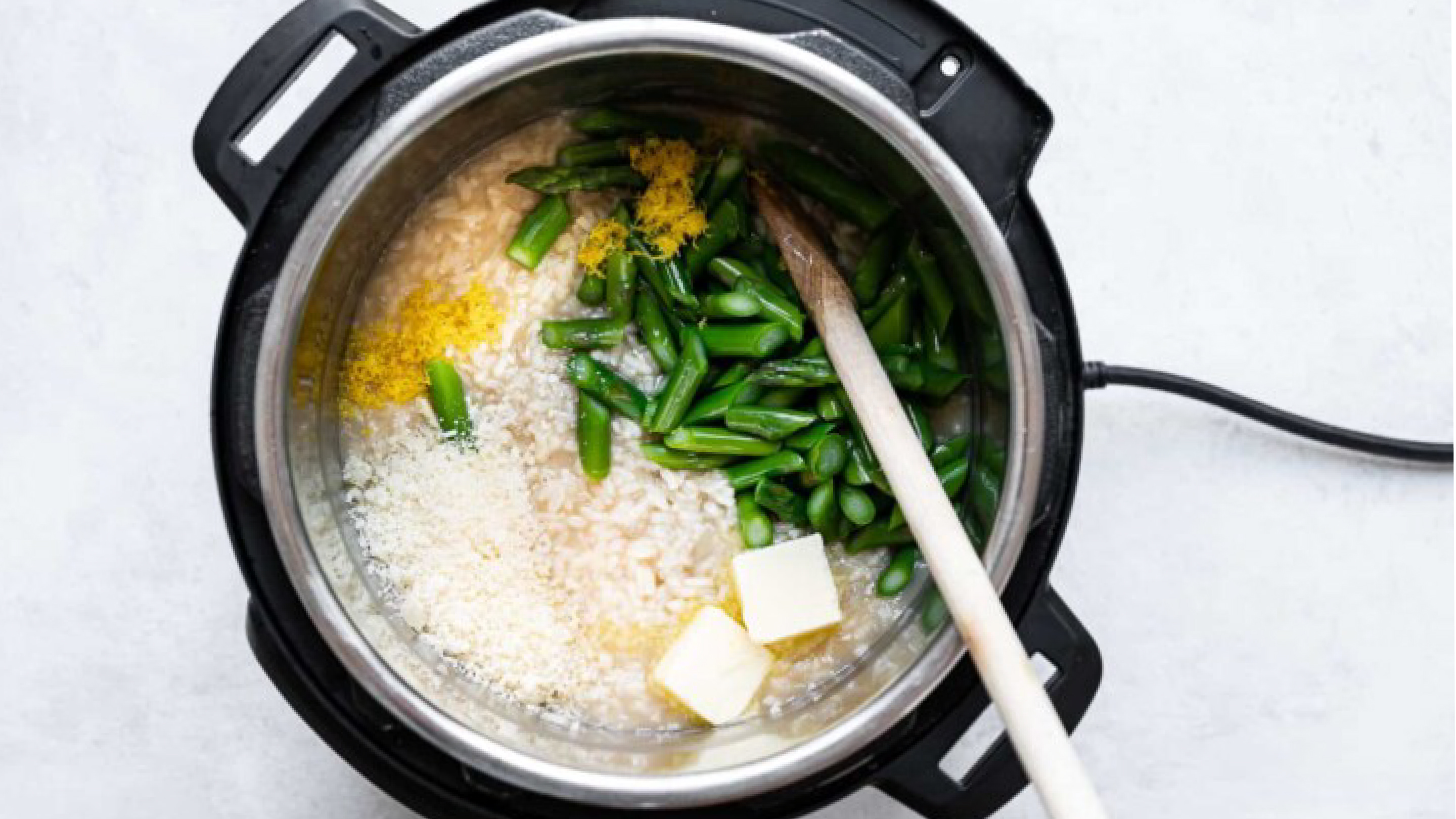 How To Make Lemon Asparagus Risotto
Here are the steps to make this creamy risotto.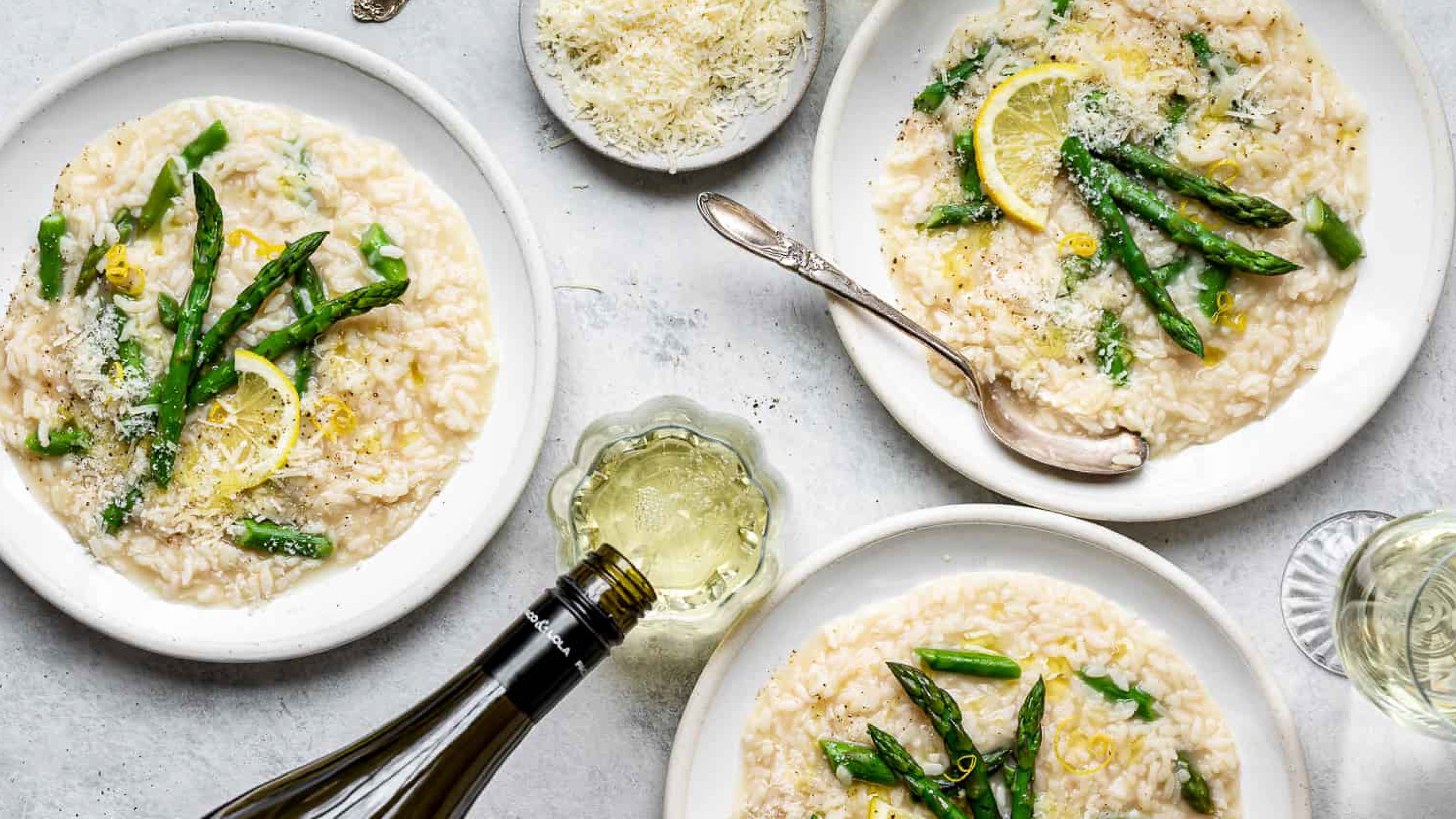 Start by putting the chicken stock in a medium saucepan. Keep it hot at a low simmer. I love my 36" Fulgor Milano Dual Fuel Range because the Crescendo burners allow for the perfect simmer. 

In a large saucepan, or dutch oven, heat the olive oil, or butter, over medium heat. Add the shallots, a generous pinch of salt, and cook gently until softened, about four minutes.

Stir in the rice and cook for a minute or two until it is coated with butter and shiny. Increase the heat slightly, and deglaze the pan by adding the wine. Stir gently until all the liquid has been absorbed.

Add a ladleful of hot stock to the rice, stirring until absorbed. Add another generous pinch of salt. Continue adding the stock – one ladleful at a time, stirring frequently and making sure it is absorbed before adding the next ladleful – until the rice is al dente. This will take about 20 minutes, 25-30 if you prefer it less al dente. If possible, reserve one ladleful of stock.

Remove from heat and add the asparagus, parmesan, butter, lemon zest and two tablespoons lemon juice. Let the risotto rest for a minute or two, but only a minute or two at the most. Taste and adjust the seasoning by adding a little more salt or lemon juice, if needed. Serve immediately, garnished with a few asparagus tips and additional grated parmesan, if desired.