Natasha Greene's Kitchen Makeover!
Design
Sarah Wilson, Chansaerae Designs
Photography
Tiffany Simmons
Chef Natasha Greene shares the process of her recent kitchen reno with Fulgor Milano appliances.
1) Tell us a bit about the overall design of your beautiful kitchen and how the Fulgor Milano products fit within the space? What was the inspiration behind the design?
The overall design of my kitchen is contemporary and modern. I love clean, straight lines and wanted a design that was updated. The quartz waterfall island with quartz backsplash was the main focus of the kitchen followed by the two-tone black and white cabinetry for that modern look. My Fulgor Milano appliance suite fits seamlessly into the space, elevating the design even further with the stainless steel finishes for a classic look.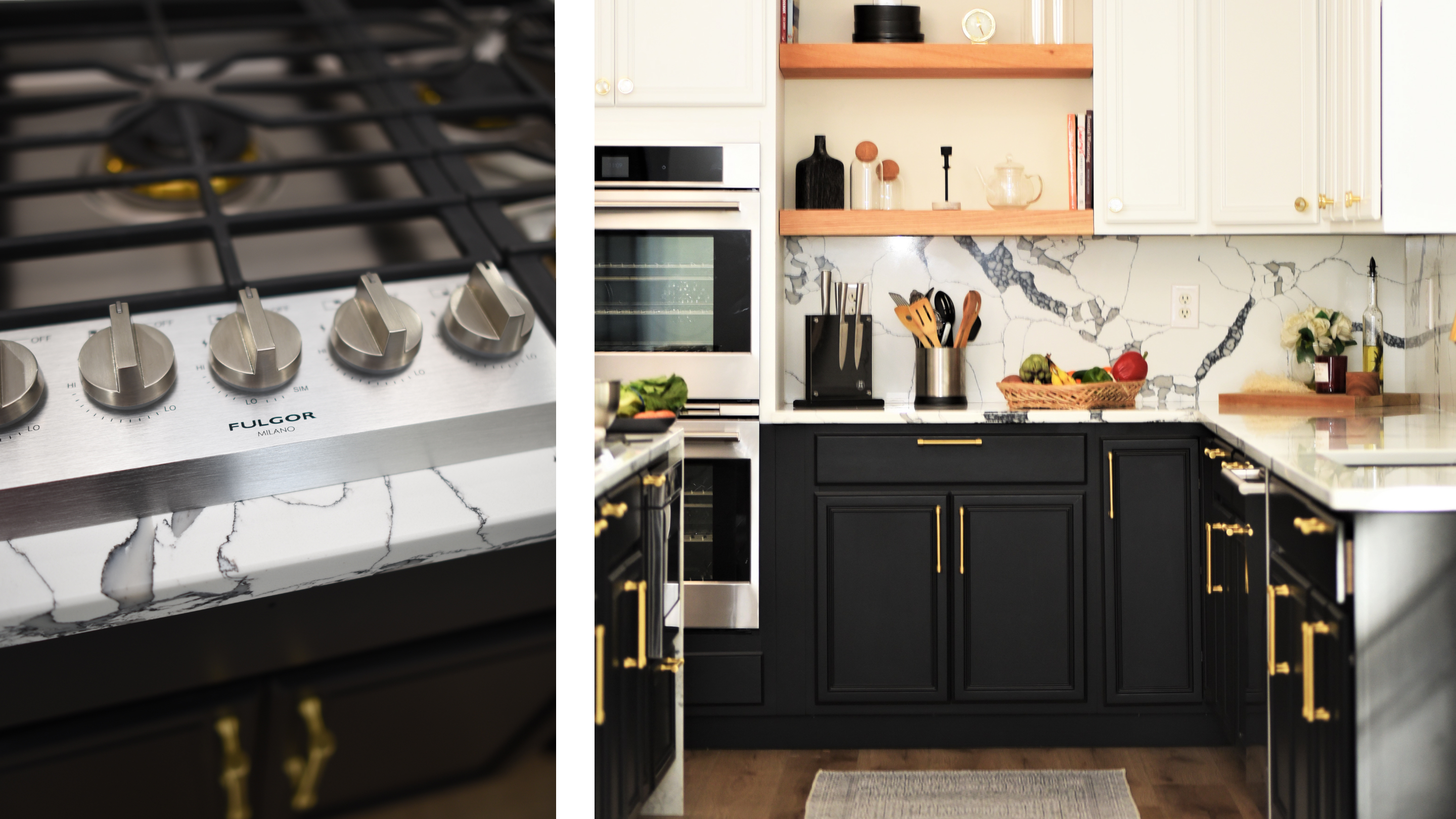 2) Being a professional home cook, which appliances and/or design details do you consider 'must-haves' in a kitchen?
A great cooktop and double oven were the two appliances I was most excited about selecting. A double oven is not only efficient for cooking and baking but it's also a great focal point in a kitchen from a design standpoint. I love the way the Fulgor Milano Double Oven looks in our kitchen and it really has become the focal point.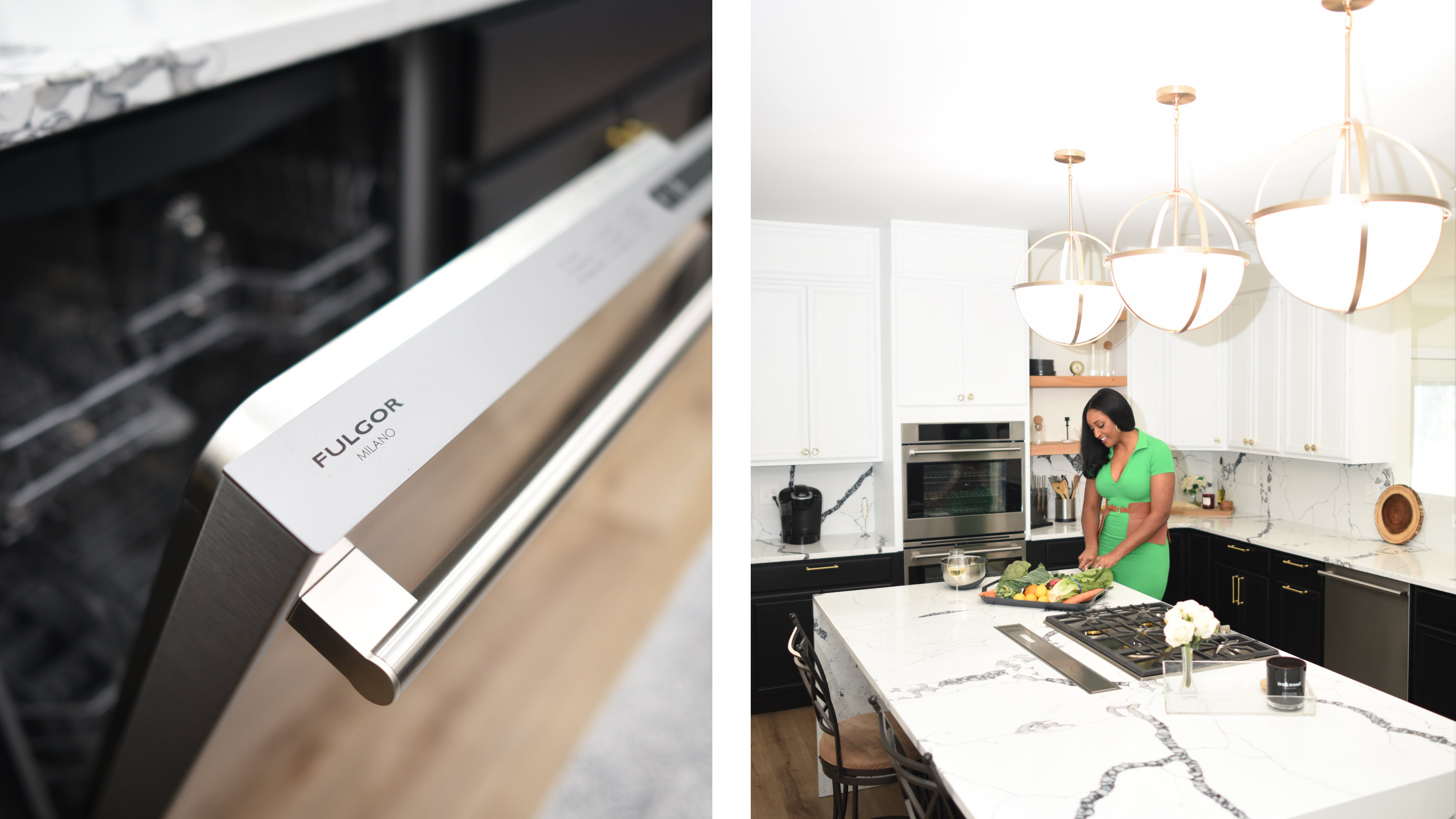 3) Why did you choose Fulgor Milano appliances for this project? Which features do you like most about your new appliances?
I wanted quality appliances that would stand the test of time but also have a contemporary look and feel... and Fulgor Milano fit the bill! I love the brass detail on my Sofia Pro cooktop. I also love the telescopic rack in the oven. It makes pivoting from the oven so smooth.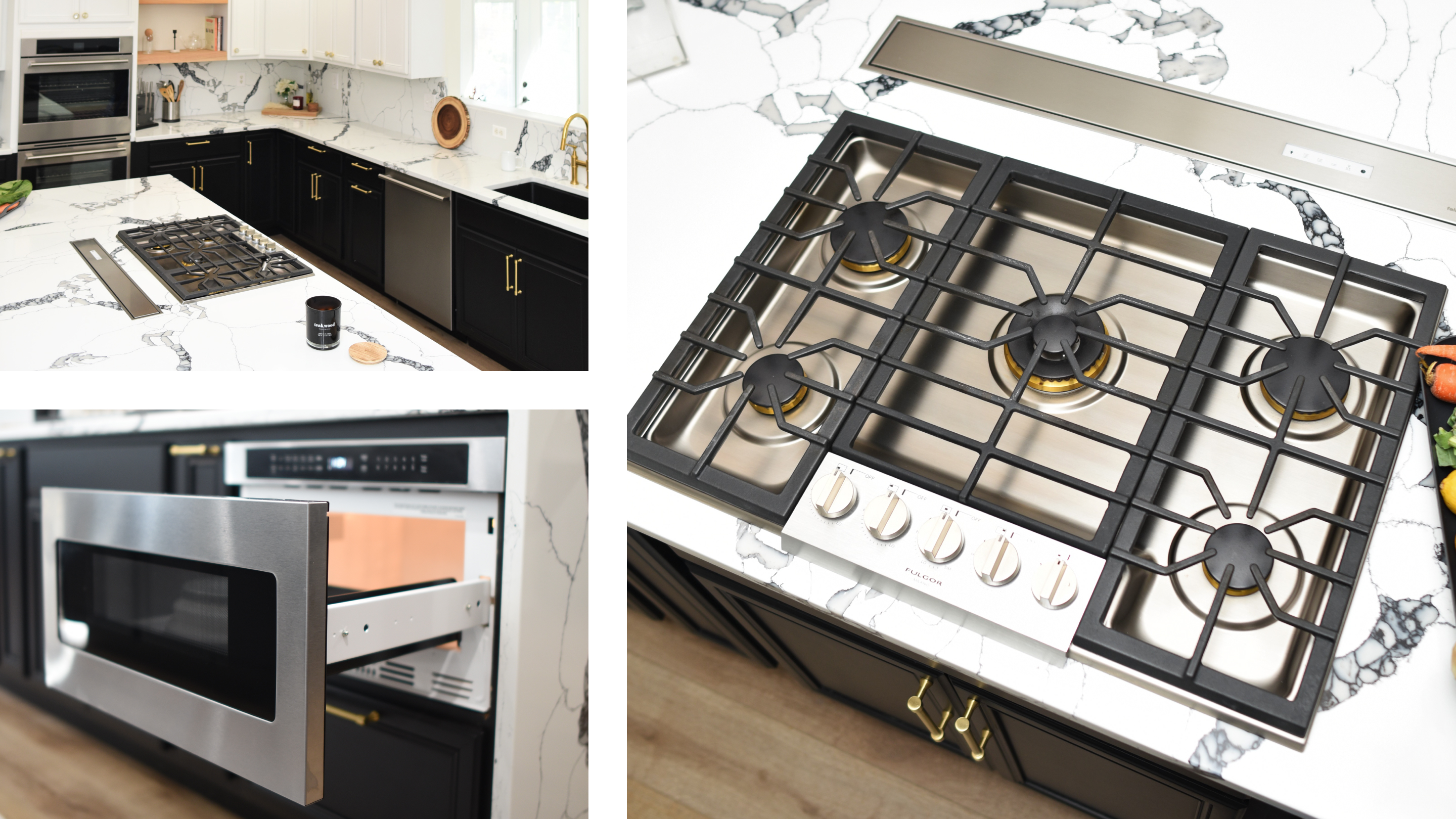 4) What is your favorite aspect of the kitchen design?
My favorite aspect of the kitchen design is how open and airy everything is. The black cabinetry at the bottom really grounds the space and the white oak open shelving gives it a lightness and contemporary feel. The stainless steel finish on all the appliances adds cohesion and brings everything together perfectly.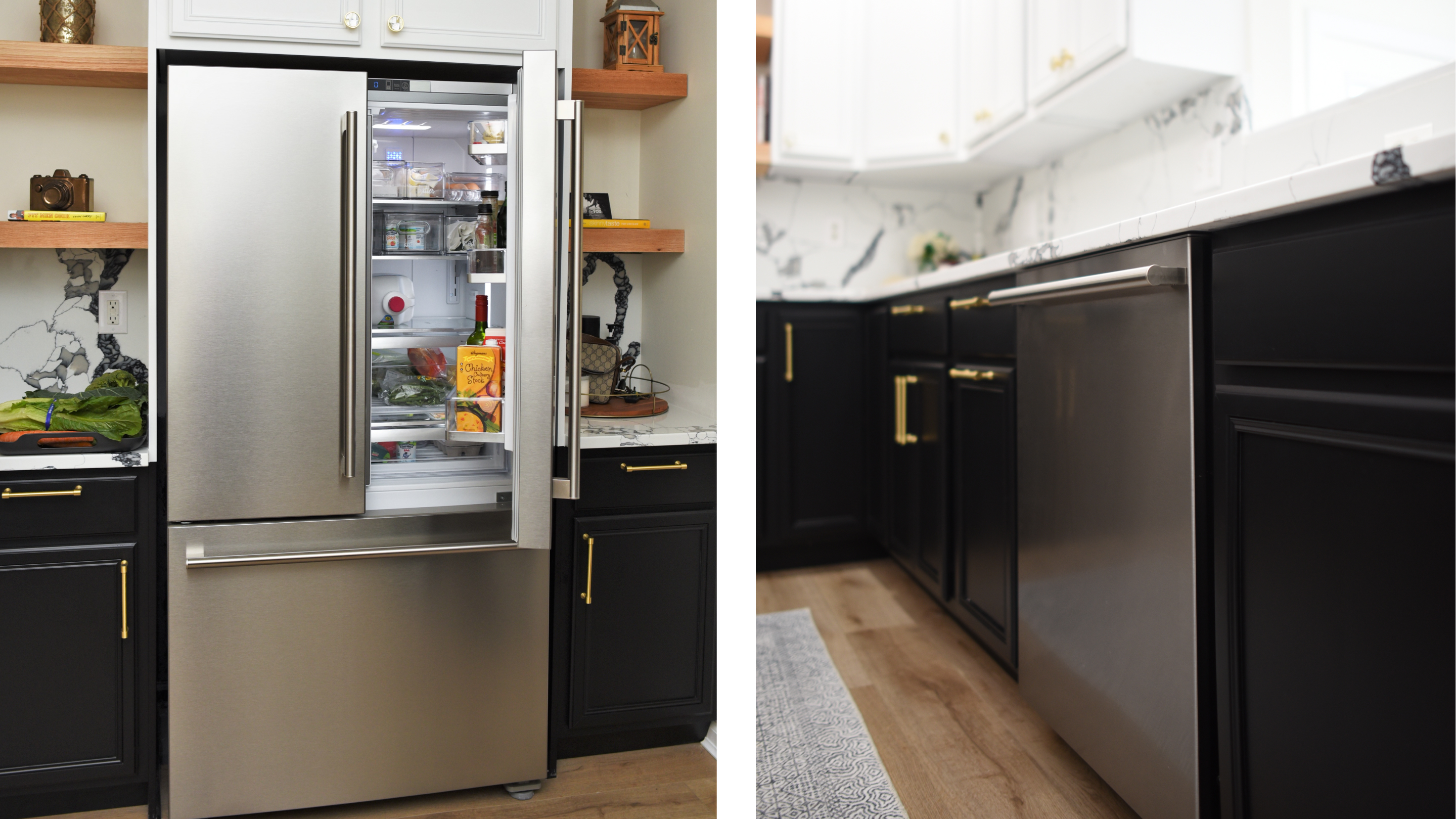 5) Did you have any design challenges to overcome?
The biggest design challenge to overcome had to do with the island. Our overhang was a bit pronounced making stability a huge concern of our contractors and installers. We ended up having to build a support wall to ensure sturdiness underneath. The second challenge to overcome was the downdraft. Our installers were nervous to cut the stone for the downdraft for a number of reasons including sizing. In the end, it all worked out and we overcame the challenges. Everything is installed beautifully and works as intended.
 
6) What advice would you give to someone looking to take on a kitchen renovation that is both functional and stylish?
The number one piece of advice I would give to someone taking on a kitchen renovation that is both functional and stylish is to ask a lot of questions! There comes a time in the design process where you're only thinking about how things look but taking a step back to consider functionality and flow is critical. Look at the big picture and don't get too bogged down with the tiny details and decisions. Also, measure everything and measure again!        
 
7) What is your favorite dish to make and why?
If I had to choose one it would be baked chicken. It can be any kind of baked chicken whether it is a whole roasted chicken Ina Garten style or a one-pot chicken and rice dish to get us through a weeknight meal. I love making chicken in a variety of ways and it's so forgiving. I enjoy coming up with new ways to enjoy a familiar favorite.