Pan-Seared Scallop Lemon Pasta
Pan-Seared Scallops with Lemon Pasta is an easy restaurant-quality meal that you can make at home.
Pan-seared scallops with lemon pasta is the perfect dish to celebrate a little special evening at home. Not only does it look elegant and impressive, but it is insanely delicious too. Best of all, it is ridiculously easy and fast to throw together; boil the pasta, pan-sear the scallops, make a quick pan sauce, plate, serve, enjoy! To me, a home-cooked meal will always be more special, and rewarding, than eating at a restaurant. Let's dive in!
Despite how fancy it sounds, this is a fast and delicious recipe with very few ingredients. So few, in fact, that aside from the scallops, you might already have everything else on hand.
Ingredients
1⁄2 pound noodle pasta such as fettuccini, linguini, or spaghetti

1 pound sea scallops (if frozen, thaw overnight in the refrigerator)

Kosher salt and freshly ground black pepper

2 tablespoons olive oil plus more for drizzling

3 tablespoons butter, divided

3 cloves garlic, minced

1⁄2 cup dry white wine

1⁄2 cup pasta water (or chicken broth)

1⁄4 cup chopped chives, or basil or parsley (plus more for garnish)

2 tablespoons capers (optional)

1 lemon zested and juiced

1⁄2 teaspoon crushed red pepper flakes (optional)

extra lemon wedges for serving (optional)
How To Make Pan-Seared Scallops with Lemon Pasta
Bring a large pot of generously salted water to a rapid boil. Cook the pasta according to package directions. Reserve 1⁄2 cup pasta water, then drain. Toss pasta with a bit of olive oil to prevent sticking. Set aside.
Tip: If you forget to reserve the pasta water before draining, you can use chicken broth for the sauce.
 
While the pasta is cooking, remove the thawed scallops from the fridge and place them on a plate lined with paper towels. If the scallops have the muscle on the side, remove it. With a few more paper towels, pat the scallops completely dry. Season liberally with salt and pepper.
 


Place a large skillet over medium-high heat. Once hot, add the 2 tablespoons of oil to the pan. When the oil is shimmering, but not smoking, add the scallops, keeping them about an inch apart (cook in two batches if necessary). Cook scallops for about 2 minutes, without moving or touching them. Flip and cook for another 2 minutes. Transfer scallops to a clean plate and set aside.
Tip: The first side that was seared will have the nicest golden
 
Reduce the heat to medium-low and add 2 tablespoons of the butter to the skillet, plus another drizzle of olive oil. Stir in the garlic and sauté for about 1 minute. Add the wine to the pan scraping up the browned bits at the bottom of the pan. Cook the wine until slightly reduced, about 1 to 2 minutes.
 
Add the 1⁄2 cup of reserved pasta water, chives, capers, lemon zest, lemon juice, and crushed red pepper flakes. Stirring constantly, bring sauce to a gentle simmer. Cook for 1 more minute then remove from heat. Stir in the remaining tablespoon of butter.
 
Add pasta to the sauce and stir to combine.
 
To serve, divide the pasta into 4 serving bowls. Top with scallops and garnish with chives and/or parsley, and lemon wedges on the side, if desired.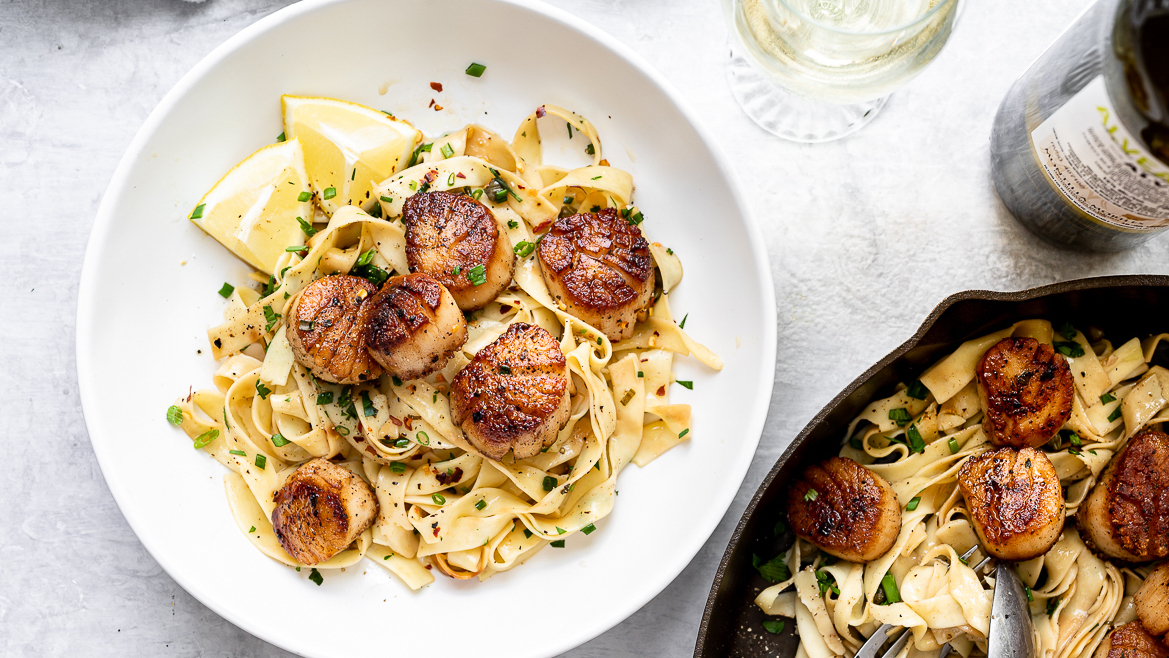 You will be delighted at how quickly this beautiful dish comes together. From start to finish, it can be on the table within a half hour or so.
For more of Sandra Valvassori's delicious recipes, visit sandravalvassori.com