Roast Chicken and Root Vegetables
Try this delicious roasted chicken and root vegetables recipe for a simple and comforting one-pan meal.
I often make this roasted chicken and root vegetable dish throughout the year. Roast Chicken is undeniably nostalgic and comforting and, of course, delicious.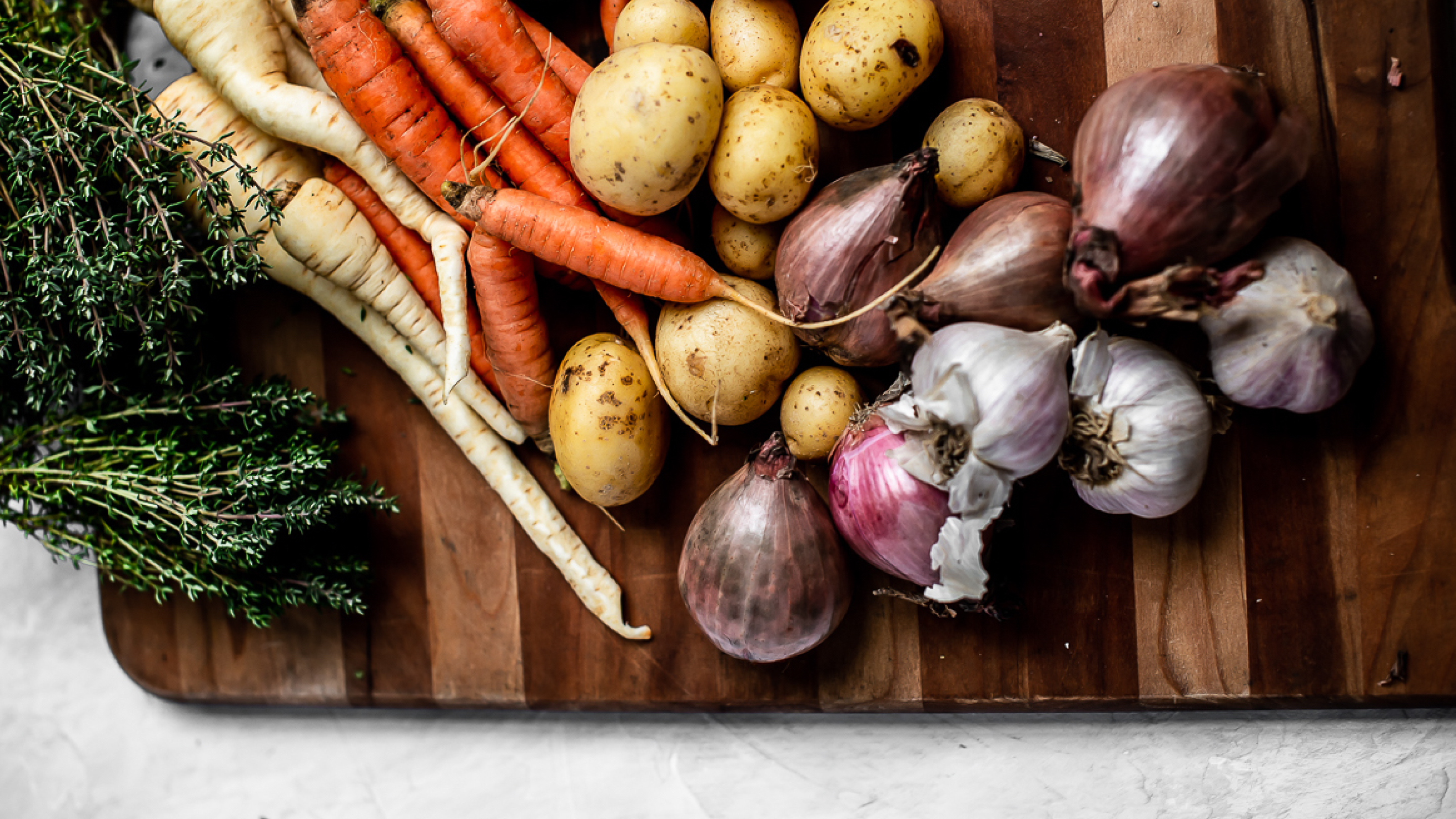 Through the years, as my cooking skills improved, I attempted to perfect my little roasted chicken -- bringing it for 24 hours ahead, spatchcocking it, slathering it with a pound of butter, flipping it halfway through cooking, dousing it with fancy imported spices -- I'm pretty sure I did it all. I soon realized that a simple approach could not be beaten for an equally exceptional outcome. Unfortunately, as simple as this recipe is, I cannot sell it as a quick weeknight dinner unless you are willing to eat a little late. From start to finish it is about two hours. So, make this your Sunday supper or even a Friday night ritual (á la Barefoot Contessa). 

About the Recipe
You don't have to roast your chicken with vegetables, but it would be a shame not to when blessed with beautiful, seasonal root vegetables. Plus, who can resist a one-pan complete meal? It's such a good deal for all involved.
A combo of carrots, parsnips, and potatoes is what I usually stick to, always with some garlic and shallots thrown in, but use any hearty vegetables you love. Having said that, may I suggest you always include potatoes because there is nothing better than potatoes cooked in chicken fat?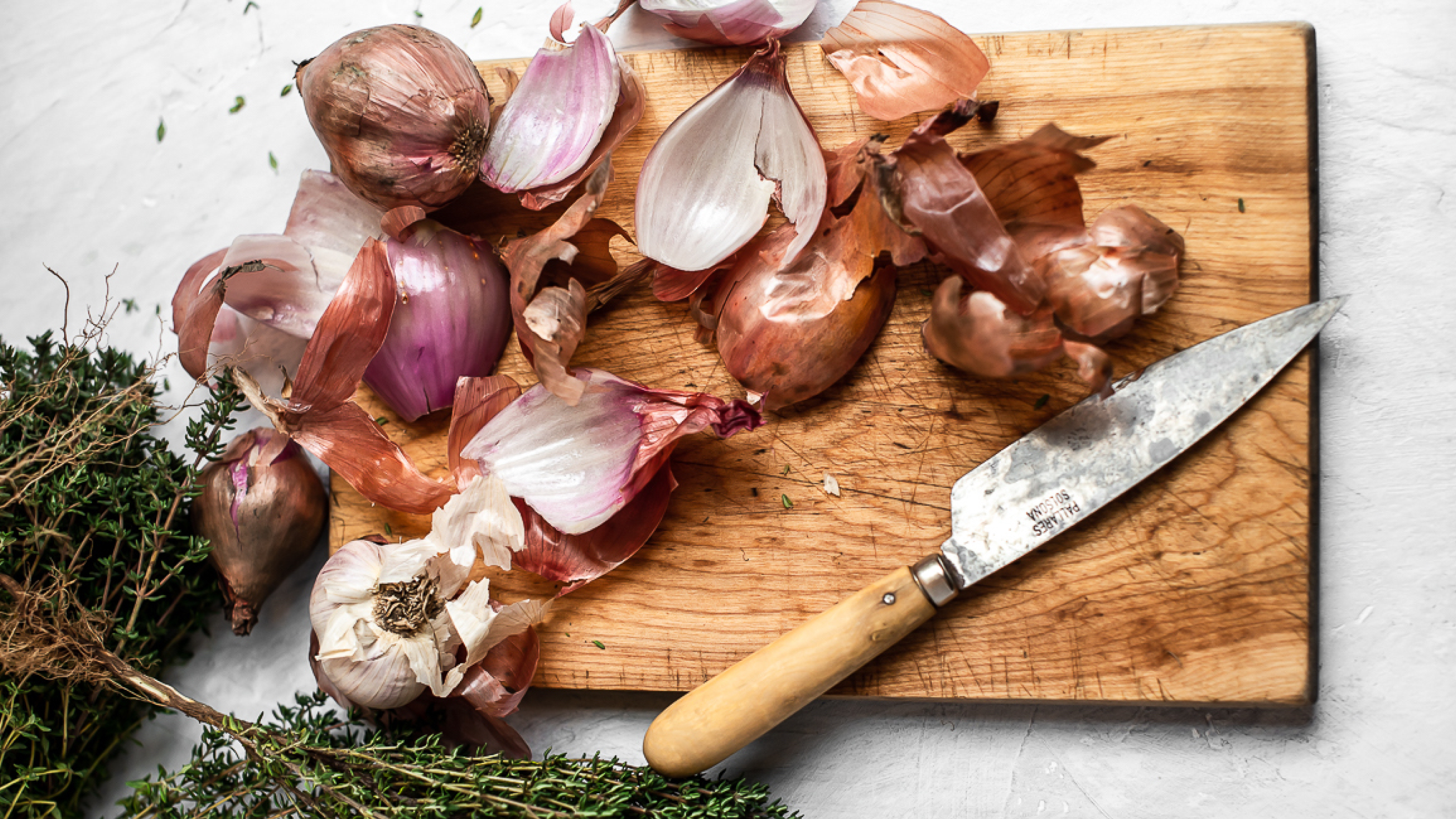 Coat the vegetables with olive oil before placing the chicken on top so they don't dry out while cooking. You will also have to give the vegetables a good toss several times throughout the roast because they tend to stick to the pan. This also ensures all the vegetables benefit from the wonderful juices the chicken releases. Lastly, the quality of chicken you buy will make a  difference. Finding affordable, organic chickens is always a challenge, but do try and hunt down the best you can find.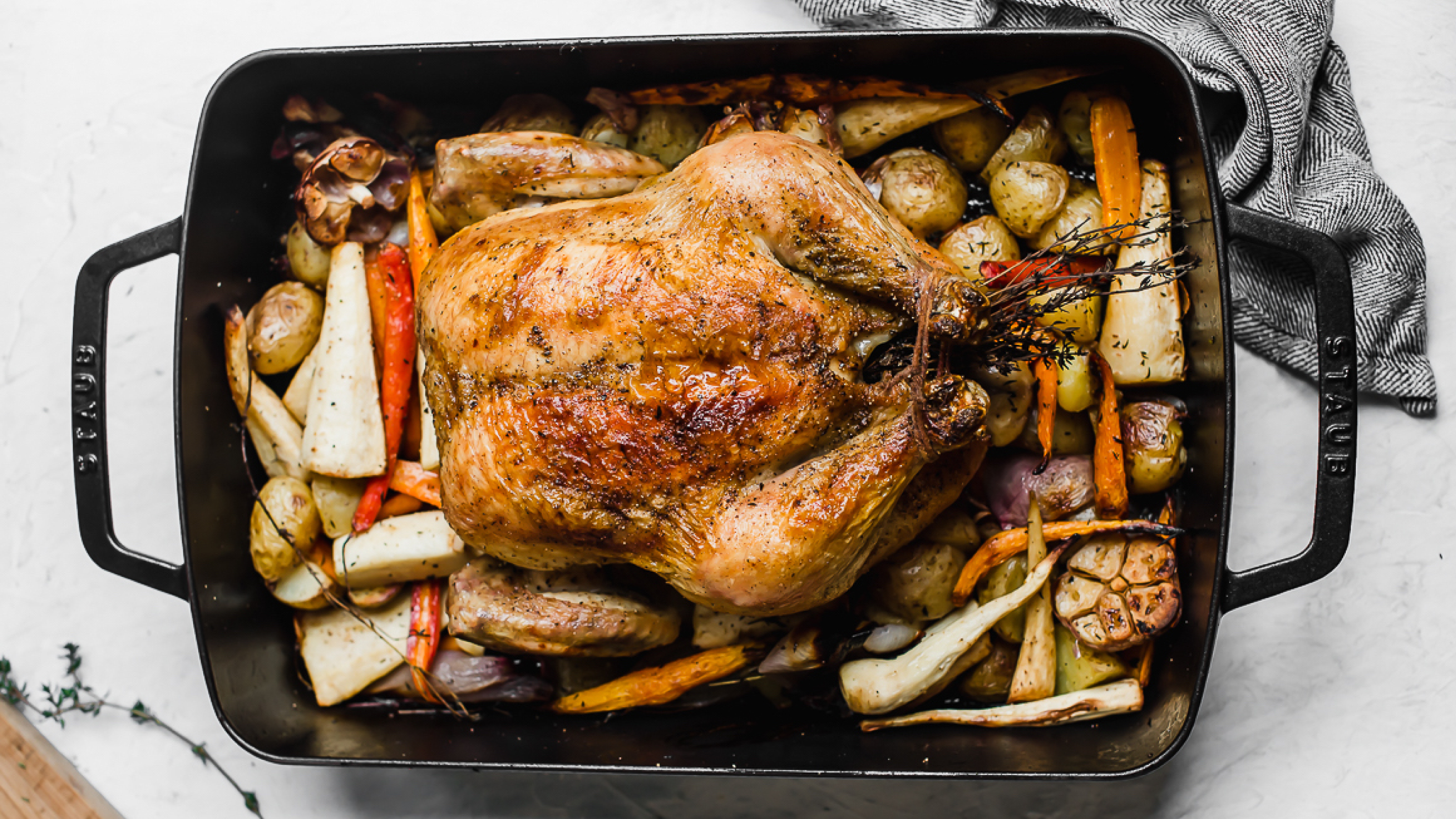 Here are a few more tips for a juicy, perfectly-cooked whole chicken (#1 and #5 are not optional)
1. The chicken must be at room temperature before cooking; take it out at least a half-hour before roasting; 1 hour is best.
2. Trussing is not necessary, but if you truss, it's best to do a loose tie -- I find the legs cook better this way.
3. Don't buy a giant chicken - aim for 3-4 pounds.
4. Roast for at least 1 hour and fifteen minutes. Anything less and the bird will not be cooked, or crispy, enough. The 'Roast' mode on my Fulgor Milano dual fuel range effectively produces consistent heat for a moist bird with crisp skin.
5. Once cooked, let the chicken rest for at least 20 minutes before carving.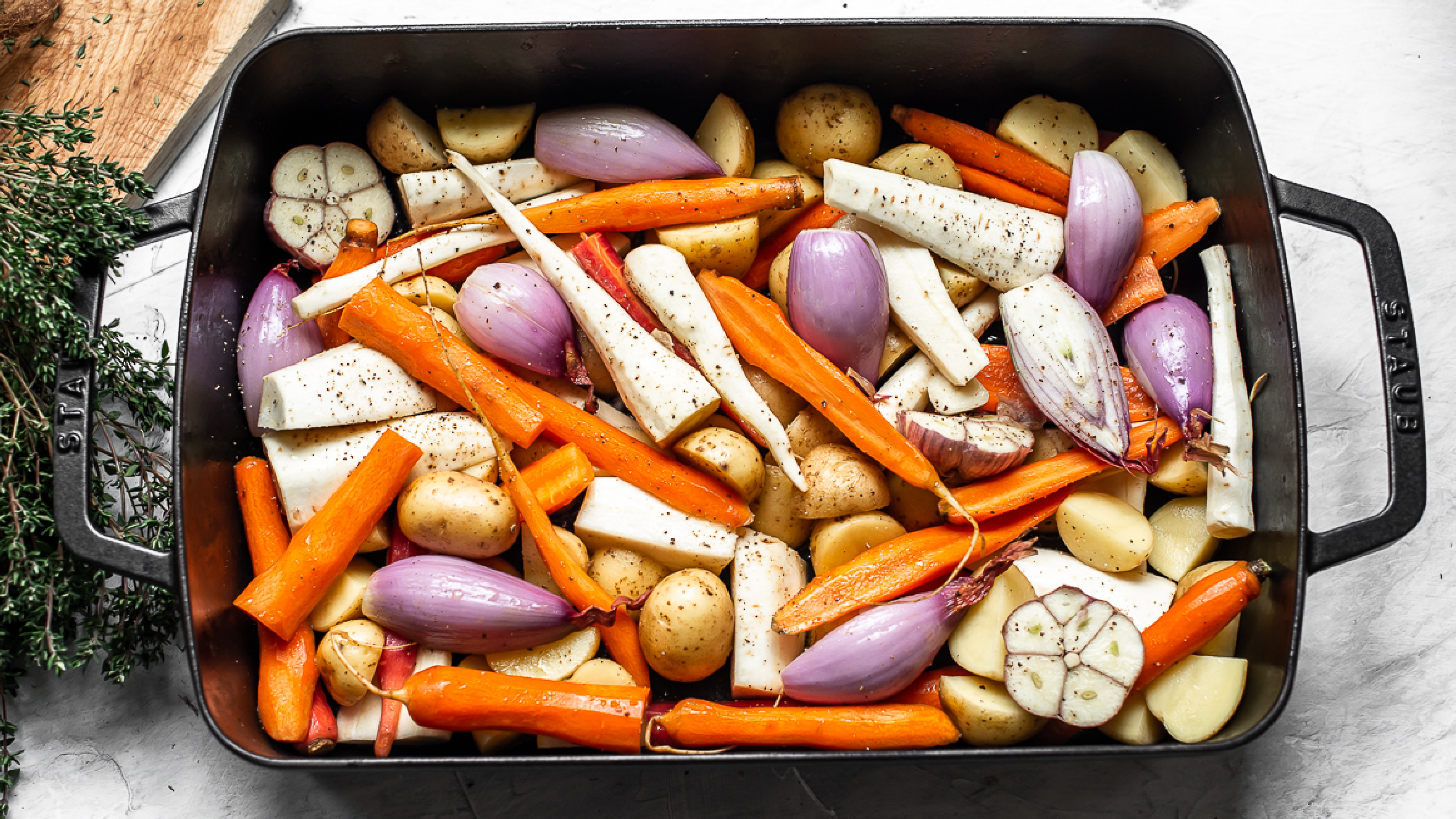 Ingredients
• 1 4- pound chicken
• 2 heads of garlic, halved
• 6 carrots peeled and cut into 3-inch lengths
• 4-6 medium parsnips peeled and cut into 3-inch lengths
• 6 small Yukon Gold potatoes scrubbed and quartered
• 6 shallots, halved (or 2 small onions, quartered)
• ¼ cup extra-virgin olive oil, divided
• Kosher salt
• Freshly cracked pepper
• 2 tablespoons unsalted butter, softened
• Small bunch of thyme or rosemary (optional)
Directions
1. Remove the chicken from the fridge 30-60 minutes before cooking.
2. Preheat your Fulgor Milano oven to 450ºF.
3. Place the vegetables in a large roasting pan. Drizzle the vegetables with 3 tablespoons of olive oil and season with salt and pepper. Toss well to coat and spread evenly across the pan.
4. Place the chicken on a cutting board or large plate. Pat the chicken dry with a few paper towels. Sprinkle a generous amount of salt and pepper inside the cavity and on the underside of the chicken. Gently separate the skin from the flesh across the breasts and thighs using your fingers. Rub the butter and a little salt between the skin and the flesh. Rub the entire bird with the remaining olive oil. Stuff the cavity with the thyme, sprinkle the top with salt and pepper, then place it, breast side up, on top of the vegetables. Fold the wingtips underneath the body of the chicken so that they fit snugly. If trussing, tie the legs loosely with kitchen twine.
5. Place the pan in the oven and lower the temperature to 425 degrees. Roast, tossing the vegetables every 15-20 minutes until the chicken and vegetables are deep golden and cooked through, and the chicken registers 170°F in the thickest part of the thigh, about 1 hour and 15 minutes to 1 hour and 30 minutes.
6. Remove the chicken and vegetables to a platter and cover them with aluminum foil for about 20 minutes. Slice the chicken onto a platter and serve it with the vegetables.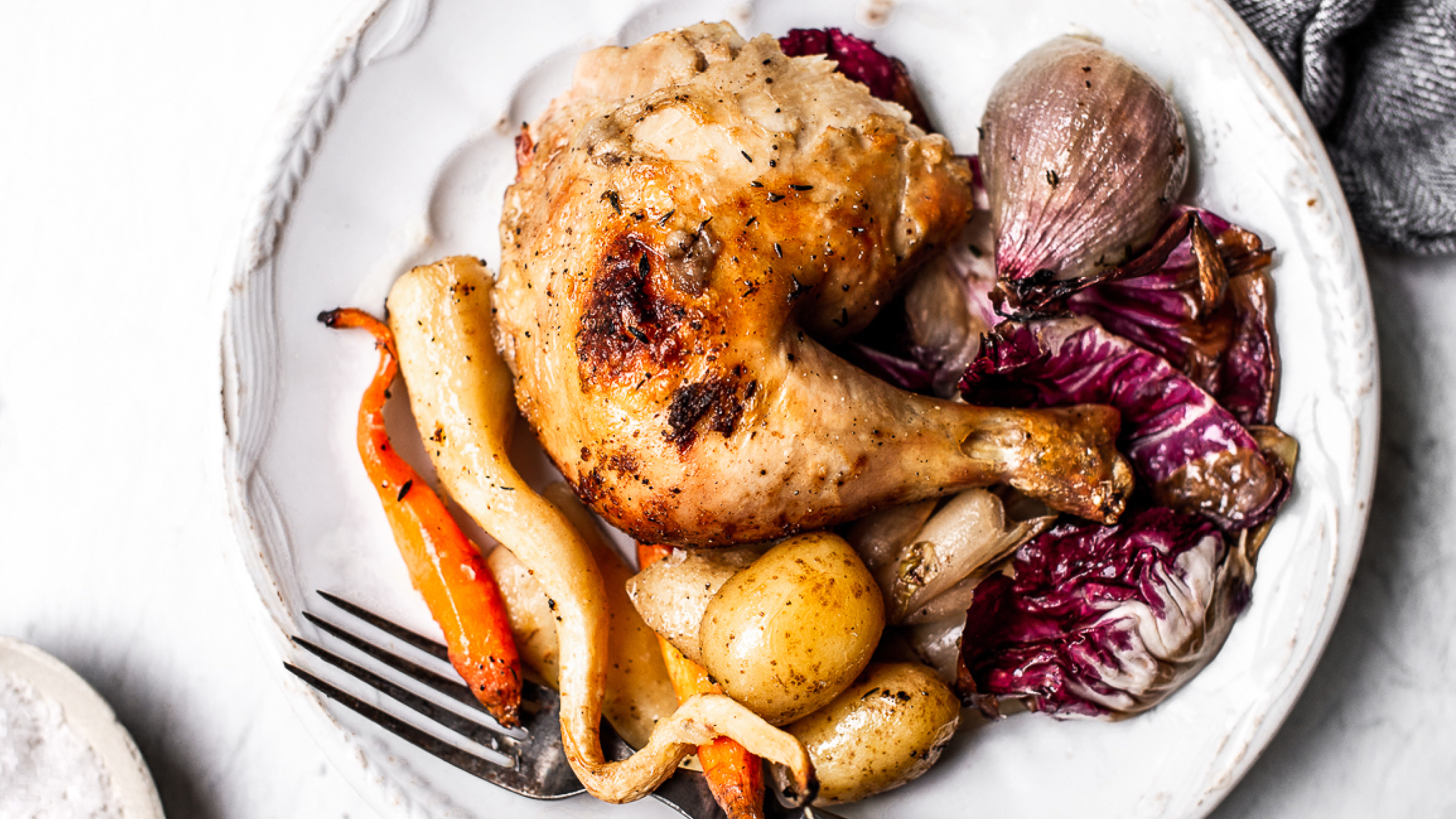 Makes 4-5 servings
For more of Chef Sandra Valvassori's delicious recipes, visit sandravalvassori.com