Tagliata di Manzo is a simple yet exquisite dish of sliced beef atop a bed of peppery arugula.
Tagliata di Manzo means sliced beef and is one of Italy's most famous secondo piatto (second course). A boneless piece of beef is quickly pan-seared then sliced thinly before being served on a bed of peppery arugula, chopped rosemary, thin shavings of Parmesan Reggiano cheese, and a drizzle of good olive oil. A simple, yet absolutely exquisite dish.
This recipe will easily serve 2 to 3 and is excellent for an alfresco meal with a few glasses of spritz. Perfetto.

The Best Cut of Beef Tagliata
For this simple dish to really shine, you must seek out a good quality cut of beef. If possible buy the beef from your local butcher. For tagliata, you will want to use a well-marbled, good quality, boneless cut of beef. Sirloin
steak is most often used in Italy but in North America, it is not easy to find steak sold under that name. A New York Strip loin, rump steak, strip loin, or ribeye would be great substitutes. Some recipes suggest flank or skirt steak but to me, those cuts do not resemble a proper Italian tagliata. Likewise, beef tenderloin, and top sirloin, are too lean to use for tagliata.

Best Method to Cook Tagliata
The best way to achieve a beautiful crust on a steak, with a juicy, medium-rare interior is to use a cast iron pan on your range top. A cast-iron pan can reach really high temperatures, distributes heat evenly, and retains heat longer. All Fulgor Milano Sofia ranges include dual-flame Crescendo burners capable of reaching 20,000 BTUs to achieve a perfect sear.
If you don't have a cast-iron pan, use any heavy-bottomed pan. The Sofia dual-flame sealed brass burners provide exceptional heat distribution, no matter the material of your pan.

Tips to Cook the Best Tagliata
The success of a perfectly cooked tagliata relies on paying attention to some very important tips:
Bring the steak to room temperature. If you place a fridge-cold steak on a hot pan, the meat will seize and become tough. Remove the steaks from the fridge 1 hour before you plan on cooking them.
Pat dry the steak. Once the steaks have come to room temperature, pat them dry with paper towels on all sides. When the exterior of the steak is dry, it will be able to form a nice crust when seared.
Do not overcook the steak. Cook the steak to your liking, but be mindful tagliata is supposed to be served quite rare.
Allow the steak to rest before slicing. While the steak rests, it will continue to cook a little more on the inside. In addition, leaving the steak to rest for at least 10 minutes allows the juices to settle and distribute throughout the meat resulting in a juicy, succulent steak when sliced.
How to Serve Tagliata
Tagliata is traditionally served very simply. In Italy, it will almost always be served alongside peppery arugula with a drizzle of extra virgin olive oil and thinly shaved Parmigiano Reggiano. Occasionally, a drizzle of good balsamic vinegar is also added.
For a heartier meal, you can also serve tagliata with roasted baby potatoes and add cherry tomatoes to the arugula. Crusty bread to soak up all the juices is also a good idea.
Tip: If you wish, infuse the extra virgin olive oil with a sprig of rosemary which adds wonderful flavor to the steak and salad; gently smash a sprig of rosemary and place into a small bowl, or jar, with extra virgin olive oil.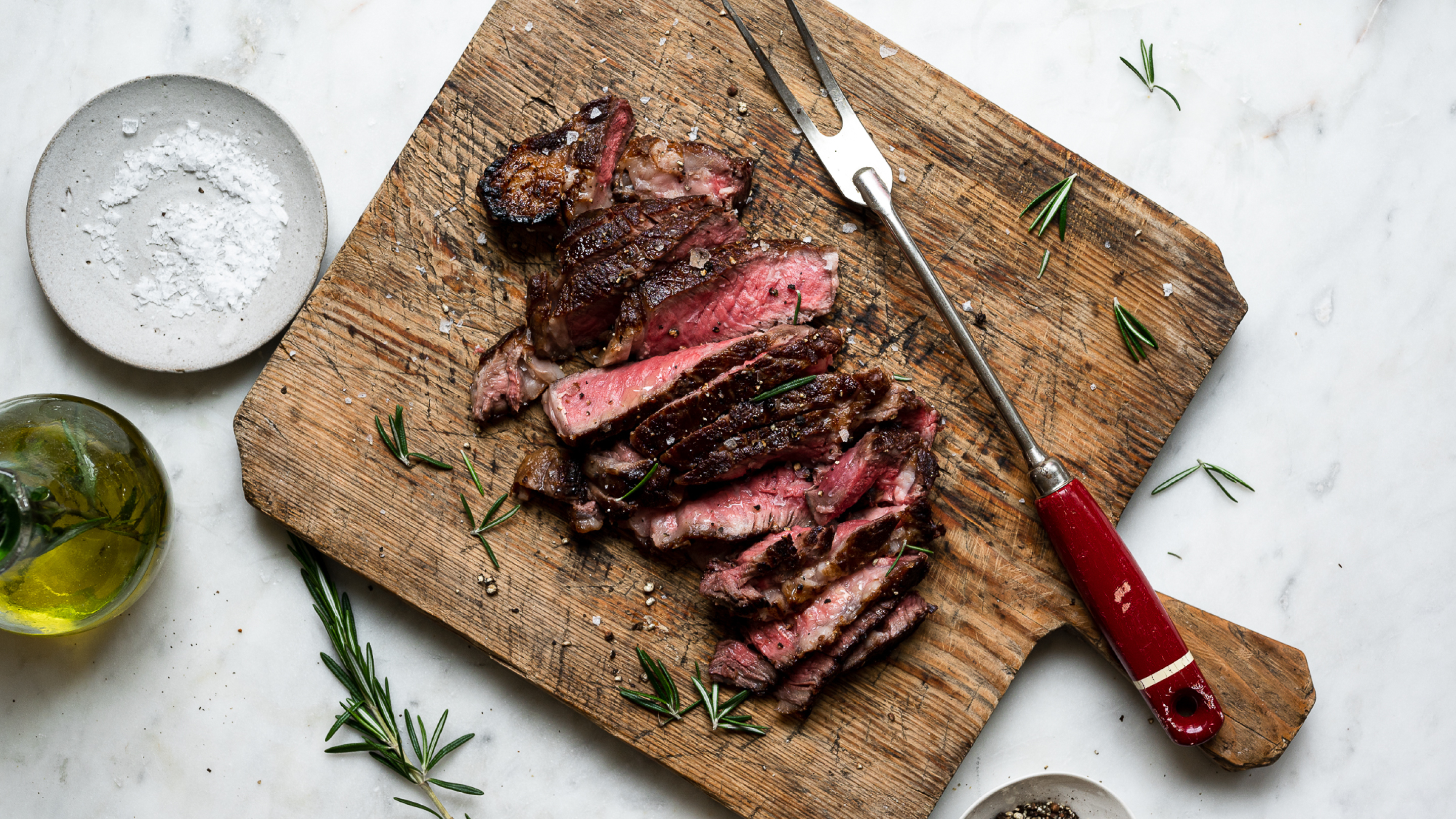 Tagliata di Manzo
Ingredients
1 lb. boneless steaks such as rump, rib eye, sirloin, or strip loin (at least 1 inch thick)
3 tablespoons extra virgin olive oil, divided
Sea salt and freshly ground black pepper, to taste
4 cups arugula
50 g Parmigiano Reggiano, shaved
4 sprigs of fresh rosemary, roughly chopped
Directions
Remove the meat from the refrigerator 1 hour before cooking to bring it to room temperature.
Heat a cast-iron pan, or very heavy skillet, over high heat and allow to get almost smoking hot. Rub 1 tablespoon olive oil on both sides of the steak and season with a pinch or two of salt.
When the pan begins to smoke, lower the heat to medium-high and place the steak in the hot pan. Cook for 2 minutes on each side, for rare, or 3 minutes a side for medium-rare. Transfer the steak to a plate or cutting board and let sit for 5 to 10 minutes.
Meanwhile, arrange the arugula on a large plate or platter.
Slice the meat into 1/4 inch slices and arrange over the arugula. Season the steak and arugula with salt and pepper then dri zzle with remaining olive oil. Top with shaved Reggiano and chopped rosemary, and serve.
Makes 2-3 servings