These delicious Venetian pizzette pack a lot of flavor into a compact bite.
Let's celebrate the arrival of summer and fun evenings with friends with these completely addicting pizzette! Quick to prepare and loved by all, these fun, pillowy-soft pizzette are all about fresh, minimal, and simple toppings.
I like to serve these pizzette as a pre-dinner aperitif, or as a snack, with a refreshing glass of rosé. Enjoy!

What is pizzette?
A little-known custom in Venice is the Apericena, or Lo Spritz: an informal pre-dinner nibble at a bacaro (bar) with friends that is always accompanied by a glass of wine, a spritz, or Campari soda.
These hand-held nibbles, known as Cicchetti (pronounced 'chee-keh-tee'), are the Venetian version of tapas - always simple and always eaten standing while chatting with friends.
An array of assorted Cicchetti are available at bacaros all over Venice. The most popular are polpette (little fried meatballs), bite-size crostini, seafood or vegetable mini brochettes, olives, chips, paninis, and pizzette - mini pizza bites.
Pizzette are prepared in the same way as regular pizza with infinitely varied toppings. Other than the size, the difference is that the dough should be very soft and tender, and the toppings kept very simple with no more than three.
The two most common pizzette you'll find in Venice are made with either regular pizza dough or puff pastry. Both irresistibly delicious. The dish is usually served as an appetizer or a quick snack.

About this pizzette dough...
Homemade pizza dough can be intimidating and difficult to master. However, the dough for the pizzette is straightforward to make and requires minimal proof time.
I am always happy to find new pizza recipes to cook in my Fulgor Milano Sofia Pro range which has a special pizza cooking mode with heated air. The lower elements cycle to evenly distribute heat, producing a perfectly cooked crust that is pillowy-soft on the inside with a lightly crisped exterior.
You can use the easy homemade dough recipe included here or a store-bought dough or puff pastry. From there, use the topping combinations suggested, or top your pizzette with whatever combinations your heart desires.
Whatever you do, be sure to enjoy your pizzette like an Italian, shared with friends and served with a glass of wine or spritz.
Basic Pizzette Dough Recipe
This recipe makes 25-30 pizzette.
Ingredients
500g all-purpose flour (or Italian Tipo 00)
7g instant yeast
2 teaspoons sea salt
3 tablespoons extra-virgin olive oil, divided (plus extra for brushing and drizzling)
325g lukewarm water
Flaky salt, to finish
Directions
In a large bowl, mix the flour, yeast, and salt. Make a well in the middle and drizzle in 2 tablespoons of olive oil. Pour in half the water and use a fork, or your hands, to incorporate it into the flour.
Once the first half of the water has been absorbed, pour the rest into the bowl in two phases, then use your hands to bring the dough together until you have a roughly formed dough that you can dump out onto a clean, lightly floured surface.
Continue to knead the dough for 10 minutes or until smooth and elastic, adding a bit more flour if the dough is too sticky to handle. After 10 minutes of kneading, form the dough into a smooth ball and place it in a large bowl.
Drizzle the remaining 1 tablespoon of olive oil over the top and spin the dough ball around to coat with olive oil. Cover the bowl with a damp tea towel or plastic wrap, and set in a warm place to rise for 1 to 2 hours, or until doubled in size. I like to put the bowl in the oven (not turned on) with the light on.
When the dough is ready, preheat the oven to 400°F.
Turn the dough out onto a lightly floured surface. Roll out into a large disc, about 15-inches round. Using a 6-8 cm (3-inch) diameter pastry cutter, cut into small individual discs and place them on a lightly oiled baking tray (or line with parchment paper), leaving a little space between them.
Using your fingers, make a well in the center of each circle and brush the edges with a bit of olive oil. Add the toppings of your choice (recipes follow), then bake for 12- 15 minutes or until the dough is lightly golden.
To finish, all pizzette should be drizzled with a little extra-virgin olive oil and a sprinkle of sea salt. Serve warm.
Cook's tips:
You can gather all the remaining cut-out dough, roll it into a ball, and rest, covered, for 10-15 minutes. Re-roll it into a thin disc and cut out a few more rounds.
Leftover pizzette keep well sealed in a zip-top bag or airtight container in the refrigerator for up to 2 days.
3 Pizzette Combinations
As mentioned, to achieve pizzette success, the toppings should always be kept simple so use a restrained hand when applying the sauce and cheese and no more than three toppings per pizzette (not including seasoning). I've included the recipes for the three pizzette combinations you see in the photos, plus a few more ideas for topping combinations.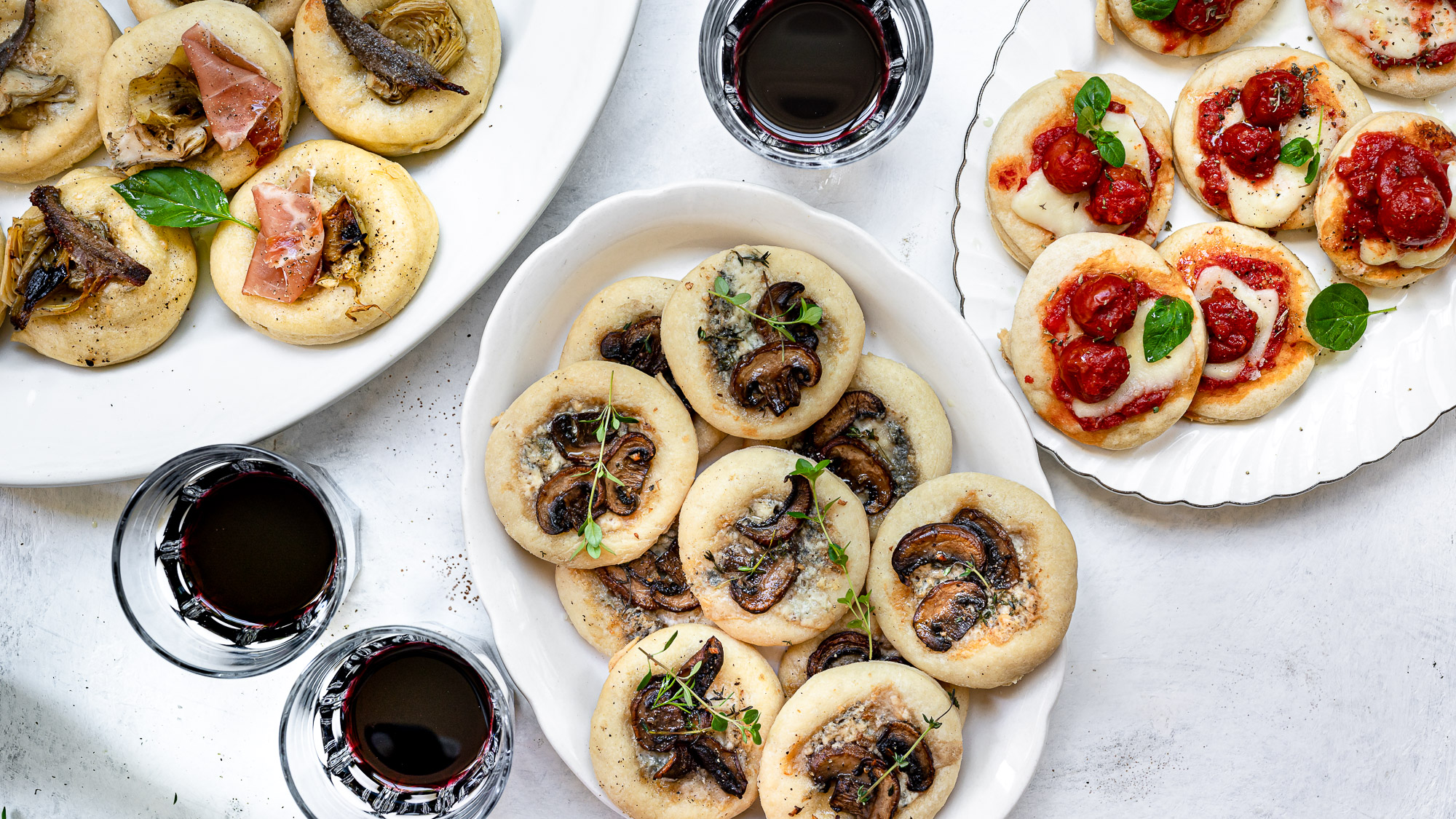 Cherry tomato and mozzarella
Ingredients
1 small can of cherry tomatoes in sauce (you can use a can of cherry tomatoes, or use plain crushed tomato sauce)
Dried oregano
Aged or regular mozzarella, cut into small cubes (or grated)
Sea salt
Directions
Add a tablespoon of tomato sauce to each oiled pizzette. Place 2 cherry tomatoes on top (if using) followed by a sprinkle of dried oregano. Bake pizzette for 8 minutes.
Remove tray from the oven, place a few mozzarella pieces on each round, then return to the oven and bake for another 4-5 minutes, or until dough is golden and cheese has melted.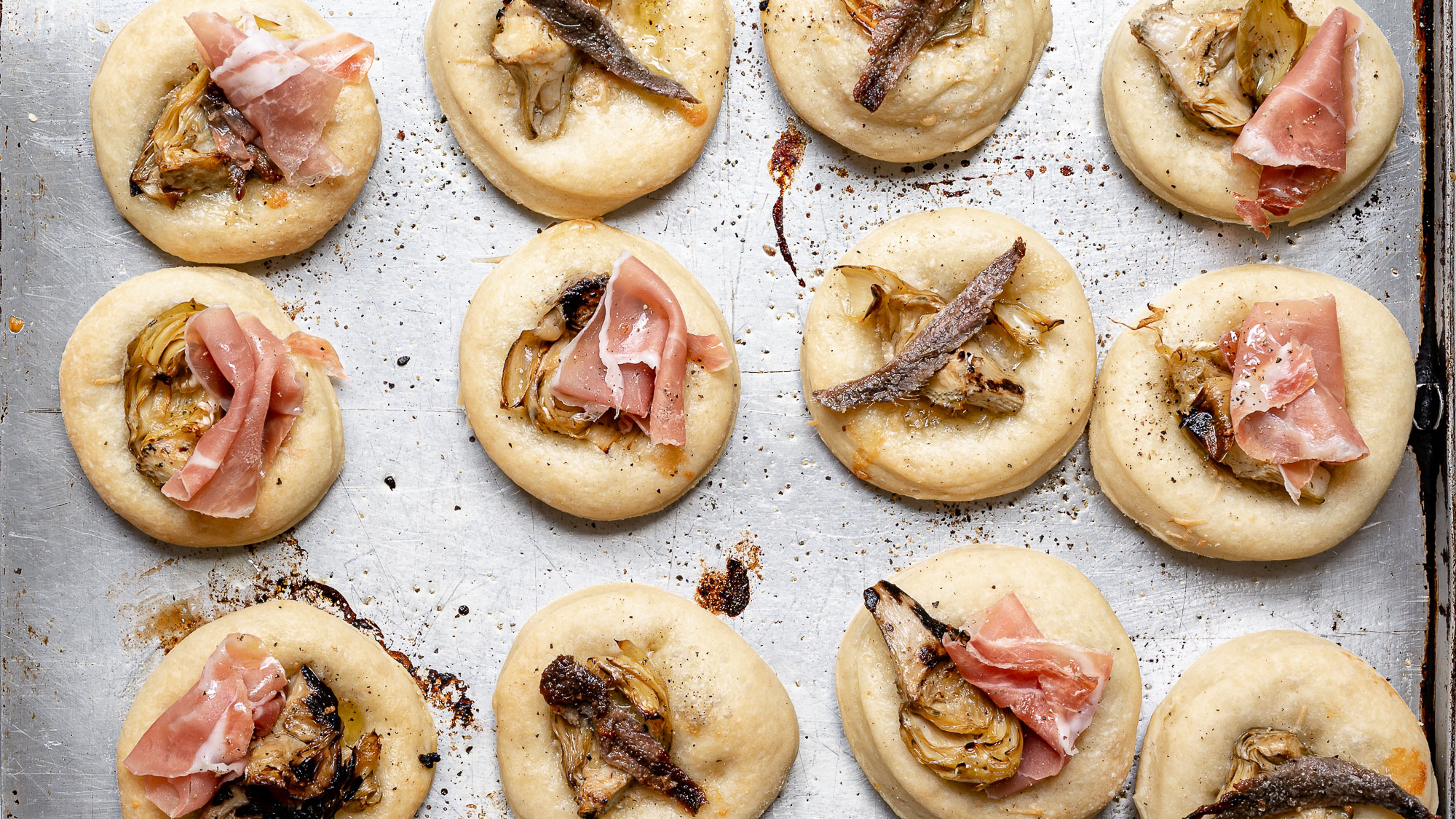 Grilled artichoke hearts and prosciutto (or anchovies)
Ingredients
2-3 ounces grated Parmesan cheese
2 (6-ounce) jars grilled artichokes, halved or quartered
4 ounces thinly sliced prosciutto, coarsely torn into strips (or 1 small jar of anchovies)
Directions
Sprinkle each oiled round with parmesan and place 1 piece of artichoke on each pizzette.
Bake until pizzette are lightly golden, about 12 minutes. Top with prosciutto slices or anchovies.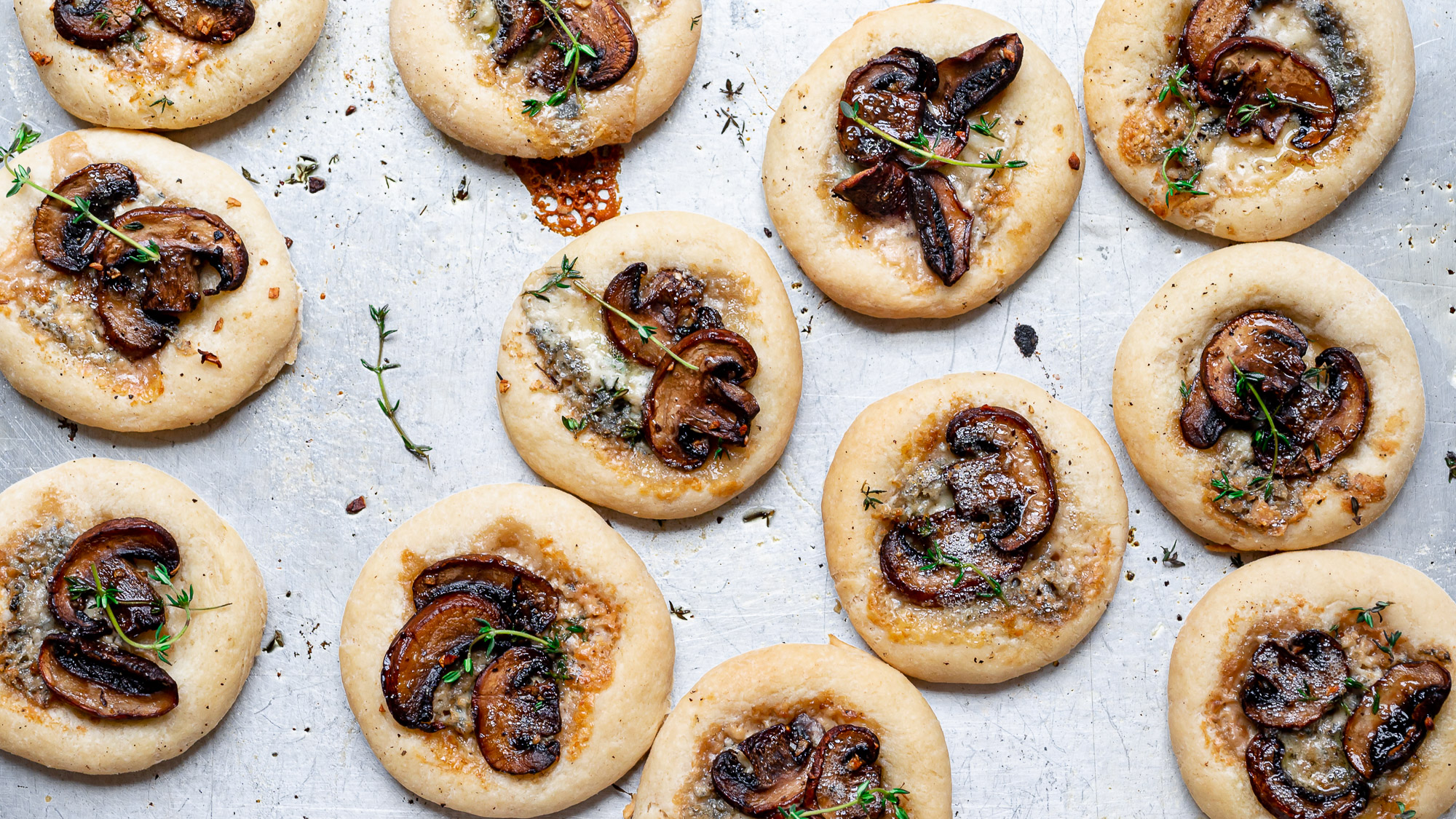 Mushroom and Gorgonzola
Ingredients
2 tablespoons olive oil
1 garlic clove, minced
1 small shallot, diced
8 ounces cremini (or brown button) mushrooms, wiped clean and thinly sliced
6 thyme sprigs, leaves pulled off the stems, plus more for garnish
Salt and pepper
4 ounces Gorgonzola, crumbled
Directions
Heat 2 tablespoons of oil in a large skillet over medium-high heat. Add the mushrooms and shallot and cook, occasionally tossing, until browned and tender, 5 to 7 minutes. Add the garlic and thyme leaves and cook for another 30 seconds. Season with 1⁄2 teaspoon salt and 1⁄4 teaspoon pepper.
Top each pizzette with a bit of crumbled Gorgonzola, followed by a few mushroom slices. Bake until the pizzette is lightly golden, about 12 minutes. Garnish with a little more thyme, a drizzle of olive and a sprinkle of flaky salt. Serve warm.

Other Topping Combinations:
Tomato sauce, mozzarella, and black or green olives
Tomato sauce, black olives, and capers
Pecorino cheese, marinated artichokes, and sliced olives
Blue cheese, sliced figs, prosciutto, and arugula
Gorgonzola cheese, mortadella, and walnuts
Potato (thinly sliced and blanched), rosemary, and grated Reggiano