Rich and simple, this classic Italian custard can be served with cake or as a stand-alone dessert.
Perfect Zabaglione
Zabaglione — a boozy, ethereal Venetian pudding that dates back centuries but continues to impress today. Made with three basic ingredients, this classic Italian custard can be enjoyed alongside cakes or as a stand-alone dessert paired with traditional cookies such as amaretti or biscotti.
What is Zabaglione?
Zabaglione, also known as zabaione or zabajone, is an Italian dessert made from egg yolks, sugar, and a sweet or fortified wine such as Marsala, Moscato, or Porto. This divinely delicious custard is created over a water bath in about 10 minutes.
Despite being made with only three ingredients, the flavor of the zabaglione can be modified depending on the wine you use.
Which Wine is Used for Zabaglione?
Traditionally, zabaglione is made with Marsala wine. Dessert wines such as Moscato Passito or Vin Santo may also be used. In the Piedmont region, zabaglione is flavored with Brachetto d ́Aqui or, my personal favorite, a bubbly Moscato d'Asti.
Reduce the sugar quantity slightly if you choose to use a very sweet wine to make the zabaglione.
What is the Origin of Zabaglione?
The exact origins of Zabaglione are somewhat uncertain, with legends and stories differing according to region.
One story claims that the dessert already existed in a cold form in the 16th century and was served at the court of Catherine de Medici.
In the Emilia-Romagna region, legend has it that captain Giovanni Baglioni and his army were only able to loot eggs, sugar, and some flasks of wine from local farmers. The captain ordered that all the ingredients be heated and mixed, which created a lovely custard. The sweet dessert was then named after him in the local dialect: Zaun Bajoùn, later shortened to zabajone or zabaglione.
The most widely accepted legend suggests that it was invented in Turin to honor the Franciscan Saint Pasquale Baylón, known as the protector and patron saint of baked goods. Named "cream of San Baylón" it later became known as Sambayon. It is also said the Franciscan monks used it to help men with infertility.
Tips & Suggestions for Preparing and Serving Zabaglione
WATER BATH:
Traditionally, zabaglione is prepared by hand over a double boiler. A bowl containing the ingredients is placed over a pan of barely simmering water. The mixture is then whisked constantly so that the egg yolks cook without curdling.
After a few minutes, the heat and constant whisking will turn the mixture frothy and light. As you continue whisking, the consistency will change to a thicker custard.
PREPARING ZABAGLIONE ON A FULGOR MILANO SOFIA PRO RANGE:
The Sofia Pro dual-fuel and all-gas ranges feature dual-flame Crescendo burners, each reaching a maximum of 18,000-20,000 BTUs, while also capable of the very low simmer needed to temper chocolate and maintain low temperatures indefinitely. Thanks to this functionality, if you have a heavy copper or stainless-steel bowl you can eliminate the need for a double boiler to make the zabaglione. Simply place the bowl containing the zabaglione mixture directly over the low flame, then follow the recipe as directed.
If you're interested to learn more, this video shows the features of the beautiful Fulgor Milano Sofia Pro range.
Note: To accommodate the general reader, this recipe will only offer instructions for cooking zabaglione over a water bath.
EGGS:
With so few ingredients, eggs play the main role in creating zabaglione. Try to use very fresh, organic, or pasteurized eggs to make zabaglione.
In addition, the egg yolk mixture should reach a hot enough temperature (about 165°F) to be safely consumed. However, don't allow it to get too hot during cooking or it will become grainy. If it begins to bubble or feel too warm, remove the pan briefly from the heat and continue beating until the mixture cools. Then return the pan to the heat and continue cooking.
TO SERVE:
Zabaglione is best served warm while still beautifully frothy and creamy. However, it can be chilled without losing too much of its integrity, for no more than 4 hours.
In Italian-American restaurants, zabaglione is often served with berries or topped with chocolate shavings. In Italy, when zabaglione is served as a stand-alone dessert, it is served with amaretti cookies or biscotti for dipping. Zabaglione is also served as a garnish alongside cakes such as panettone or apple cake.
Heavy cream can also be added to the zabaglione then frozen to be enjoyed in an indulgent ice cream form.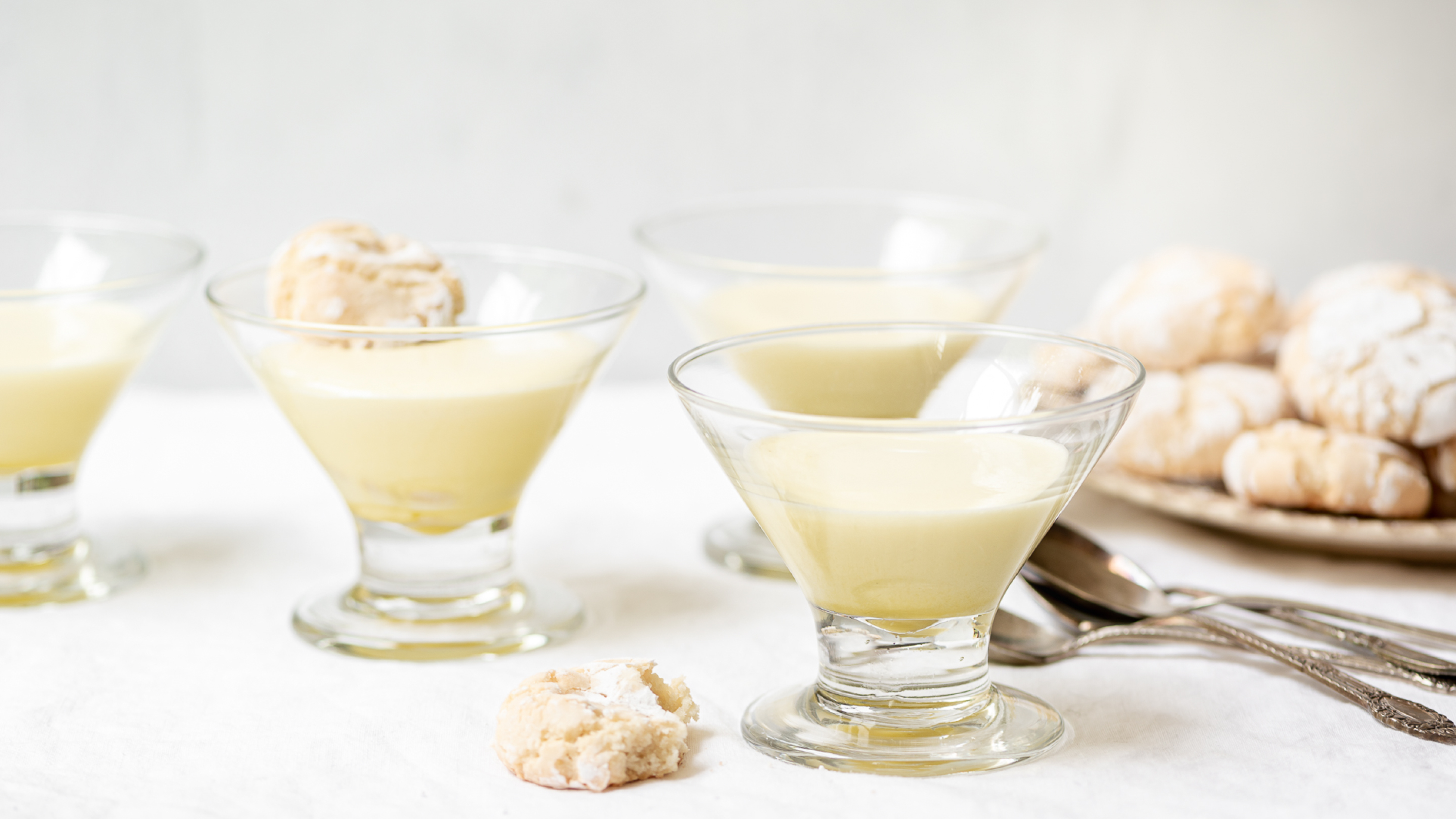 Perfect Zabaglione Recipe
This recipe serves 4
Ingredients
4 egg yolks, at room temperature
3 tbsp granulated sugar
4 tbsp Marsala or dessert wine, such as a Moscato d'Asti
1 pinch salt (optional)
Directions
1. Place a medium saucepan with roughly 2 inches of water over medium heat. Bring the water to a simmer. Find a heatproof bowl, such as a copper, glass, or stainless-steel mixing bowl, that will fit over the saucepan without touching the water.
2. Off the heat, place the egg yolks and sugar in the bowl and whisk until thick and pale yellow, about 2 minutes. Add in the wine and salt and whisk until creamy and a little frothy, about 1 minute.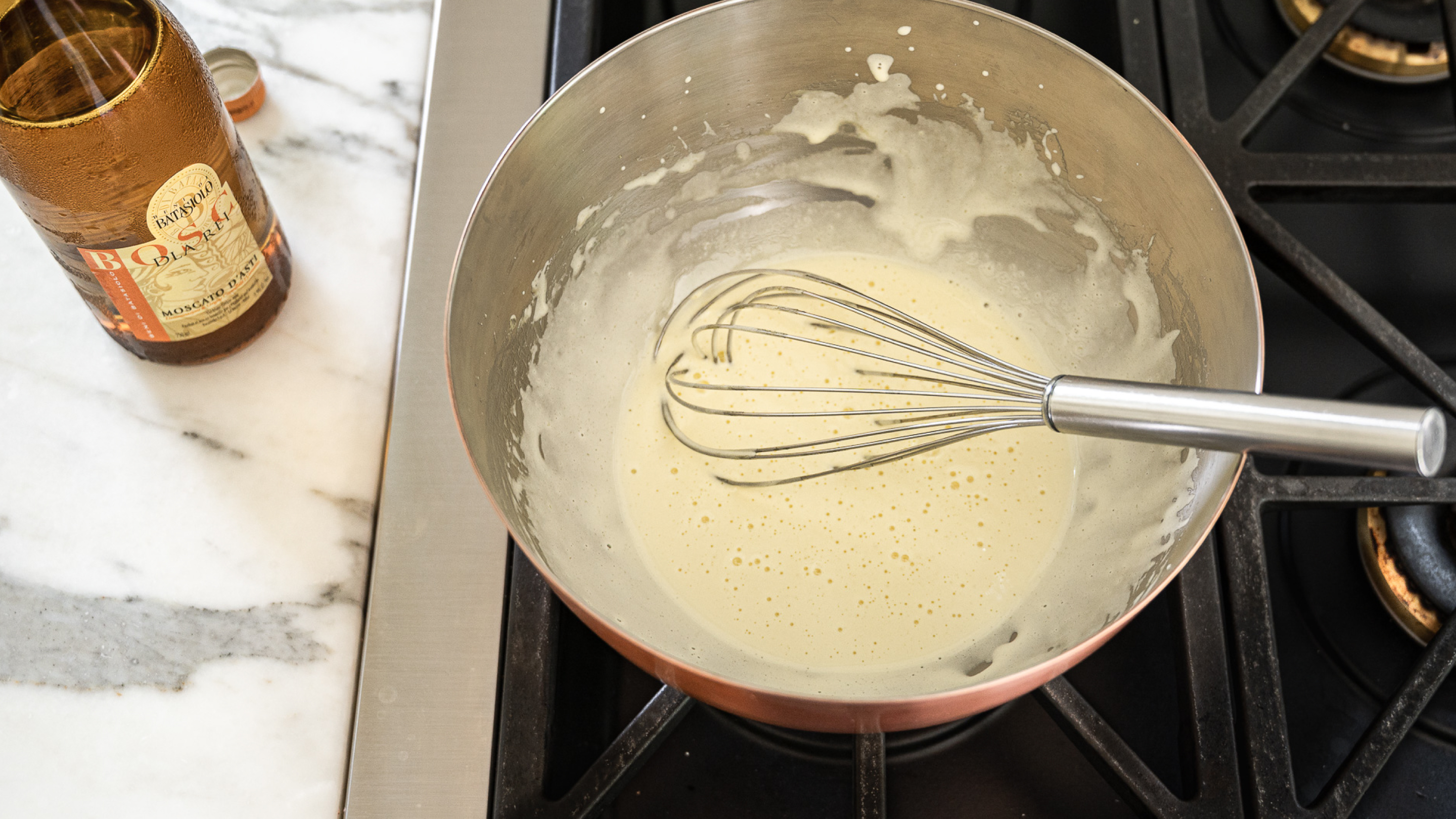 3. Set the bowl over the saucepan and continue to whisk constantly, scraping the base of the bowl as you go. After about 4-5 minutes, the zabaglione should appear thicker and will double in volume. Keep whisking for 2 minutes longer, taking care not to let the zabaglione get too hot. At this point, you can check if the zabaglione is ready by lifting the whisk and allowing the zabaglione to drop back in the bowl. If it leaves an impression on the surface of the mixture, it's ready.
4. Remove the bowl from the pan and place it on a folded tea towel. Keep whisking for another few minutes until the zabaglione has slightly cooled. Divide between four small bowls and serve. Alternatively, cover the bowls and chill for up to four hours. Stir before serving if the mixture has separated.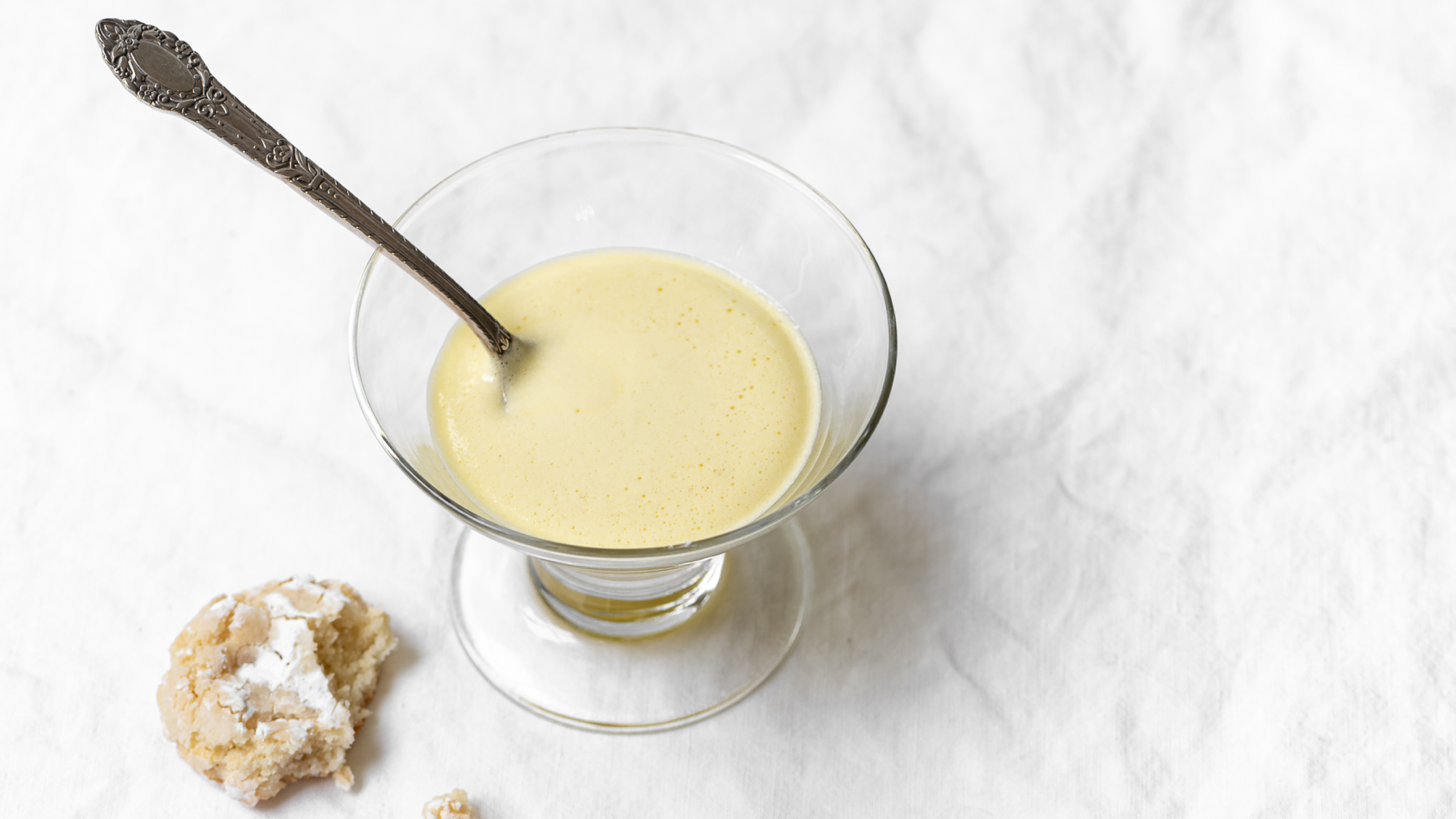 Chef's Notes:
1. This zabaglione recipe is less sweet than most which follow a one egg yolk, one tablespoon sugar, and one tablespoon wine ratio. If you prefer it a little sweeter, add one more tablespoon of sugar.
2. If you wish, you can use a handheld mixer and reduce the cooking time by 2-3 minutes.